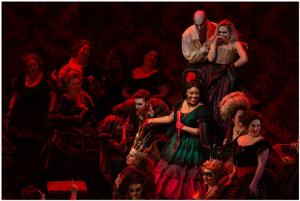 What makes this "La traviata" so specifically unique, outside of the three principal performers, is the direction of Arin Arbus. A former associate artistic director of Theatre for a New Audience, Arbus has a strong background in directing over half a dozen of Shakespeare's plays, as well as highly-respected productions of both Strindberg and Ibsen. That experience pays off mightily.
During the orchestral overture we see our heroine, behind a blue lace scrim curtain, struggling to rise from her sick bed. Once on her feet, she stands in front of a floor-length mirror, possibly reflecting upon happier times when she was younger and completely healthy. Assisted by her attentive maid, she slowly dresses in her ball gown to greet her guests at the party that she is hosting. This sense of decay and imminent catastrophe hangs over this entire production.
Russian soprano Albina Shagimuratova, who was so memorable as Elvira in last season's "I Puritani," takes things to a whole new level with her portrayal of Violetta Valery, the celebrated courtesan who is secretly suffering from consumption. Most Violettas that you commonly see are usually portrayed as reckless and hedonistic party girls. Not Shagimuratova. While she does project the carefree spirit of a young woman who longs for her freedom and who has very limited opportunities when it comes to professional advancement, Shagimuratova's Violetta is also desperate to find true love before her chances and time itself runs out. Each of the three acts, surprisingly, finds her in the prone position on the stage floor, whether it be in shock from optimistic merriment, as an object of public humiliation or as a result of the physical weakness that has been wracking her body due to her illness.
The Italian tenor Giorgio Berrugi, making his Lyric debut, brings a youthful and energetic touch to his Alfredo, the young man from the country who is infatuated with Violetta. Again, not your typical Alfredo, as this role often is sung by tenors who are in middle age. Berrugi is refreshingly perfect.
But as good as Shagimuratova and Berrugi are (and they are excellent) the most deeply felt performance belongs to the Serbian baritone Zeljko Lucic, whose Giorgio Germont, father of Alfredo, forces Violetta to abandon his son. His reasoning is that his younger daughter hopes to get married and the Germont family name cannot be soiled by Alfredo's love for someone with Violetta's reputation. Lucic has forceful tenacity in his confrontation with Violetta but also sincere empathy and compassion while explaining his motives to Alfredo. In the final act, he brings the noble yet understated presence of a man who realizes the inherent goodness of Violetta's character as well as the veracious love between Violetta and Alfredo that he set out to destroy. But, of course, it all comes too late.
"La traviata" is presented at the Lyric Opera House, 20 N. Wacker, Chicago.  Best parking option: The Poetry Garage, 201 West Madison, $12 in advance at www.thepoetrygarage.com.  Valet parking is also available - $30. 
There are seven remaining performances of "La traviata", March 1st, 4th, 7th, 10th, 13th, 16th, and 22nd.  Running time is 2 hours, 50 minutes, with two intermissions.  Tickets start at $39.  FYI (312) 827-5600 or www.lyricopera.org/Traviata.