Are you ready for a second helping? Kokandy Productions is pleased to announce a one-weekend-only concert presentation of its critically acclaimed, award-winning production of Sweeney Todd: The Demon Barber of Fleet Street on November 11 & 12, 2023 at Theater at the Center, 1040 Ridge Rd. in Munster, Indiana. Tickets are currently on sale HERE. The original Kokandy production received six Jeff Awards, a 4-star rave from the Chicago Tribune and extended twice in its initial run. 
The concert staging of Stephen Sondheim and Hugh Wheeler's macabre masterpiece will feature much of the original cast, including Kevin Webb and Caitlin Jackson in their Jeff Award-winning turns as Sweeney Todd and Mrs. Lovett. Jeff Award winners Derek Van Barham (Director) and Nick Sula (Music Director) will evolve the original in-the-round staging to create a unique and immersive experience for the TATC space.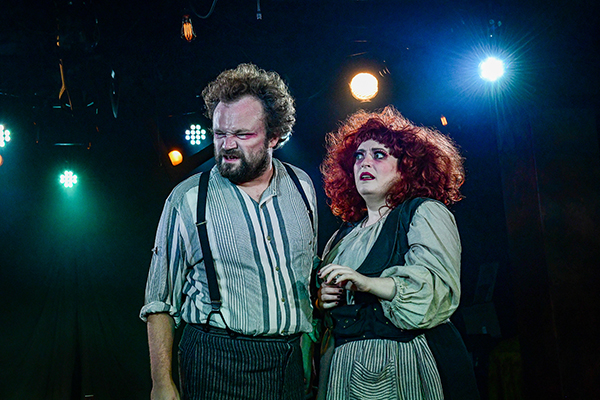 Kevin Webb and Caitlin Jackson in Kokandy Productions' original production of Sweeney Todd: The Demon Barber of Fleet Street at The Chopin Theatre. Photo by Evan Hanover.
The full cast includes Kevin Webb and Caitlin Jackson as Sweeney Todd and Mrs. Lovett, partners in coiffed and culinary crime. They are joined by a murderer's row of talent, including returning cast members Joel Arreola, Ethan Carlson, Stephanie Chiodras, Tyler DeLoatch, Isa García, Andrew Greiche, Josiah Haugen, Christopher Johnson, Nathan Kabara, Nikki Krzebiot, Andrew Lund, Charlie Mann, Chamaya Moody, Daniel Rausch, Quinn Rigg and Angela Yu. The Fleet Street band will include Steve Dinda, Ty Miles, Rachel Schuldt and Laura Watson.
Sweeney Todd has become a bloody, worldwide success since being awarded eight Tony Awards, including Best Musical for its Broadway premiere. An infamous tale, Sweeney Todd, an unjustly exiled barber, returns to nineteenth century London, seeking vengeance against the lecherous judge who framed him and ravaged his young wife. The road to revenge leads Todd to Mrs. Lovett, a resourceful proprietress of a failing pie shop. Mrs. Lovett's luck sharply shifts when Todd's thirst for blood inspires the integration of an ingredient into her meat pies that has the people of London hungry for more. Stephen Sondheim's and Hugh Wheeler's tasty, thrilling, theatrical treat has simultaneously shocked, awed and delighted audiences around the world.
Performance times:
Saturday, November 11 at 7:30 pm & Sunday, November 12 at 3:00 pm.
Tickets: $40 show only on sale HERE.
$30 add on for three-course, pre-concert dinner option. Call the dining and events office at (219) 836-1930.
About Kokandy Productions
Founded in 2010, Kokandy Productions seeks to leverage the heightened reality of musical theater to tell complex and challenging stories, with a focus on contributing to the development of Chicago-based musical theater artists, and raising the profile of Chicago's non-Equity musical theater community.
The company's artistic staff is comprised of Derek Van Barham (Producing Artistic Director), Scot T. Kokandy (Executive Producer) and Adrian Abel Azevedo & Leda Hoffman (Artistic Associates). The Board of Directors includes Preston Cropp, Allison Hendrix, Scot T. Kokandy, and Katie Svaicer. 
For additional information, visit www.kokandyproductions.com.