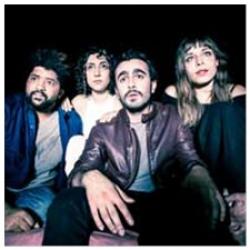 Directed by Monty Cole who also plays one of the four main characters, this work, written by Guillermo Calderon, takes us to Damascus circa 2014. From what we learn, not a pleasant place to be back then. This one started off fun, but later I questioned the choice of both the playwright and the director. I would love to hear back from you on your opinions.
We are in an apartment where it seems the four main characters meet to watch soap operas together. Monty's character (Ahmed) is in love with Arti Ishak's character , Hadeel, but as it turns out, his best friend , Youssif,( played to perfection by Salar Ardebilli)is also in love with her, despite having his own girlfriend ( deftly played by Cassidy Slaughter-Mason). These are the "soap Opera buddies" that truly are best buddies. The first hour of this 90 minute ( no intermission) theatrical experience, is kind of funny. One gets the feeling that all of these characters are in reality living a soap opera of their own.
During this time we learn more about how each of the men loves Hadeel ( a very high energy role), yet being best friends,  neither can hurt the other. It is only near the end of this period that we learn that Cassidy's character has done the deed, kissed another man! All gets crazy at this point and then, all of a sudden, the play is over. The actors take their bows, but before the audience can rise to leave, wondering when are
we getting the other 30 minutes, they begin to turn the furniture around and put up a screen while announcing that they have found the woman who this play is based on in Syria and with the help of a translator, will get answers to many questions.
Because they have asked us not to divulge what happens during the last 30 minutes, I will end here and let you know that I think many people were lost for some of the added time and others found it unique. This is something that one must judge for themselves. Part of what you are watching is the mentality of the soap opera watcher. I know these people from my own family experiences. But we also look into other cultures and a war-torn country who still , despite what was happening found the time to escape from the reality right in their front yard to the soap opera tales that were sent via television. it became so much a part of their lives, their lives began to imitate what they were watching.
The other cast members are Sami Ismat and Gloria Imseih Petrelli and the sound/music by Jeffrey Levin and lighting by Claire Chrzan added a great deal to
the production. The other technical aspects were the set (William Boles) which looked like a nice apartment, but we, the audience had to walk through the door and the living area to get to our seats ( seemed strange ) and the costumes ( Kotryna Hilko) along with the great props by Emily Boyd. Since their is some adult behavior, there is also the new tech person, the intimacy  director, which in this case was Gaby Labotka, who did a great job of making everything appear very realistic.
"KISS" will continue at The Den Theater located at 1331 N. Milwaukee Avenue. This production is in the Janet Bookspan Theatre on the first floor, thru August 18th with performances as follows:
Thursdays  8 p.m.
Fridays  8 p.m.
Saturdays  8 p.m.
Sundays  3 p.m.
Tickets are$35 OPEN SEATING and can be purchased at www.havenchi.org
Special performances: Monday, 8/5 8 p.m.  Industry night
Sunday 8/11 open caption at 3 p.m.
Wednesday 8/14 will be the understudy performance (pay what you can)
Parking is on the street at the den. Do NOT park in the Jewel Lot, they will tow your car.