Playwright James Ijames clearly knows his theatrical history, going back in time for centuries, and uses that legacy to create a unique and urgent theatrical experience. "Kill Move Paradise" details the afterlife of four African American men who are trapped within some sort of limbo or purgatory, a moral weigh station, as they await the final destination of each of their souls. All have been killed by gun violence, and "Kill Move Paradise" is a testament to all of the unarmed African American men and women who were slain by police officers.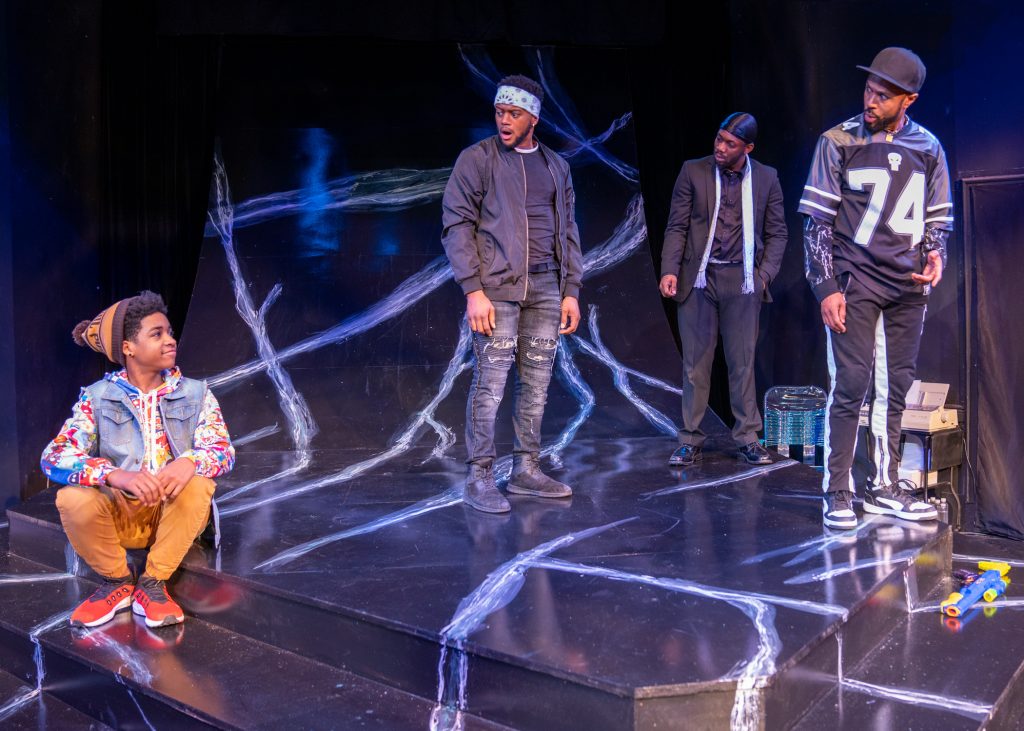 While this particular theme may be a prevalent topic at this time (there are currently at least two other shows playing in Chicago which deal directly or peripherally with the subject) none of them shake an audience up the way that this one does. Ijames has taken traditional narrative structure and turned it on its head. His script has a mind-boggling amount of diverse inspirations. Most notably, the conceptual framework owes a great deal to Jean-Paul Sartre, but there are strong instances of the influences of Samuel Beckett, Albert Camus and Greek mythology at play here as well. Biblical passages and references, superhero characters, all-male 1960s Motown quartets and even minstrel shows add to the textual richness.
The first to enter into this celestial waiting room is Isa (Kai A. Ealy), a sort of natural leader and Christlike figure (not surprisingly, the classical Arabic translation of his name is Jesus). At one point, during a stylized non-verbal segment, movement choreographer Breon Arzell has Ealy assuming a pose with his arms splayed as if crucified to a cross. Keeping Isa company are Daz (Charles Andrew Gardner), who has chosen that name because he was attracted to flashy things that dazzle and Grif (Cage Sebastian Pierre). The presence of latecomer Tiny (Trent Davis) is certainly the most heart-wrenching of all, for reasons that will not be disclosed herewith. The actor Donovan Session will play the role at select performances.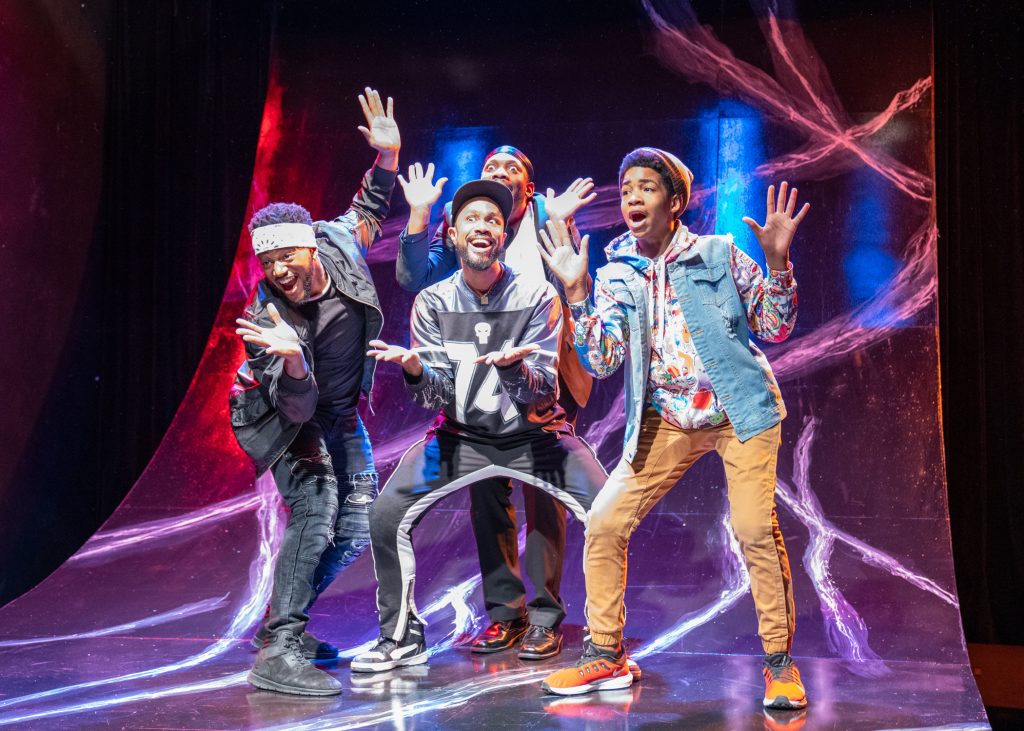 Halfway through the show, Isa grabs a long sheet of several pages of perforated paper that has been spewing from a printer located stage left. It is a list of the countless victims of senseless police-involved murders that have occurred in this country within the past twenty years. Isa's reading of this litany is powerfully executed and the name which is most personally disturbing to citizens of Chicago is that of 17-year-old Laquan McDonald, who was shot 16 times in 2014 and whose death, and the subsequent highly contentious trial of the Chicago police officer who killed him, is still a festering wound on the collective conscience of this city.
"Kill Move Paradise" is directed with magnificent clarity by the very busy Wardell Julius Clark, who has capped a run of recent directorial successes in spectacular fashion with his efforts here. This ensemble is extremely invested in this material and their mutual bond is evident. Every phrase, movement or intention is executed with impeccable precision. There are times when Ijames' script calls for the actors to break the fourth wall and speak directly to the audience. On two separate occasions, different characters make eye contact with the members of the audience to ask "Am I scary?" or "Do I frighten you?" Hard questions for all of us as we face some of the harsh realities which this play addresses.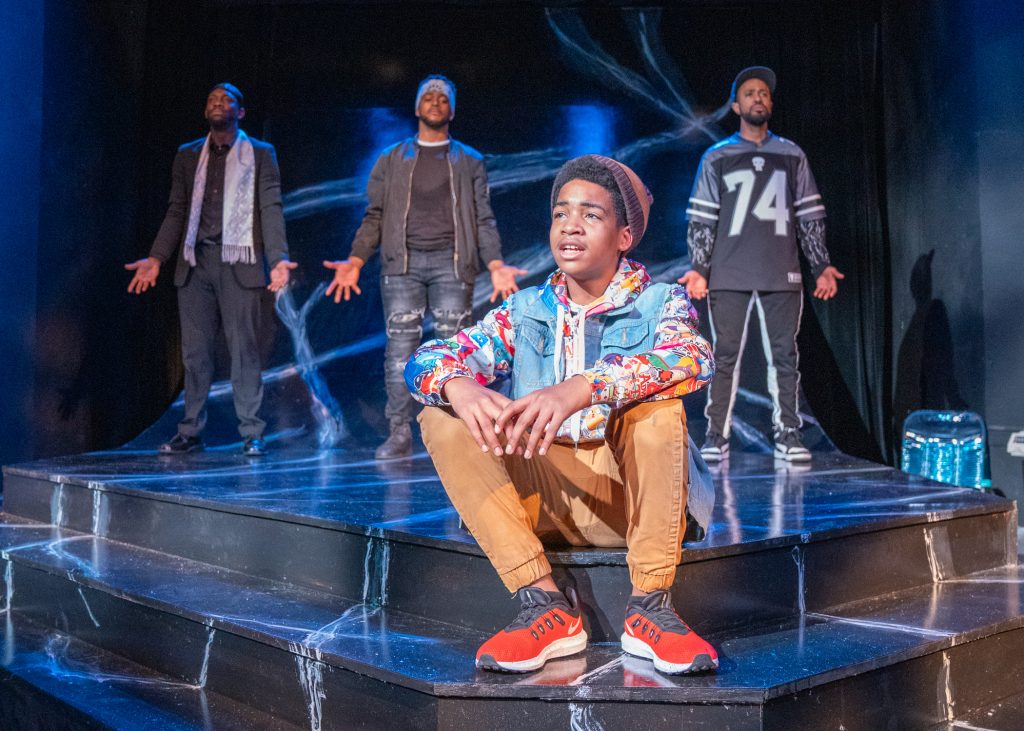 Working very closely with Clark to allow these fine actors to explore those difficult sentiments and to help in creating such a concentrated unit as a whole is the flawless intimacy and violence design of Rachel Flescher. Jason Lynch's lighting design and Jeffrey Levin's sound design and original composition add just the right pop at key moments to keep you riveted. The costumes of Izumi Inaba, once they have become drenched in the sweat of these hard-working actors who have run, jumped and virtually covered every inch of this playing area including the theater's aisles, are shed to reveal an unexpected surprise which transforms these characters into the valiant beings that they most definitely are, right down to their very core. Scenic Designer Ryan Emens evidently knows a thing or two about Greek mythology as well as Ijames. His set is a towering and imposing ramp. As each of the characters attempts to escape, they run all the way up the ramp but never can make it quite to the very top. Difficult not to think of Sisyphus as he tried to roll his boulder up that hill. As Isa, Daz, Grif and Tiny all must find out for themselves, the futility of that act is heartless and you risk getting crushed by the weight of your own boulder as it comes crashing down upon you.
______________________________________________________________
"Kill Move Paradise" continues until April 5, 2020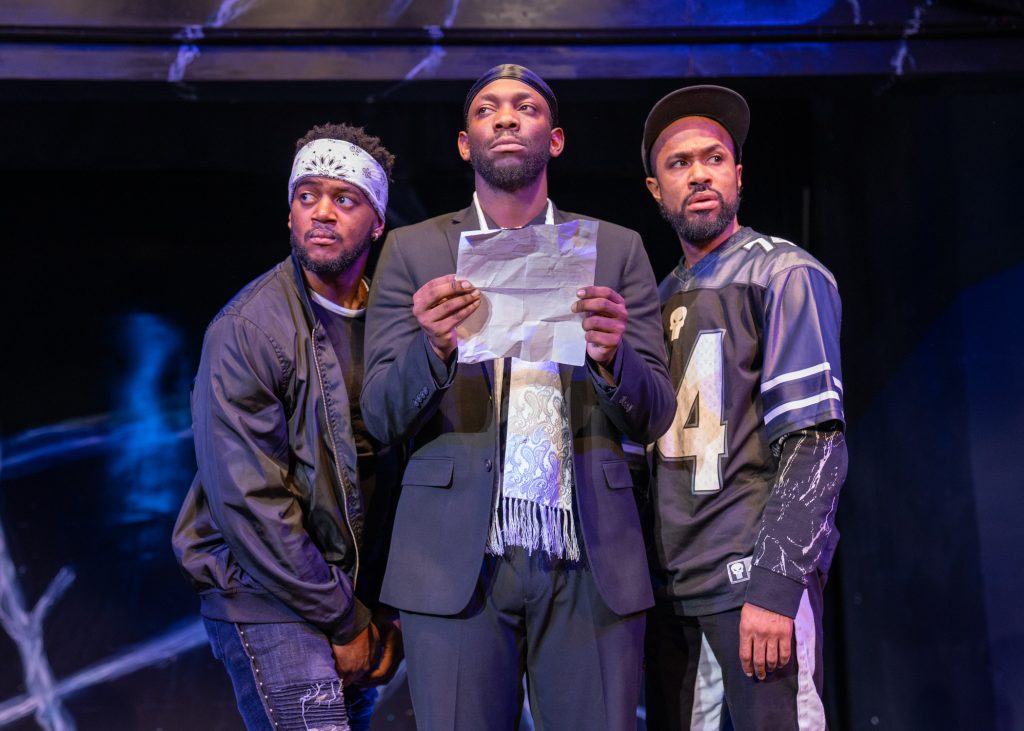 TimeLine Theatre Company, 615 West Wellington Avenue, Chicago, IL
Performances: Wednesdays and Thursdays at 7:30 PM; Fridays at 8:00 PM; Saturdays at 4:00 PM and 8:00 PM; Sundays at 2:00 PM. Added matinee Wednesday, March 11 at 2:00 PM. No show on Friday, March 13
Post-Show Discussions: A brief, informal post-show discussion hosted by a TimeLine Company Member and featuring the dramaturg and members of the production team will take place on Wednesday, March 4; Wednesday, March 25 and Thursday, April 2
Pre-Show Discussions: Starting one hour before these performances, a 25-minute introductory conversation hosted by a TimeLine Company Member and the dramaturg on Sunday, March 8 and Wednesday, March 18
Tickets: Single tickets to regular performances are $42 (Wednesday through Friday), $49 (Saturday evenings) and $57 (Saturday and Sunday matinees). Student discount is 35% off regular price with valid ID. TimeLine is also a member of TCG's Blue Star Theatre Program and is offering $25 tickets to U.S. military personnel, veterans, first responders and their spouses and family. Discounted rates for groups of 10 or more are also available.
To purchase single tickets or for more information, visit www.timelinetheatre.com or call the Box Office at (773) 281-8463 X6
Running time is 90 minutes with no intermission