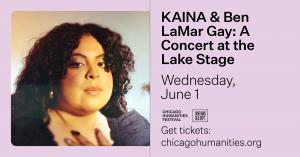 Celebrate summertime in Chicago with an evening of local music at Navy Pier's Lake Stage.
The night kicks off with a performance by Ben LaMar Gay (Open Arms to Open Us), a South Side native whose music channels cosmopolitan blues and "Pan-Americana," followed by a special performance from headliner, KAINA (It Was a Home), a first-generation Latina born and raised in Chicago, combines R&B, Latin jazz, indie pop, salsa, and soul for a set that sings across borders of love, legacy, and ancestry. Join Chicago Humanities Festival for a concert featuring two of Chicago's most exciting new music stars, with the city as backdrop.
Beverages will be available for purchase, courtesy of Land And Sea Dept. Stick around for fireworks right after the show!
Wednesday, Jun 1, 2022 7:00 pm - 9:00 pm CT. More information and tickets HERE.