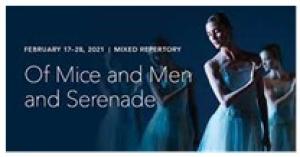 **** Highly Recommended **** As I've come to expect, the Joffrey Ballet's Spring Program, Serenade and Of Mice and Men was an extraordinarily perfect blend of classic and contemporary ballet.  In fact, it's not just an illustration of the company's versatility, it's a demonstration of all that makes the Joffrey such a leader in contemporary ballet.  The Joffrey's incredibly talented dancers execute the most complicated choreography with flawless technique.  4 BIG Spotlights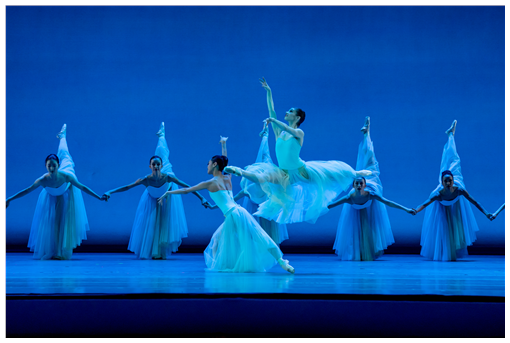 The first piece, Serenade, premiered by American Ballet in 1935, is an example of classic ballet techniques choreographed by George Balanchine to music by Peter Ilyich Tchaikovsky.  This was Balanchine's first ballet in America.  He choreographed Serenade for 26 dancers wearing blue costumes performing in front of a blue background, and he incorporated things which happened in rehearsals – a dancer arriving late, a dancer falling, etc. - into the piece.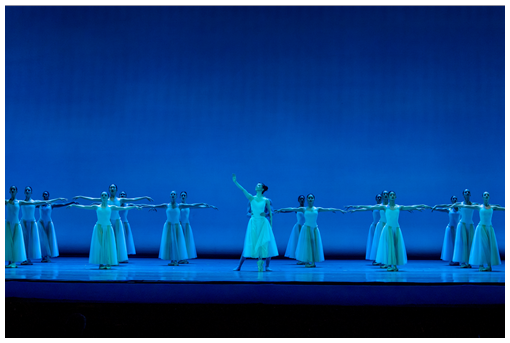 In the first movement, Sonatina, 16 dancers in rows of four, gracefully moved a hand, an arm, both arms, and finally their feet, all in perfect synchronization with Tchaikovsky's music.  The lines of four became groups of four, then eight, then the entire ensemble, when suddenly a dancer hurried in, trying to catch up, but not quite making it.  Another seemed to fall, remaining on the floor while others danced around her.   Three additional movements, Waltz, Russian Dance and Elegy, continue with variations of the initial themes.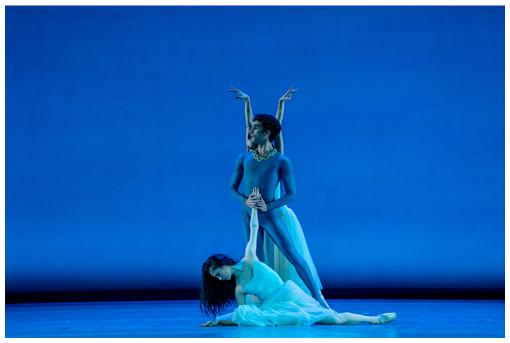 Featured dancers are Valeria Chaykina, Victoria Jaiani, Gayeon Jung, Edson Barbosa, Stefan Goncalves, Lucia Connolly, Princess Reid, Chloé Sherman and Miu Tanaka.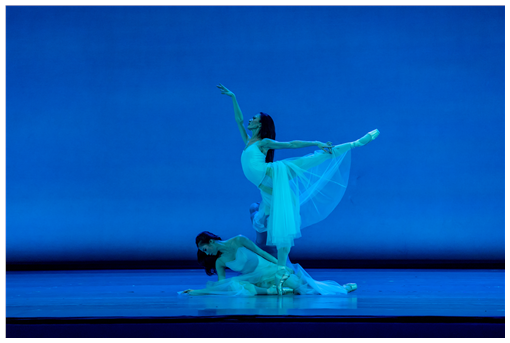 The ensemble includes Anais Bueno, Chloe Capulong, Nicole Ciapponi, Olivia Duryea, Dara Holmes, Yumi Kanazawa, Jeraldine Mendoza, Julia Rust, Miranda Silveira, Olivia Tang-Mifsud, Brian Bennett, José Pablo Castro Cuevas, Jonathan Dole, Yuchan Kim, Lauren Bemisderfer, Isadora Bless and Catarina Estévez Collins-Serra.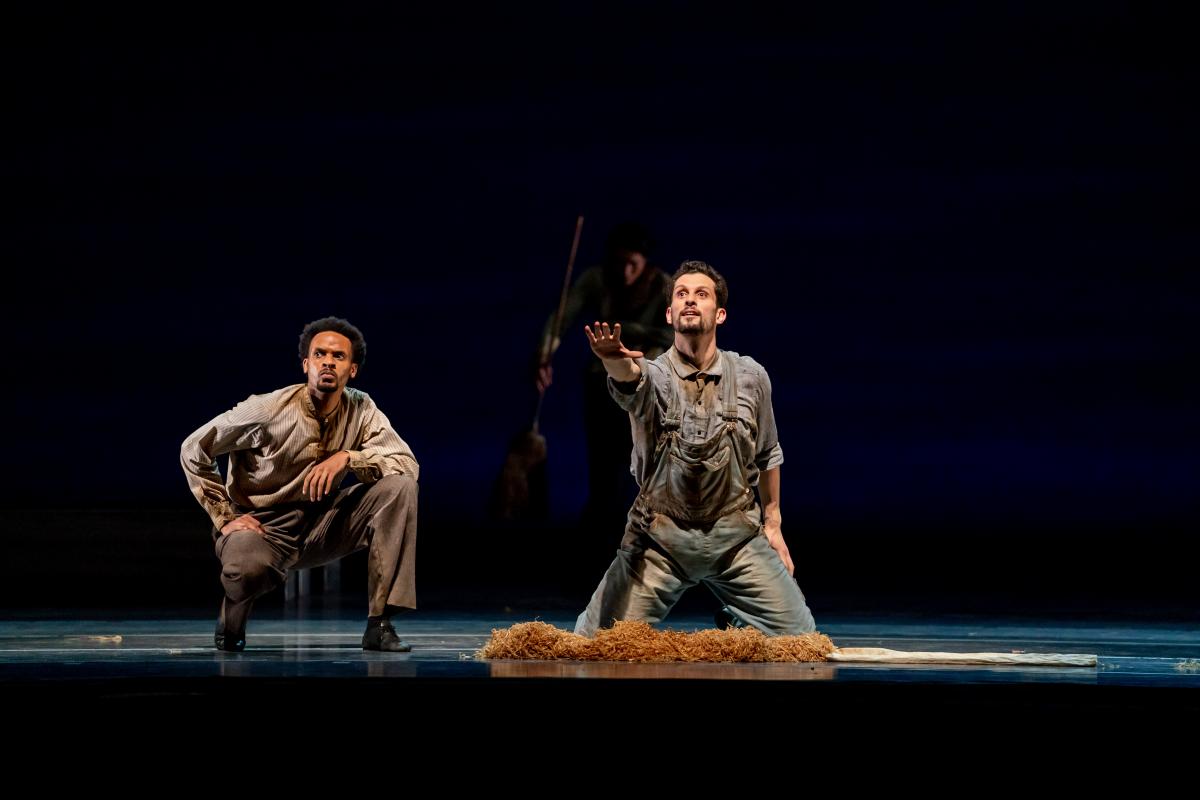 Cathy Marston's Of Mice and Men, choreographed to music by Thomas Newman, is adapted from a book by John Steinbeck.  Marston's expressive choreography incorporates strength and athleticism into contemporary and ballet movement.  In her version of the story, there are two Georges – George before (Xavier Núñez) and George After (Alberto Velazquez).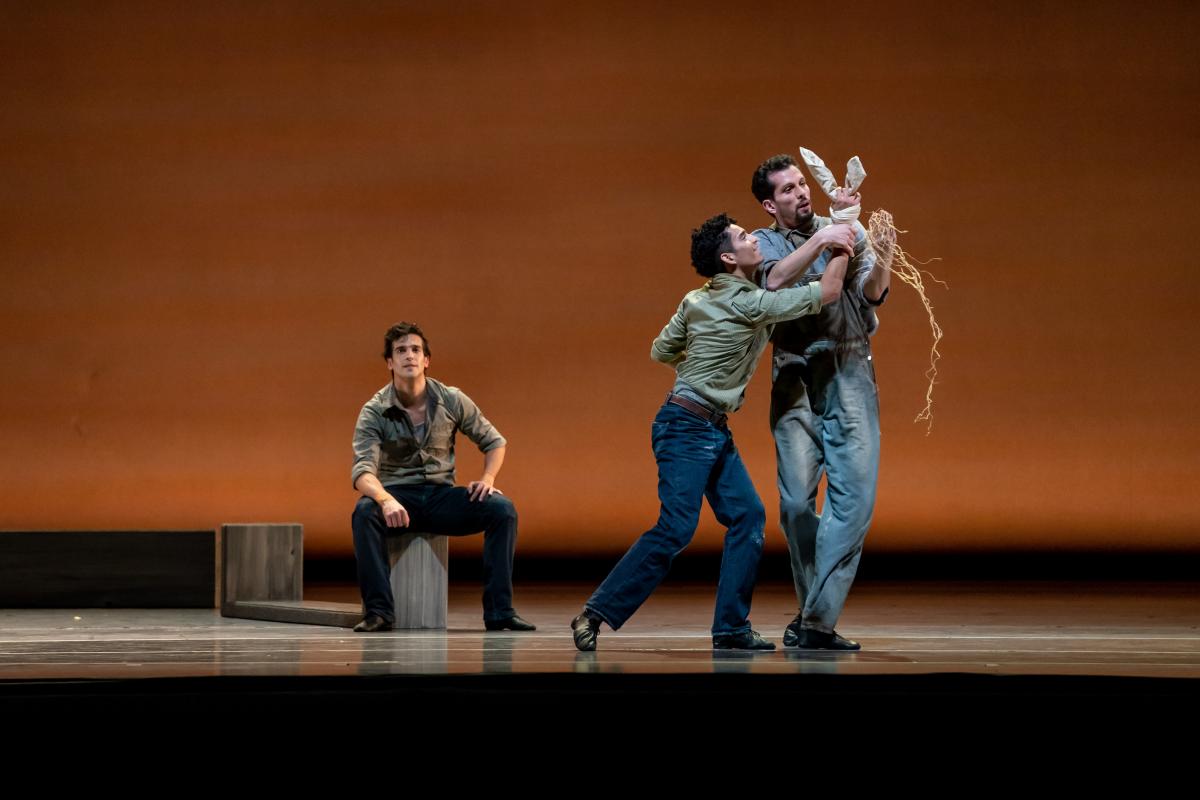 Of Mice and Men begins as George and Lenny are fleeing from a mob back in Weed.  Lennie (Dylan Gutierrez), who doesn't understand a lot, couldn't resist a girl in a red dress, so they had to run.  The Weed mob included Derek Drilon, Hyuma Kiyosawa, Aaron Renteria, Olivia Duryea, Gayeon Jung, and Yumi Kanazawa.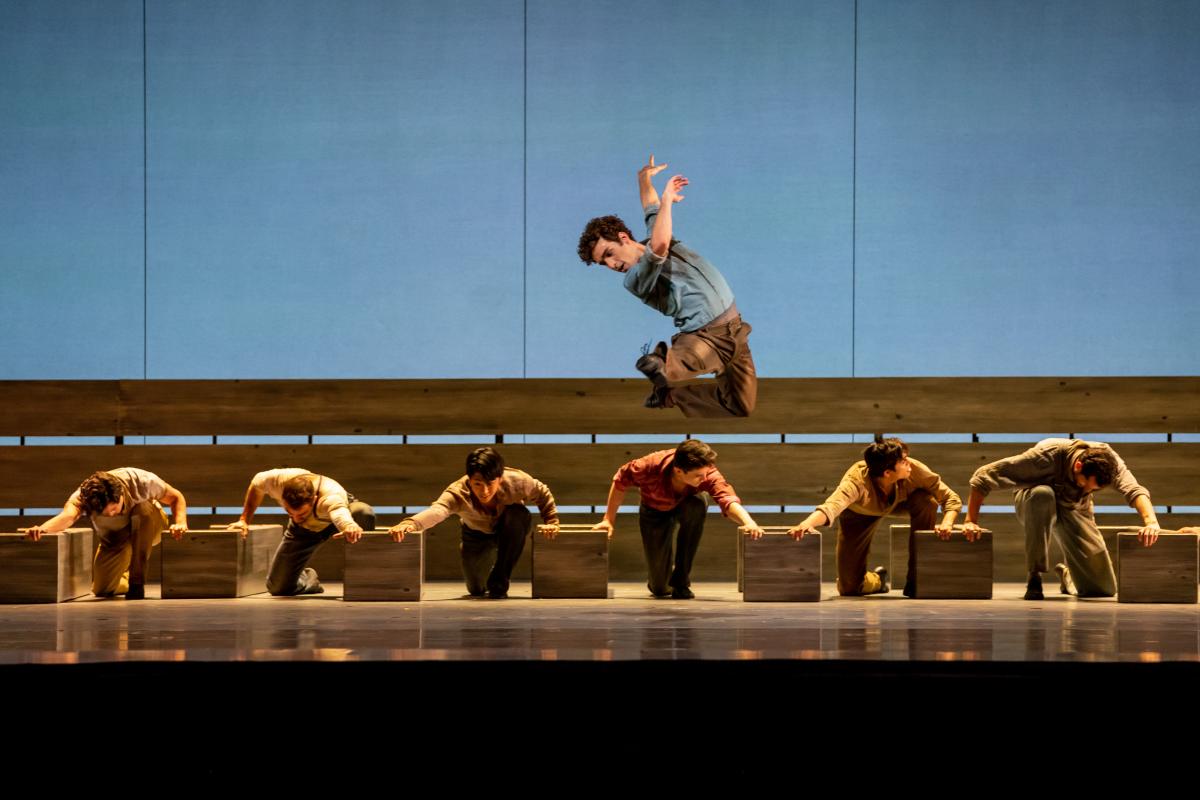 When they were safe, George found a quiet place and reminded Lenny of their dream, a place of their own and bunnies.  Lenny emptied his soft furs out of a white sack, which became a bunny in his hands.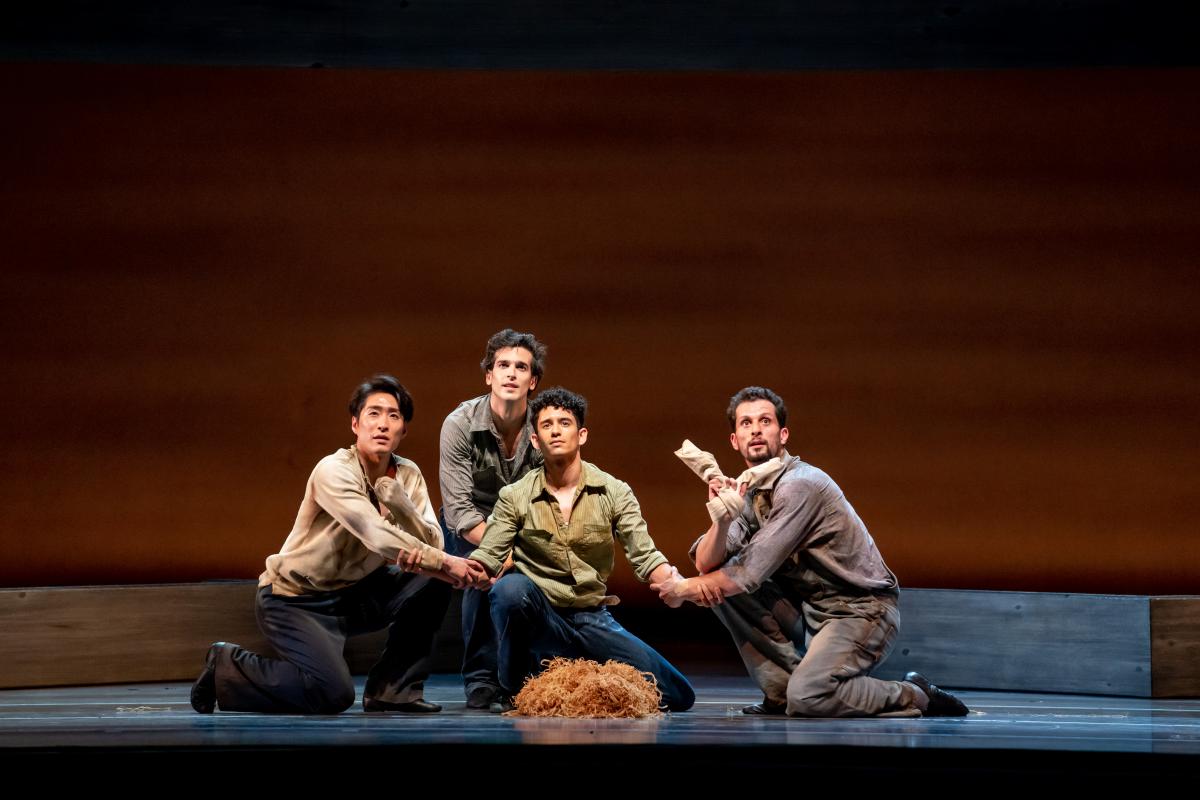 When they got jobs at a new ranch, things were good at first.  When workers – two per bench – push long wooden benches representing the ranch work, Lenny can pick one up by himself.  They got along with co-workers Candy (Yoshihisa Arai), Slim (Edson Barbosa), Carlson (Derrick Agnoletti), Crooks (Brian Bennett), and Whit (José Pablo Castro Cuevas).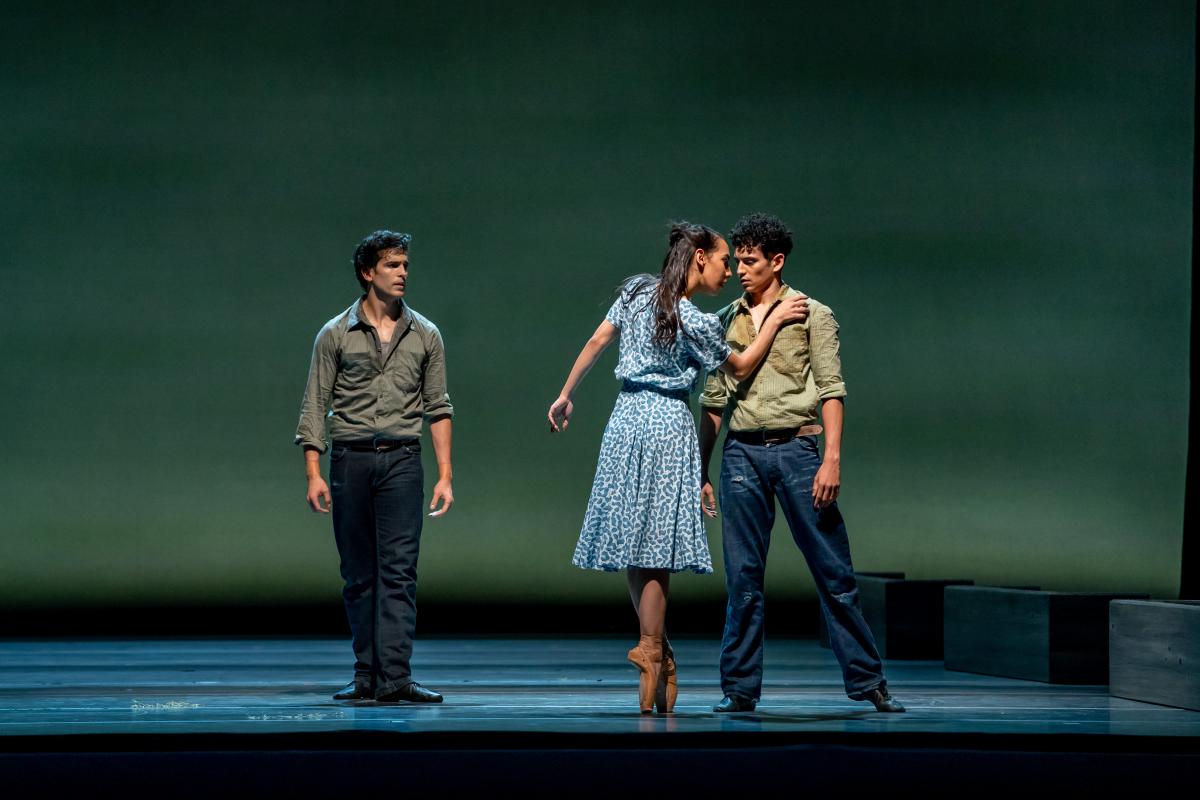 Unfortunately, the Boss (Miguel Angel Blanco) had an aggressive son, Curley (Fernando Duarte) who was abusive to his wife.  Curley's Wife (Amanda Assucena) wouldn't stay away from the workers.  While most of the ranch workers (Derek Drilon, Hyuma Kiyosawa, Aaron Renteria) visited the Bar Women (Lucia Connolly, Miranda Silveira), George kept Lenny away.  When he left Lenny alone with Crooks and Candy, Curley's Wife got too close.  Disaster followed.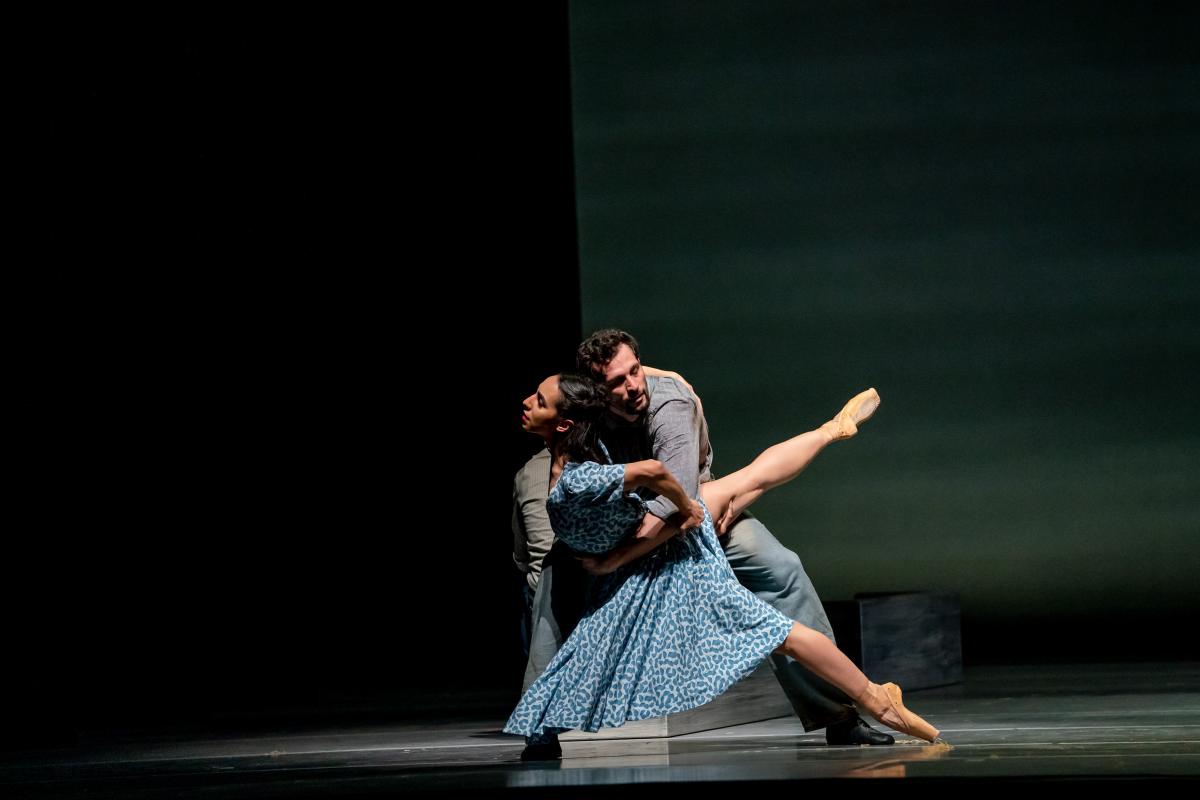 Note: Guests must show proof of vaccination before entering the theater.  Guests are required to wear masks while inside the building. 
The Joffrey Ballet's Spring Program, Serenade and Of Mice and Men runs through May 8th at the Lyric Opera House, 20 N. Wacker Drive, Chicago.  Closest parking option is the Poetry Garage, 201 W. Madison.  $12 evening and weekend parking available on performance dates through Joffrey website.  Running time is about 2 hours with an intermission. 
Remaining performances are Thursday, May 5th at 7:30 pm; Friday, May 6th at 7:30 pm; Saturday, May 7th at 2:00 and 7:30 pm; and Sunday, May 8th at 2:00 pm.  Single tickets start at $35.  FYI (312) 386-8905 or www.joffrey.org.