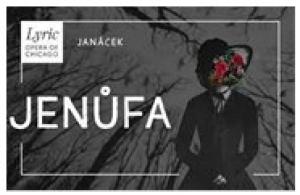 **** Recommended   When I first saw and heard "Jenufa" at Lyric Opera two decades ago, it was a revelation. Even for one enamored of dramatic tragedies, this one felt different: As heartbreaking as it was to experience, the denouement -- with its unexpected sense of peace, reconciliation and profound forgiveness on the part of thrice-wronged Jenufa -- made the musical journey feel worthwhile; I felt "emotionally purified," in the words of this production's conductor, Jakub Hrusa, the ending a richly satisfying though terribly sad outcome to "this terrible, cruel story."  4 SPOTLIGHTS
Now, 23 years later, older and a bit wiser, the intense sorrow and eventual gratifying emotions were the same, the production just as moving as I remember it. Norwegian soprano Lise Davidsen, in her Lyric debut as the tragic but triumphant heroine Jenufa, brings depth and remarkable versatility to a demanding role, and the formidable Nina Stemme as the Kostelnicka -- the "village sacristan," a layperson who is a church officer or sexton -- and also Jenufa's step-mother who loves her as her own, has a commanding stage presence full of steely gravitas.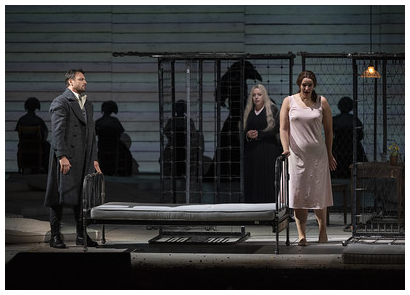 Though frightening events occur in our society every day, we often feel removed from them, insulated thanks to our individual lives and the personal freedoms we often take for granted. But in Jenufa, which takes place in a rural Moravian village in the 19th century with a strict moral code in which at least the women are bound by stifling behavioral expectations, one's life and actions are known to – and judged by – all. There is no privacy here, and no escape from any misstep.
It is against this socially rigid backdrop that Jenufa's personal tragedy unfolds. Excited that her beloved Steva has not been conscripted and will return to the village, her initial trepidation turns to joy, knowing that now they can be wed. That Jenufa is secretly pregnant only adds to her angst and then relief, secure in the knowledge that Steva will be returning home to her.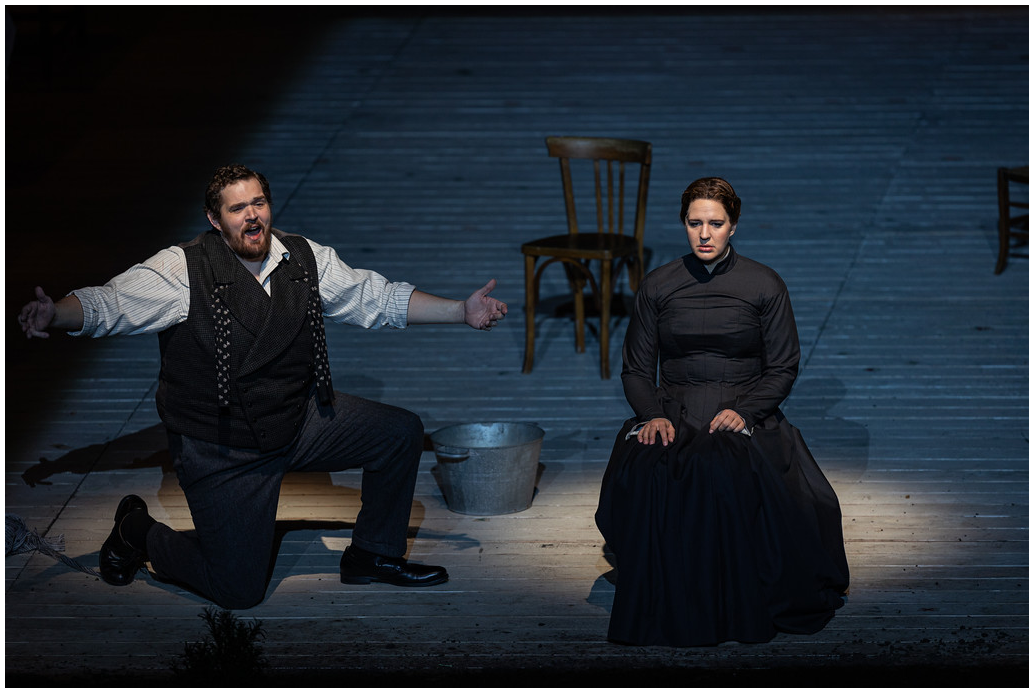 But Steva has ideas of his own, and returns with a plan to join the fighters, anyway, much to Jenufa's dismay. His carousing and drinking cause Jenufa's step-mother to tell him he must wait a year to marry Jenufa. Jenufa begs Steva, a classic cad played well by Richard Trey Smagur in his Lyric debut, to marry her sooner, not telling him the reason for her sense of urgency. At some point, Steva's jealous half-brother Laca, in love with Jenufa, lashes out at her and slashes her face with a knife.
Laca, played by Pavel Cernoch in his Lyric debut, captures the thwarted lover to perfection with his convincing limp, a metaphor, perhaps, for his conflicted character imperfections – his jealousy, and also his underlying humanity and devotion to Jenufa; it is Laca who, like Jenufa, becomes an unexpected hero in his own right by the opera's end.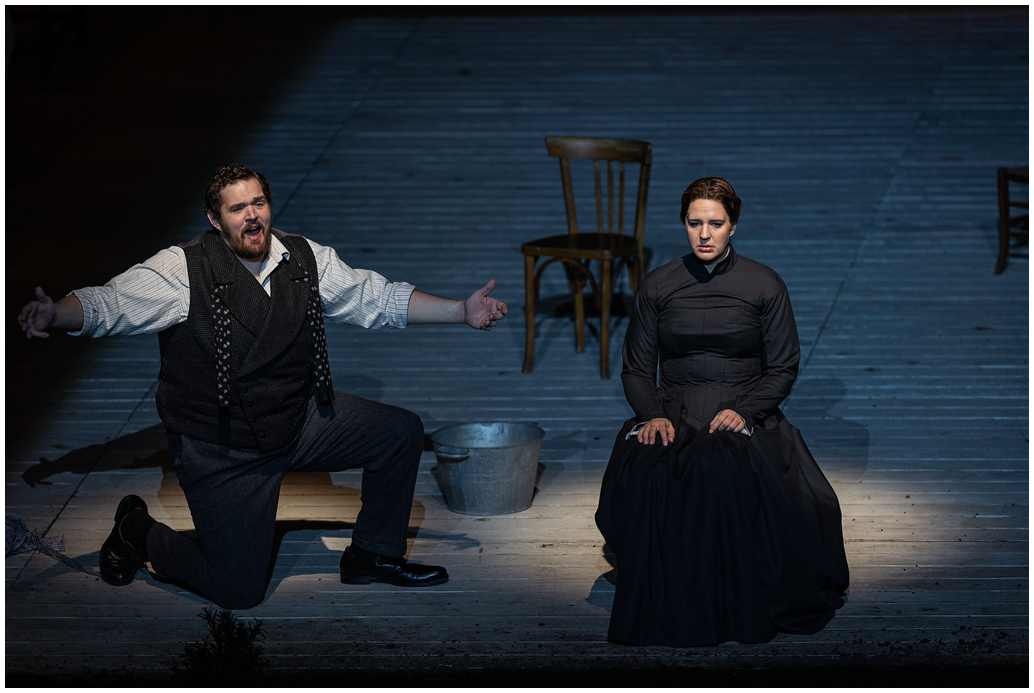 Five months later, Jenufa is wronged yet again, and again by someone who purports to love her. Now we find Jenufa hidden away at the Kostelnicka's home, where she has given birth to a baby son she loves. Her step-mother sends for Steva and begs him to marry Jenufa. However, Steva tells her he is engaged to marry Karolka, the mayor's daughter. She is no longer beautiful or desirable to him with her  disfigured face. Distraught and consumed by humiliation, the Kostelnicka murders Jenufa's baby.  She knows there will be no life for Jenufa with this baby in the village. She will be shunned.
Eventually, despite her grief at losing Steva and her baby, Jenufa and Laca agree to marry. Laca knows Jenufa has lost her baby, and that the baby was Steva's, but his love for her inspires her to go forward with a new life. The truth about the baby's murder comes to light, and Jenufa, despite her sorrow and sense of betrayal, understands why her step-mother acted as she did, and forgives her.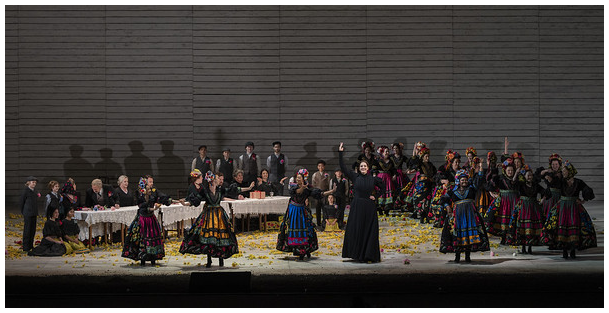 Though Jenufa's life appears to be in shambles, having lost her child at the hands of the only mother she has ever known, in actuality, she has gained an authentic life and a sense of freedom and a future, with the mature love and dedicated companionship of Laca to help her forward.
No stranger to sorrow, composer Leos Janacek himself lost both of his children, his son Vladimir as a toddler, and his beloved daughter Olga at age 20. Perhaps it is this profound sorrow, and the eventual overcoming of it, that gave rise to his desire to set this realist play by Gabriela Preissova, "Her Stepdaughter," as an opera, which finally premiered in Brno in 1904. He worked on it for 10 years, creating a stunning compositional approach in which he tried to capture – in music – characters' speech that reflected their psychological state in a specific moment.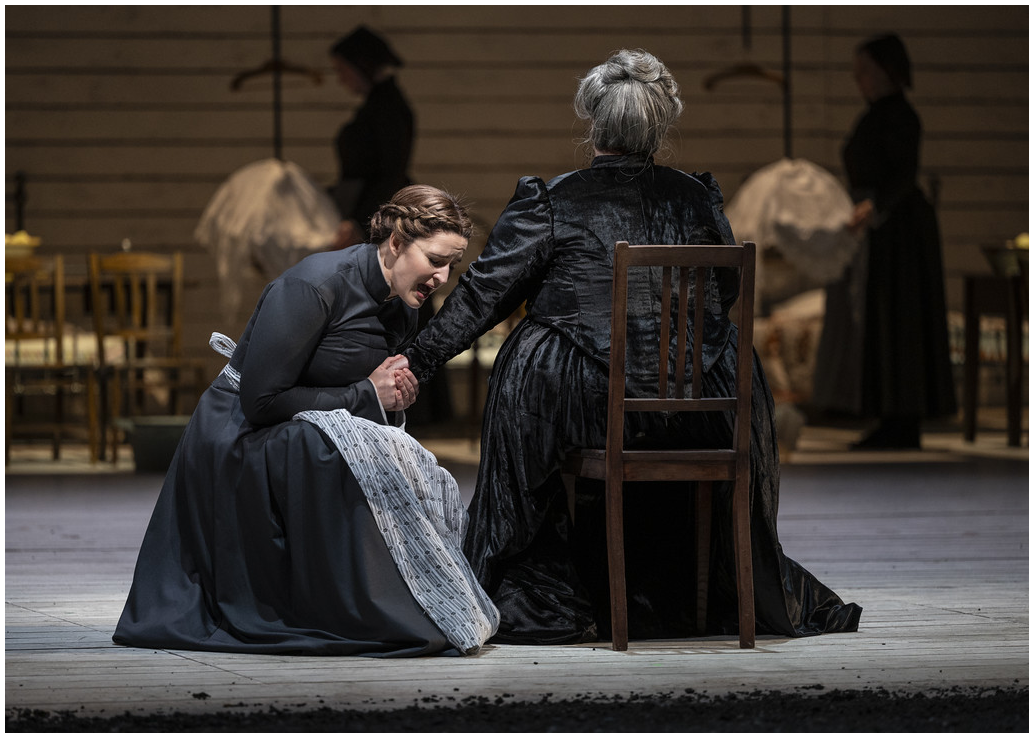 The helpful biographical posters set in the Lyric lobby about Janacek and his life and work, which are worth reading, explain that he was convinced he could record people's speech using musical notes, so-called speech melodies. It is perhaps this fresh original approach that prompted director Claus Guth to note that he finds Janacek's minimalistic style as emotionally intense and modern. This does not mean that the music is dissonant in any way; quite the opposite. The music is melodic and haunting, but because the dialogue is fast-paced and to the point, the opera does feel contemporary.
The only misstep here is the set itself. Perhaps trying to match the contemporary feel of the opera, and to illustrate the characters' hemmed-in immobility, set designer Michael Levine created a claustrophobic set with white clapboard walls. The orphanage in the first act – with its perfectly lined-up beds and hanging baby cradles reinforcing the sense of social rigidity – lends a creepy science-fiction flavor that actually distracts from Jenufa's forlorn state as well as the Kostelnicka's unbearable shame.
It becomes even more unpalatable in the second act, in which the Kostelnicka's home is depicted as a black-metal prison of sorts, with metal beds comprising her home, and mattresses haphazardly strewn about the stage, perhaps as a metaphor for Jenufa's sexual shame.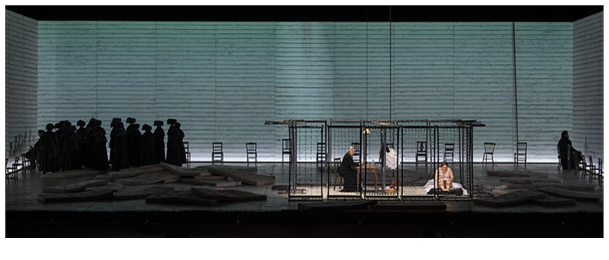 Only in the final act, with the colorful women's clothes and the ground strewn with yellow flowers, is the mood of forgiveness and triumph enhanced – even as the tragic Kostelnicka is dragged away to face her desperate act after confessing her crime.
Still, this magnificent production is a must-see – a triumph for Lyric Opera, as well as the main characters, with its ironically satisfying ending despite the unrelenting sadness throughout.
___________________________________________________________
​"Jenufa" continues until November 26, 2023
Lyric Opera of Chicago is located at 20 North Wacker Drive, Chicago, IL
Remaining performances are:
November 18 at 7:30 PM
November 21 at 7:00 PM
November 26 at 2:00 PM
Tickets: Please visit www.lyricopera.org/jenufa or call 312-827-5600
Running time is approximately 3 hours and 5 minutes with two intermissions.