I think the most amazing part of it all is that Jim McCance and Christian Gray have returned for all five productions to reprise the roles they originated as the unflappable Jeeves and the hapless Bertie.  Poor, poor Bertie!  When he's not getting himself into trouble (never), his relatives drag him into theirs.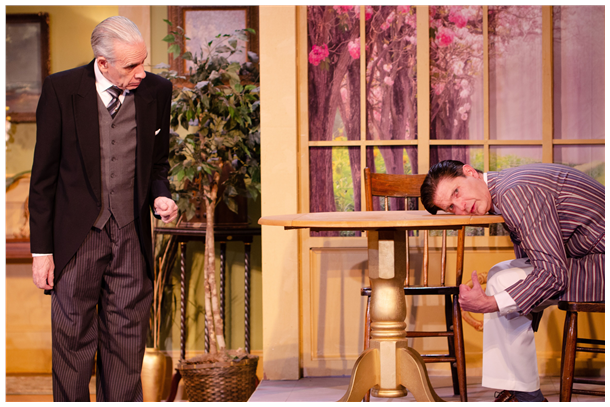 Jeeves has just returned from his holiday to find Bertie Wooster beating his head on a convenient table.  He explained that somehow he'd gotten himself engaged to a Miss Glossup, but he had no idea how it happened. 
Before Jeeves can come up with a solution to that problem, Bertie's formidable Aunt Agatha (Lucinda Johnston) marches in dragging his cousin Egbert Bakewell (Dan Klarer) by the ear. 
Aunt Agatha explains that Eggy has gotten himself into some financial straits, so she's bought him a ticket to South Africa.  She informs Bertie that he must make sure Eggy gets on the boat.  She then indicated her approval of Bertie's engagement by informing Bertie that she'd invited Miss G's uncle, Sir Roderick Glossop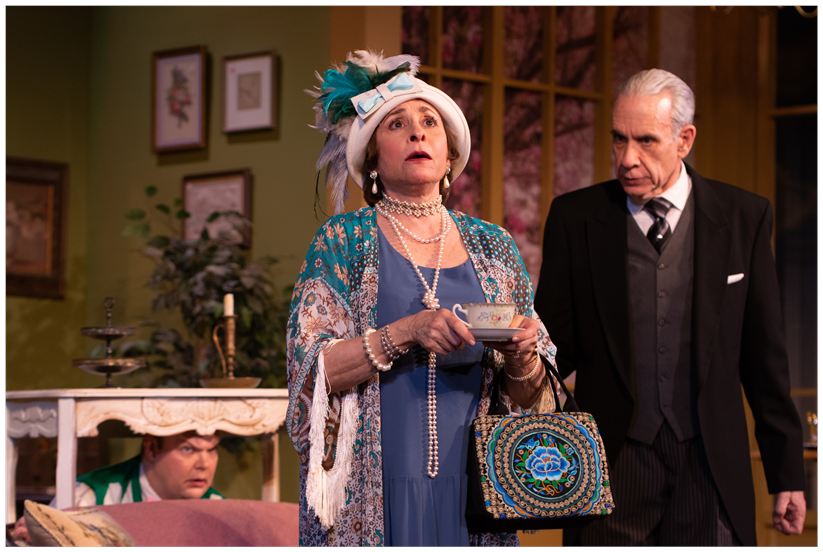 (Sean Sinitski), to tea the next afternoon. 
Eggy begs Bertie for a loan so he can have a final night on the town before his exile.  While out, he heard the charming and very sexy jazz singer, Red Hot Maisie Dawson (Almanya Narula), and fell in love. 
The next morning, while Bertie sleeps in, Jeeves takes Eggy to the boat, but Eggy got off the boat and now he's running around town doing who knows what.  Meanwhile, Aunt Agatha drops in, telling Jeeves that she thought she saw Eggy on the street.  Jeeves assures her that he saw him to the ship, so it couldn't be Eggy – unless there was an accident at sea.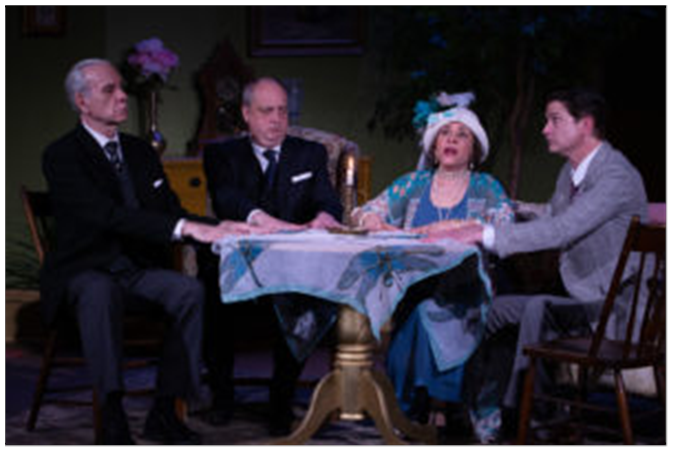 Of course, while she was drinking a restorative cup of tea, Eggy returned, hiding under a tiny table and behind a plant, while Jeeves kept her distracted.  
Later, when stodgy Sir Richard comes for tea, really to approve or disapprove of Bertie for his niece, Aunt Agatha insists on holding a séance in an attempt to reach Eggy. 
I absolutely love Bertie's house by the sea designed by Angela Weber Miller.  Rachel Lambert's costumes are fabulous too.  I was particularly fascinated by Aunt Agatha's hats!  Of course, Jeeves sees that Bertie is properly togged out for every occasion – even a dip in the sea!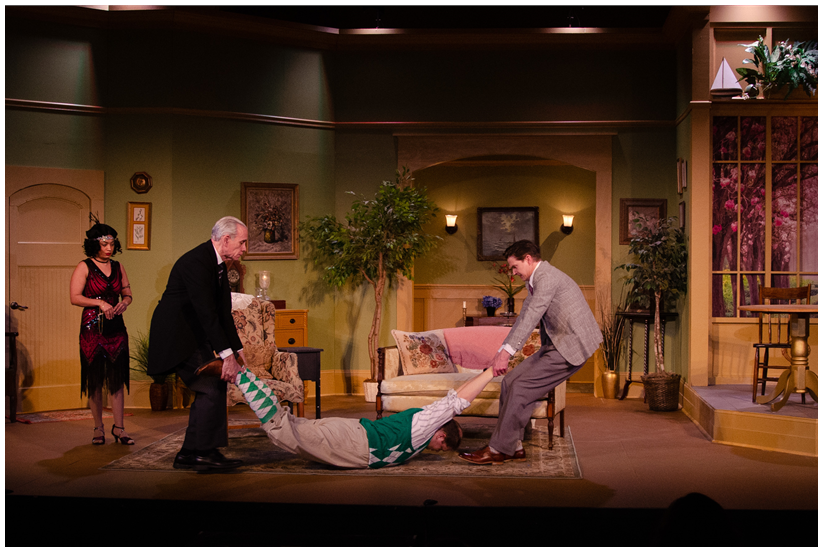 "Jeeves Saves the Day" runs through March 1st at First Folio Theatre at the Mayslake Peabody Estate, 31st Street and Rt. 83, Oakbrook.  Parking is free.  Running time is 2 hours with an intermission.  Performances are Wednesdays at 8:00 pm; Thursdays at 3:00 pm; Fridays at 8:00 pm; Saturdays at 4:00 and 8:00 pm; Sundays at 3:00.  Tickets range from $29-$44.  FYI (630) 986-8067 or www.firstfolio.org.