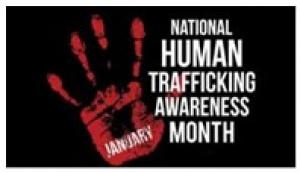 January is National Human Trafficking Awareness Month, as decreed by presidential proclamation. It is a key time for us all as individuals to educate ourselves about human trafficking and crucially to learn to spot the signs of trafficking.
Human trafficking is people using or exploiting other people for labor, domestic servitude or commercial sexual activity by force, fraud, or coercion. It is a big business globally, second in size only to the illegal drug trade.
Human beings are treated as property and their bodies are sold to others without their consent. Victims can get recruited into trafficking through deceit and/or abduction, and traffickers usually target the most vulnerable members of society such as children, victims of physical/emotional abuse, the homeless, the disabled, the poor, and drug-addicted individuals.
The average age of entry into trafficking for boys and girls is in between 11 and 14. Warning signs of child sex trafficking include signs of physical abuse such as burn marks, bruises, or cuts, unexplained absences from school or truancy, sexualized behavior, being often in the company of someone to whom he or she defers, becoming withdrawn, depressed, or distracted, new tattoos (which are often used by pimps as a branding device), having older boyfriends or new friends with a different lifestyle or gang involvement, and disjointed family connections including running away, living with friends, or experiencing homelessness.
Facts about human trafficking include:
• Every country in the world is affected by human trafficking. Human trafficking often occurs from less developed countries to more developed countries. Most human trafficking is national or regional, but long-distance human trafficking does occur.
• Sexual exploitation (e.g., sex trafficking) is by far the most common form of human trafficking. It is the most visible. Other forms of exploitation are under-reported.
• A disproportionate number of women are involved as victims.
• Most trafficked forced labor occurs in agriculture, construction, garments and textiles, catering and restaurants, domestic work, the provision of healthcare services, entertainment and the sex industry.
If you are concerned about an individual or individuals who may be victims, please call 911.