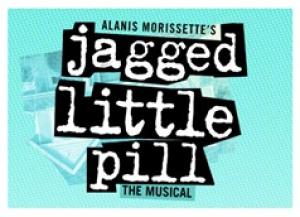 *** Recommended *** A jukebox musical is a story written to feature hit songs of a popular music group or genre.  More often than not, these musicals turn out to be light, frothy musical romps.  Jagged Little Pill, which features the music of Alanis Morissette's album of the same name, definitely breaks that mold.  It's dark, depressing and sad, but it did have a real impact.   I thought Act I was somewhat over-choreographed and the music was so loud I had a hard time understanding the words in many of the songs.  3 Spotlights
Jagged Little Pill was written by Diablo Cody with music by Alanis Morissette and Glen Ballard.  It was directed by Diane Paulus.  This is an outstanding cast.  Heidi Blickenstaff, who also played the part on Broadway, has a voice that reverberates!  I was in awe of her talent.  Just wow!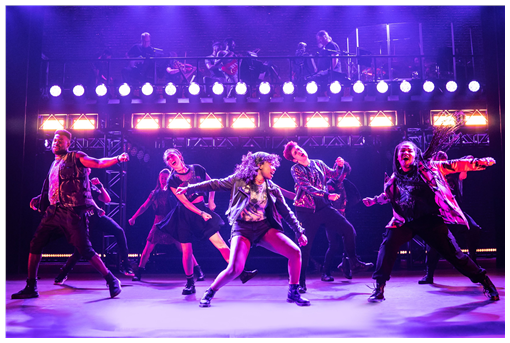 Watching Jagged Little Pill felt a lot like watching a train wreck.  It was obvious that things were only going to get worse for the 'perfect' Healy family – individually and collectively.  None of them were communicating with each other on anything but a superficial level while all of them were facing serious problems.   
The story opens as Mary Jane Healy (Heidi Blickenstaff) is writing her Christmas letter about her 'perfect' family and everything they accomplished in the past year.  MJ considers her hard work maintaining the appearance of the perfect mom/housewife as kind of a competition.  She wants to win the 'competition' – raising perfect (high-achieving) children who have multiple activities (helping them make the right choices aimed at college acceptance), all while being involved with their schools, her own volunteer work, playing the perfect game of tennis at the club and running the house.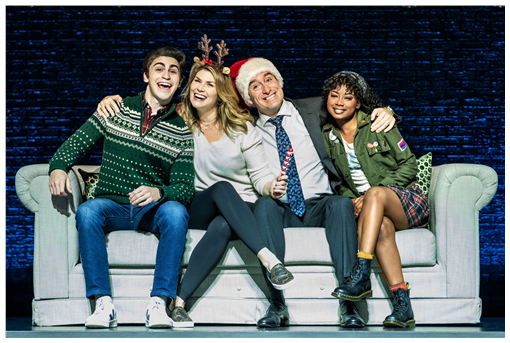 MJ's husband, Steve (Chris Hoch), is a high-powered attorney who works long hours to support his family.  He can see that MJ is pulling away from him but he can't figure out why.  Steve and MJ have two children, their son, Nick (Dillon Klena), and their adopted daughter Frankie (Lauren Chanel) who is black.  When Nick gets his acceptance letter from Harvard, MJ is ecstatic – she's a success!  Now, if only she can get Frankie, who fervently espouses causes, back on track. 
Unfortunately, MJ had an automobile accident which landed her in the hospital followed by months of physical therapy.  Now, her prescription for pain killers has run out and she's desperate to get more. 
Frankie is angry at her parents – she doesn't understand why they would adopt a black child – and try to fit her into their white mold.  She isn't sure of her sexuality, either.  Jo (Jade McLeod) might be her girlfriend, at least until a boy named Phoenix (Rishi Golani) asks her out. 
Nick is proud that he was accepted at Harvard, but he's been working so hard he hasn't had time for fun, so he decides to go to a party.  All of his friends are there and most are drinking heavily.  A girl named Bella (Allison Shepherd) got so drunk – or got roofied – and passed out.  Nick is wracked with guilt because he watched while Andrew (Jason Goldston) raped Bella and didn't stop it.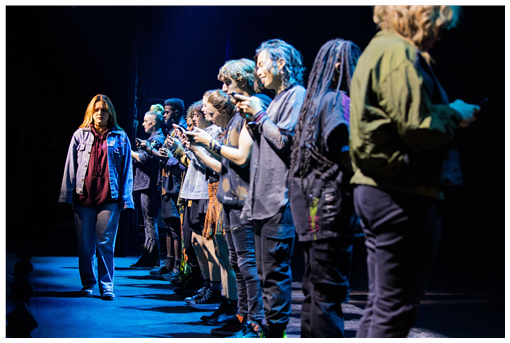 And that's just the first act! 
The ensemble and swings: Lee H. Alexander, Delaney Brown, Justin Scott Brown, Maya J. Christian, Claire Crause, Jada Simone Clark, Sean Doherty, Cydney Kutcipal, Jordan Leigh McCaskill, Sophie Lee Morris, Alana Pollard, Carmella Taitt, Daniel Thimm, Kei Tsuruharatani, Jena VanElslander, Bligh Voth, and Charles P. Way 
The Band: Matt Doebler (Conductor/Keyboard), Claudio Raino (Guitar 1), David Kornfeld (Guitar 2), Jennifer Giammanco (Bass), Lucy Ritter (Drums & Percussion), Alexandria Hill (Concertmaster/Violin), Vannia Phillips (Viola), Tahirah Whittington (Cello), David Kornfeld ( Assistant Conductor). 
Note: Masks are encouraged but not required.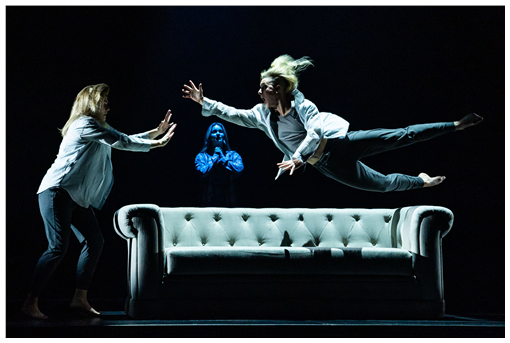 Jagged Little Pill runs through April 23rd at the Nederlander Theatre, 24 W. Randolph, Chicago.  Running time is 2 hours, 35 minutes with an intermission. 
Performances are Tuesday through Friday at 7:30 pm, with a matinee Wednesday, April 19th at 2:00 pm; Saturdays at 2:00 & 8:00 pm; Sundays at 2:00 pm, with an additional performance on Sunday, April 16th at 7:30 pm.  Tickets range from $35-$105.  FYI (800) 775-2000 or www.ticketmaster.com.