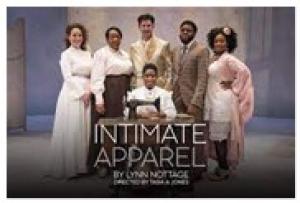 "Intimate Apparel" is a slice of life of a shy hardworking black woman in 1905.  Esther sews intimate garments for high society women as well as prostitutes.  Her world revolves around these clients, her fabric supplier, an Orthodox Jew and a pen pal prospective husband.
The word "intimate" actually has two separate meanings in this story.  Esther sews lovely "intimate" apparel for her mere existence.  And, the characters around Esther's life seek "intimacy", but never really achieve it.
The stage had one setting but cleverly represents several separate locations.  One clever subtlety spoke volumes of the troubled times for people of color.  Old sepia photos would appear on a screen portraying the key events of the story.  The text would state in each "Unidentified negros….".  The last one, however, mentions "Esther", by name. as if to say, this is someone worth naming.
The play goes full circle, and the ending is very much like the beginning.  You need to see this highly recommended production to understand this.   
CAST: Rashada Dawan (Mayme), Felicia P. Fields (Mrs. Dickson), Sean Fortunato (Mr. Marks), Mildred Marie Langford (Esther), and Rebecca Spence (Mrs. Van Buren), Yao Dogbe (George, though May 1), Al'Jaleel McGhee (George, beginning May 3). 
Intimate Apparel, under the Artistic Direction of BJ Jones and Executive Director Timothy J Evans, is playing at Northlight Theater. 9502 Skokie Blvd., Skokie, through May 15.  Tickets range from $30-$89.  FYI (847) 673-6300 or www.northlight.org.