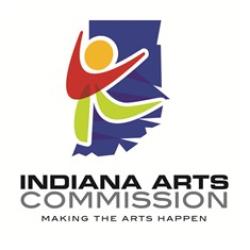 The Indiana Arts Commission (IAC) announced that 20 educators from across the state have been chosen to participate in a new program centered on bringing arts and creativity into the classroom. This prestigious program invites top educators to participate in hands-on training sessions followed by implementation of a full semester of arts activities in the classroom.
The Indiana Educator Fellowship for Creative Teachers is a program of the IAC in partnership with the Indiana Department of Education (IDOE) that celebrates and supports outstanding educators throughout the state in implementing creativity-centered innovation in the classroom. 
Research shows creative teaching strategies, also known as arts integration, improve student engagement, student learning retention, and student literacy skills. 
"We selected some of the most energetic, innovative educators across the Hoosier State to participate in this fellowship," said Stephanie Haines, Arts Education and Accessibility program manager at the IAC. "It is exciting to meet with so many inspired educators who are ready to integrate arts and creativity into the classroom to the benefit of their students."
The 2023-2024 Creative Educator Cohort is as follows: 
Anna Grant, Jasper High School (Dubois County)
Brittany Bleicher, Northside Middle School (Delaware County)
Darlene Rosario-Reese, Block Middle School (Lake County
Emily Crapnell, Noblesville West Middle School (Hamilton County)
Franklin Oliver, University High School (Hamilton County)
Hailey Hutzell, Fairview Elementary (Wayne County)
Heathar Bradbury, Clay High School (St. Joseph County)
Jacquelyn Greer, Muncie Central High School (Delaware County)
Jennifer Gonzalez, Clarence Farrington School 61 (Marion County)
Jennifer Stahl, West Washington Jr./Sr. High School (Washington County)
Josie Engdahl, Anderson Intermediate School (Madison County)
Kaylene Huntsman, Shelbyville Central High School (Shelby County)
Lori Vandeventer, Eastern Greene High School (Greene County)
Nicole Brubaker, Manchester High School (Wabash County)
Paul Satchwill, Batesville High School (Ripley County)
Rachel Campbell-Maher, Christ the King Catholic School (Marion County)
Rebecca Harris, White River Valley Middle School (Greene County)
Rita Eblin, Washington High School (Daviess County)
Stephanie Dodd, Franklin Central High School (Marion County)
Susan Stewart, Riverside Elementary School (Clark County)
The fellows will attend a series of virtual learning sessions and will receive two days of immersive, hands-on training in connecting creativity to state standards, access to a fully funded in-school creative arts residency, and a $1,000 honorarium.  
Learn more about the Indiana Educator Fellowship for Creative Teachers. 
Educators who are interested in learning more about arts integration are invited to attend the one-day in-person training. This free training opportunity will take place on July 11, 2023 at Franklin College.  
Learn more and sign up to attend the training in partnership with the Fellowship recipients.