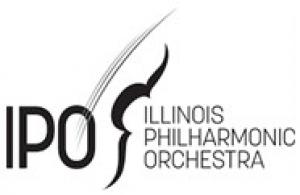 Illinois Philharmonic Orchestra (IPO) continues its popular IPO Reimagined virtual season with its spring concert Poetic Strings filmed in IPO's stunning home venue, Ozinga Chapel at Trinity Christian College in Palos Heights, available to stream April 9-23, 2021. The hour-long concert features 32 IPO string players performing American modernist composer Ruth Crawford's Andante followed by Austrian-American composer Arnold Schoenberg's Transfigured Night. Tickets are $15 and now available at ipomusic.org.
Ruth Crawford began her studies at the American Conservatory of Music in Chicago in 1921 and composed her most famous work Andante in 1931. The score is extraordinarily complex, with overlapping crescendos and diminuendos creating a sense of melody out of single pitches in each instrument.
"IPO is committed to featuring less well-known composers, especially female, African American and Bulgarian composers," said IPO Music Director Stilian Kirov. "We are thrilled to perform the work of Crawford, a female composer with strong Chicago ties, paired with the work of one of the most influential composers of the 20th century, Schoenberg."
Schoenberg's Transfigured Night, composed in just three weeks, was violently rejected by the public when it premiered in Vienna in 1903, likely because Schoenberg was Jewish during a tumultuous political atmosphere in Vienna at that time. Antisemitism shaped much of Schoenberg's life and career.
Despite the negativity surrounding the premiere of the work, Transfigured Night is now considered Schoenberg's earliest, most important work. IPO's concert title Poetic Strings is an homage to the piece, which was inspired by German poet Richard Dehmel's poem of the same name. The movement can be divided into five distinct sections which refer to the five stanzas of Dehmel's poem, which describes a nameless man and woman walking together on a cold night.
About Illinois Philharmonic Orchestra
Named 2020 Professional Orchestra of the Year by Illinois Council of Orchestras, Illinois Philharmonic Orchestra is celebrating its 43rd Season in 2020-2021. From its community orchestra roots in Park Forest, the 69-member orchestra has grown into a critically acclaimed professional orchestra, with increasing attendance and incredible regional support. Under the leadership of Music Director Stilian Kirov and Executive Director Christina Salerno, the mission of IPO is to provide concerts of compelling professional symphonic music, support music education, and expand audience awareness of musical excellence for the diverse communities of the greater Chicago region.
Illinois Philharmonic Orchestra is supported in part by Ozinga Foundation, Gerhard Manufacturing and Designing, Michuda Construction, Gaylord and Dorothy Donnelly Foundation, and the Illinois Arts Council Agency.
For more information, visit ipomusic.org.
Campaign for the Future
In November 2020, IPO announced the public phase of its $5.1 million Campaign for the Future. The Campaign is supported in large part by The Davee Foundation, which donated $3 million to IPO in March 2018, creating IPO's first-ever endowment. Building on this transformational investment, IPO's Executive Director Christina Salerno and Board of Directors sought to use the endowment as a launching pad to increase the overall financial stability of IPO while cementing Artistic Director Stilian Kirov's vision for the orchestra's artistic relevance and importance in Chicago's Southland region.
Since taking the helm in 2017, Salerno and Kirov have catapulted the organization forward, drawing new, younger and more diverse audiences, fostering an environment where IPO is seen as an integral partner of the south and southwest Chicago suburbs. The completion of the Campaign for the Future will allow IPO to invest in the organization's regional impact through expansion and innovation, cement multi-tiered educational partnerships, and become an orchestra of the community by expanding its equity, diversity and inclusion programs and initiatives. More information about Campaign for the Future can be found at ipomusic.org/campaign-for-the-future.