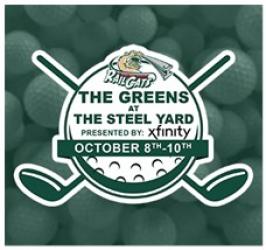 As I walked along the third base side concourse at the Steelyard, I could see greens in the outfield.  That's right, greens – with flags!  As I got closer to the Steelyard's picnic area, I could see platforms covered in artificial turf, and on those platforms – golf clubs and buckets of golf balls.  When I looked up, I could see another platform in the party deck upstairs.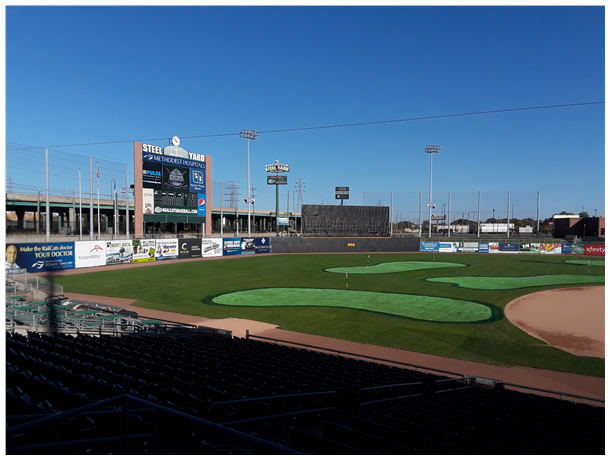 "Many businesses talk about pivoting these days and The Greens at The Steel Yard is no exception. Our golf range has something for everyone from the avid golfer to a family looking for fun," said RailCats General Manager, Brian Flenner. 
When I asked about the greens in the outfield, Flenner explained, "the outfield grass length is 2.5 inches, the grass on the greens is 2 inches.  Our groundkeeper has worked really hard on this. 
At Flenner's invitation, I climbed one of the platforms with my pitching wedge and hit a few balls.  It was really fun hitting balls over the grandstand seats.  I almost felt like a pro – at least until one landed in the seats!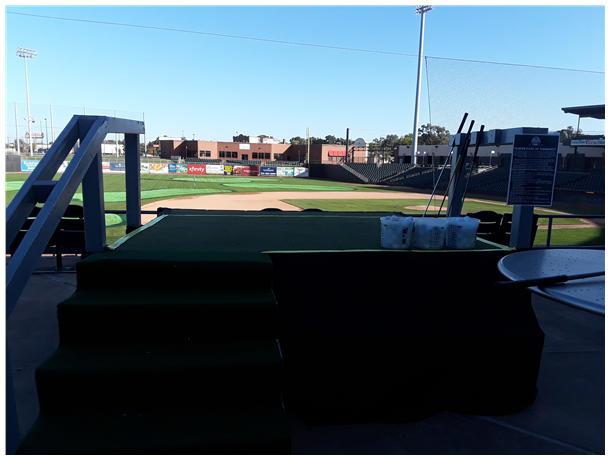 It's been a hard summer for the RailCats staff, without a baseball season, but they found ways to keep busy, hosting special events and local tournaments.  Flenner said . "This is one last chance to visit the Steel Yard this year as we all anticipate the 2021 season."
Participants were invited to test their luck at the Grand Prize Bay where a lucky golfer could win $10,000 by making a hole in the green farthest from the third base concourse.  Note the arrow in the picture below!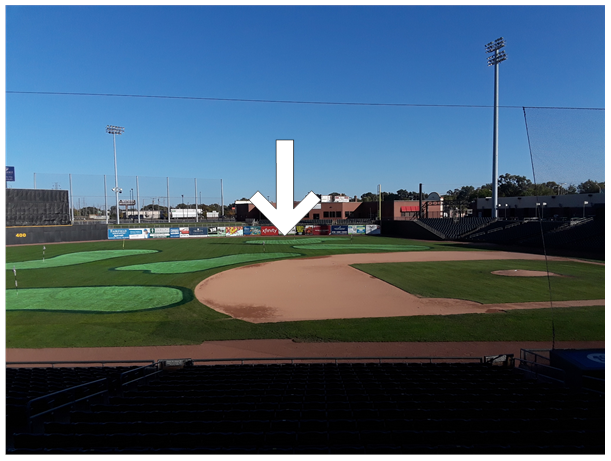 Rusty's Tee Time was an event just for kids on Saturday.  Although it was originally scheduled to end on Saturday, demand was so high they've added a full day on Sunday.  
I even ran into a long-time friend, Renee Connolly!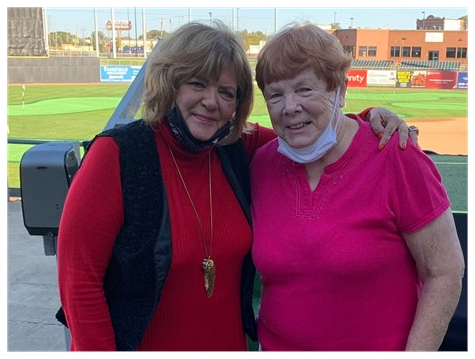 If you're interested in testing your golf skills, you can reserve a tee time at https://bit.ly/2Fn8NdC.