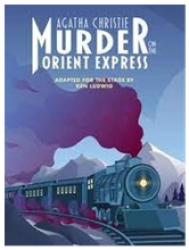 **** Highly Recommended **** From the cinematic opening to the final conclusion, Drury Lane's Murder on the Orient Express is not to be missed!  Ken Ludwig's adaptation of Agatha Christie's iconic mystery is suitably dramatic, with just enough humor, and above all, true to the original.  You don't have to love mysteries to enjoy this show!  I loved it!  4 BIG Spotlights
Agatha Christie wrote Murder on the Orient Express featuring the brilliant Belgian detective, Hercule Poirot in 1934.  It has been adapted for radio, television and film, as well as for the stage. 
The 1974 film (a classic in my opinion). directed by Sydney Lumet, starred Albert Finney as Poirot.  Some notable names appearing in that film, Martin Balsam, Richard Widmark, Sean Connery, Lauren Bacall, Anthony Perkins, John Gielgud, Michael York, Jacqueline Bisset, Wendy Hiller, Vanessa Redgrave and Ingrid Bergman.  Kenneth Branagh directed and starred in the 2017 film, which also starred notables like Johnny Depp, Michelle Pfieffer, Penelope Cruz and Judi Dench. 
Ken Ludwig's adaptation, done at the request of the Christie estate, premiered at the McCarter Theatre in Princeton, New Jersey in 2017.  I'm pretty sure this production, brilliantly directed by Jessica Fisch, is the first in the Chicago area. 
After completing a complicated case, Hercule Poirot (Larry Yando) planned a vacation, but got an urgent telegram requesting his presence in London as soon as possible.  He tried to book a first class compartment on the Orient Express but nothing was available until his friend, Monsieur Bouc (Sean Blake), of the Wagon Lit company (owners of the train), gave him the owner's compartment. 
At the busy station, Poirot observed the other passengers as they board, paying particular attention to a young couple he'd seen in the hotel the night before, Colonel Arbuthnot (Ryan Imhoff), a gruff Scot, and the very nervous Mary Debenham (Sarah Lo). 
He noticed Princess Dragomiroff (Peggy Roeder), a Russian exile accompanied by Greta Ohlsson (Leah Morrow), a rather awkward young woman who brandished her suitcase like a weapon.  Then he fell in 'love' with Countess Andrenyi (Diane Coates).  A brash American woman, Mrs. Helen Hubbard (Janice Ulrich Brooks), made sure everyone noticed her.  Finally, an American businessman, Samuel Ratchett (Keith Kupferer) and his secretary, Hector MacQueen (Sam Boeck), board the train. 
As Poirot was being served a drink by Head Waiter, Michele (Karmann Bajuyo) he was accosted by Ratchett, who insisted that Poirot investigate threatening letters he'd been receiving, but Poirot declined.
The Orient Express is stopped by a snowdrift on the tracks, and won't be moving any time soon, to the dismay of the passengers, especially Poirot.  When Ratchett is found, stabbed multiple times, Poirot agrees to investigate. 
Kudos to all the production/technical staff who made this show work.  Scenic Designer, Andrew Boyce designed a gorgeous set, which includes both exterior and interior views of the Orient Express.  It's so beautiful and so authentic that audiences have been applauding scene changes, if you can imagine that!  Projections Designer Anthony Churchill is responsible for the kind of noir, black and white cinematic introduction as well as the snowstorm, etc. seen through the windows.  Finally, Costume Designer Jessica Pabst created elegant designs right out of the 1930s. 
Note: Guests are encouraged but not required to wear masks while inside the building. 
Murder on the Orient Express runs through October 23rd at Drury Lane Theatre, 100 Drury Lane, Oakbrook Terrace.  Parking is free.  Running time is approximately 2 hours, 20 minutes, with an intermission.  Performances are Wednesdays at 1:30 pm; Thursdays at 1:30 & 8:00 pm; Fridays at 8:00 pm; Saturdays at 3:00 and 8:00 pm; Sundays at 2:00 & 6:00 pm.  Tickets range from $69-$84.  FYI (630) 530-0111 or www.drurylanetheatre.com.