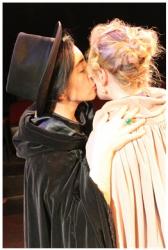 The first diary entry is dated April of 1811, when Anne Lister (Vahishta Vafadari) was a mere 20-year-old living at her uncle's estate. The play spans roughly the next fifteen years from that point onward. Having spotted Marianne Brown (Lauren Grace Thompson) at church and instantly smitten with her, Anne sends a book of poetry to Marianne. In composing a letter of thanks, Marianne asks her younger sister Nancy (Jessie Ellingsen) for assistance in attaining just the right tone of gratitude. Completing the quartet is Anne's very close friend of several years, Tib (Eleanor Katz), who spends a great deal of time in Anne's company.
Soon a clandestine romance blossoms between Anne and Marianne. But Anne seems to be restless with just one lover, so soon she has charmed and aroused the other two as well. With pressure from her parents, who are local farmers, Marianne agrees to marry the much older Charles Lawton. By doing so, Anne and Marianne continue their relationship (even performing a ritualized commitment ceremony of their own) while they bide their time. Anne is waiting for her uncle, who is in ill health, to pass away so that she can inherit Shibden Hall, the property that she has been managing single-handedly, and the monetary wealth that comes with it. Marianne's husband suffers from gout so she prays that it's just a few years until he dies so that they can make use of his fortune. But tempers arise, jealousy rears its ugly head with all of the bed-hopping that is going on and Anne realizes that she has made quite a mess of all of their lives.
Director Elizabeth Swanson has transformed The Buena theater of the Pride Arts Center for her production. This space usually can feel dark and somewhat claustrophobic with the seating area on one end and the small, slightly elevated stage crammed on the other. Not so here. With the permanent seating remaining on the eastern wall, seats have now been added where the stage normally would be located. This creates a galley-like playing area between the two, which makes the space seem twice as large and really opens up the room, which gives a somewhat liberating sensation to a work that is dealing with classical language. Swanson smartly uses all of that playing area to its full potential.
 Ellingsen captures just the right tone of naïveté with Nancy, proving to be wiser beyond her years. Thompson is angelic goodness mixed with fiery passion as Marianne. Katz has an almost earthy quality to her Tib, utilizing her captivating voice and spot-on Yorkshire accent to magnificent effect. The gentle chestnut-colored ringlet curls that frame her face are a nice touch. Vafadari brings a distinct virility to her performance of Anne. While she has the butch, masculine physicality down pat as she struts across the stage we can still get a sense of the tender and vulnerable heart that beats underneath her black, confining stiff high-collared dresses.
By the final curtain we have become quite aware that our female protagonist does indeed know her own heart. Gratefully, we also sense that she boldly knows where she is going, too.
---------------------------------------------------------------------------------
"I Know My Own Heart" runs until February 10, 2019
Thursdays through Saturdays at 7:30 PM and Sundays at 3:30 PM, plus Wednesday, January 30 at 7:30 PM.
Pride Arts Center -- The Buena, 4147 North Broadway, Chicago
Premium seats are $30, general admission seats are $25, student/senior/military $20 (not valid on Saturdays).
Tickets available by phone at 866-811-4111 or 773-857-0222 or online at www.pridefilmsandplays.com
Running time is approximately two hours with one intermission.