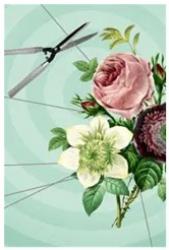 ★★★★★I suppose one might call Madeline George's "Hurricane Diane" , "The Housewives of Red Bank Meet The Devil Herself"!. I do have to say this is a funny play filled with characters that will have you in stitches. Those of you who might be weather buffs might recall that there was a Hurricane Diane back in the mid 50's. The play that is presently on the stage at Theater Wit is about a different Diane (played with great comic touches by Kelli Simpkins) who is a Goddess of sorts, but as we meet her, she is a gardener (permaculture gardening) who is about as charming as a Goddess could be. The play opens with her doing a monologue explaining who she is and about her mission ( her true identity is the Greek Goddess Dionysus). Her attire is quite butch and she is in the kitchen of  Carol ( Carolyn Kruse) explaining what she can do to make her yard a "heaven on earth", but she will not do a bench. Carol rejects her plan and sends her on her way, claiming that her friends and neighbors will not appreciate what Diane wants to do.
Diane turns to us and says, she will have to do this another way. She will win over the other women who will then assist her in making Carol join the quartet. Part of what we see is that Diane will find a route to win each over, and one by one win them over, thus setting the path for Carol. This cul-de-sac is one of a development where all the homes are the same, so that they are able to use the same kitchen set (Joe Schermoly did some clever things so that the kitchen set has just enough changes to indicate whose house it is).
Beth ( Aneisa Hicks) is the easiest conquest for Diane. Her husband has left her, and she is broke as well as broken. She is far more open to the advances that Diane can make on her as she is looking for love and affection, and will take whatever she can get. The second conquest for Diane is Renee ( deftly handled by Jazmin Corona),  a magazine editor who in her youth had some lesbian experiences and is not afraid of reaching into her inner self. Diane wins her over with ease and then reaches for Pam ( Lori Myers who is a riot in this character). Each of the ladies has at least one scene with Diane during this 90 minutes smoothly directed by  Jeremy Wechsler.
Once Diane has won over the three others, Carol should be a "piece of cake", but here is where our direction changes. As a major storm hits New Jersey, and Diane confronts Carol, we get a special feeling that there might be other powers involved. Here, things are powerful and I do not want to let you know what takes place as it would ruin your experience. I will tell you that after the three ladies show their love and affection to Diane, and Diane sets out to bring Carol into the picture, the storm changes Carol and all hell breaks loose. Perhaps that this might be the "battle of the Gods".
I will tell you that this is 90 minutes of pure fun. The lighting (Piper Kirchhofer), sound (Joyce Ciesil) , music ( composed by Andrew Pluess), costumes (Mara Blumenfeld & Maddy Low) are all integral parts of making this production as smooth as it could be. AnnaMae Durhan designed the props with the aid of Sarah Collins and Altman Art Haus is responsible for the scene change artistry. While the notes say that this is about climate change, I am not sure if they are referring to weather or attitude. See for yurself and let me know.
"Hurricane Diane will continue at Theater Wit ( Theater Two) located at 1229 West Belmont Avenue in Chicago thru July 31st with performances as follows:
Thursdays  7 p.m.
Fridays  7 p.m.
Saturdays  7p.m.
Sundays  2 p.m.
Tickets range from $25-$36 and are available by calling 773-975-8150 or online at www.theaterwit.org
Covid rules are in force at Theater Wit. You must show vac card and ID and wear a a mask. They do sell food and drinks  but you cannot bring them into the theater.
To see what others are saying, visit www.theatreinchicago.com, go to Review Round-Up and click at "Hurricane Diane".