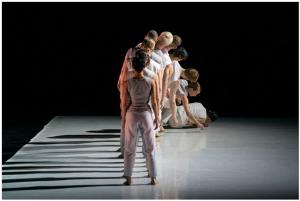 The show opened with Brian Brooks' "The Loss of Place" (listed on website as"Terrain"), an ensemble piece set to an original percussive string quartet work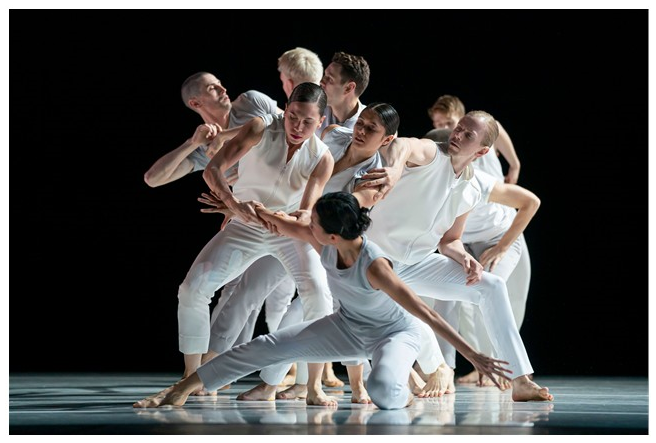 by Jerome Begin. The dancers wove, swooped and fell in almost mathematical patterns that reminded me of a school of fish or a flock of birds in motion, with the music adding tension and mystery as the piece progressed. Longing and interconnection were the predominant themes for me-it was starkly beautiful.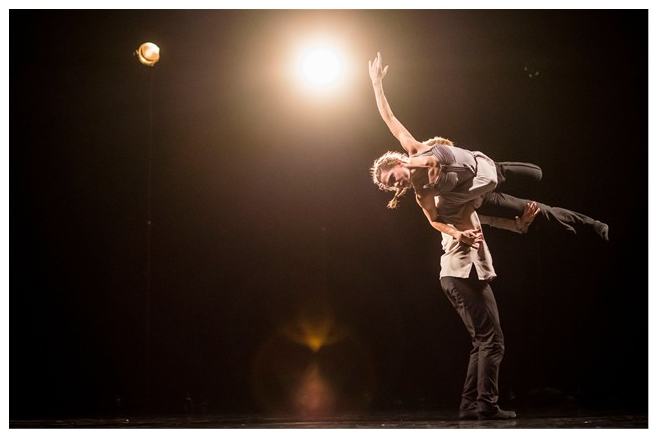 Next, two duets by Crystal Pite. "A Picture of You Falling" featured Ana Lopez and Craig D. Black Jr, with the voice of Kate Strong providing narration, setting the scene and creating suspense as the work unfolded. Much of the time, the dancers alternated, extending in nearly impossible but graceful ways, with lighting effects dramatically highlighting and freezing them around the stage. When they came together, I felt both fear and hope, love and pain, sadness and giving-it was complicated in a very good way!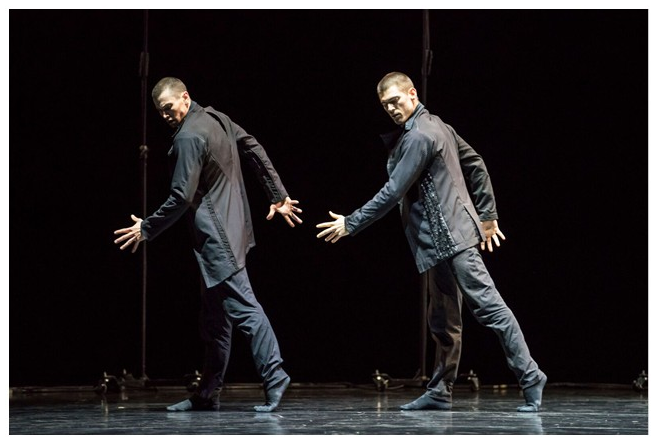 Pite's second piece, "The Other You", showcased Michael Gross and Andrew Murdock. Opening with a man alone on stage acting as puppeteer to his own limbs and head, he was soon met by his mirror image, and the two shadowed and manipulated each other around the stage, fluidly and with amazing control. Midway through, Beethoven's Piano Sonata No. 14 in C Sharp Major began, and the dancers' movements became more graceful and balletic. I found it fascinating and compelling.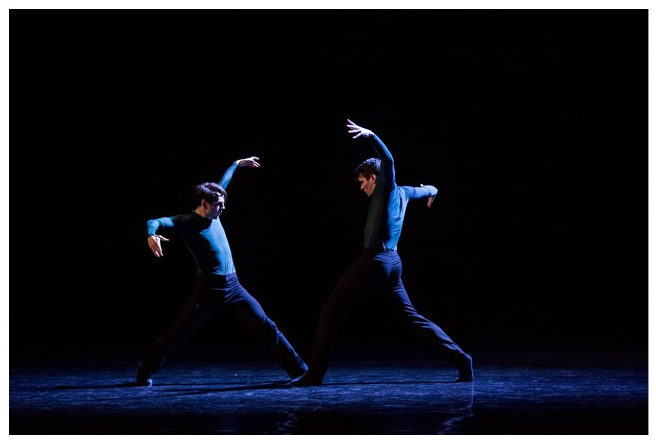 The last work was Alejandro Cerrudo's "Out of Your Mind", performed by the ensemble to a variety of music, with the opening and closing sections overlaid by the voice of British-born philosopher Alan Watts. Winding, hypnotically interlocking, sometimes helical motions by the full ensemble were interspersed with couples and trios in almost gymnastic formations, powerfully graceful. 
The dancers were: Craig D Black Jr., Jacqueline Burnett, Rena Butler, Alicia Delgadillo, Kellie Epperheimer, Michael Gross, Elliot Hammans, Alysia Johnson, Myles Lavallee, Adrienne Lipson, Florian Lochner, Ana Lopez, Andrew Murdock, David Schultz, Kevin J. Shannon, and Connie Shiau, who all performed in "Out of Your Mind", those bolded also appeared in "Terrain".
Big kudos and thanks to the dancers and everyone at Hubbard Street Dance Company for a wonderful evening. The standing ovation at the end was long and completely justified. 
The final performance of Hubbard Street Dance "Summer Series is at 3:00 pm, Sunday, June 10th at the Harris Theater for Music and Dance, 205 E. Randolph, Chicago.  Tickets range from $65-$110.  FYI www.hubbardstreetdance.com/tickets-events/purchase-tickets/summer-series...
Next up for Hubbard Street Dance - The Fall Series, November 7, 9 and 10 at the Harris Theater kicks off Season 42 with an imaginative new work by Kyle Abraham, Artistic Director of Abraham.In.Motion (A.I.M.).