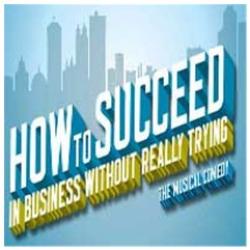 "How To" is a story about a young man's rise to the top in the corporate world of the era.He begins as a window washer,reading a book describing how to rise to the top .Shepherd Mead wrote the original book and the trio of Abe Burrows, Jack Weinstock and Willie Gilbert translated it to the stage version. J.Pierepont. Finch, our window washer rising to the top is played to perfection by Ken Singleton. His vocal range and agility of movement is wonderful and his glowing smile almost equals that of the original"Ponty",Robert Morse.  
The secretary that falls for him, Rosemary( deftly handled by Nicole Armold) assists him in getting in the front door. The major players in the executive climb are Smitty (Maisie Rose),Bud Frump ( Jake Stempel ,a
 new comer to this company), nephew to the boss,  J.B.Biggly (Rick Rapp is becoming THE character actor of the North Shore) and the very sexy Nancy Hays as Hedy LaRue(she is a delight).
Directed to perfection by Rudy Hogenmiller who truly understands the older musicals with solid choreography by Clayton Cross,this show moves through its long two and a half hours with a much shorter feeling. The set by Christopher Rhoton and Shane Cinal
works well and the technical aspects of having the elevators with doors was clearly well designed. Sanja Manakowski 's costumes are very 1960's and the lighting by Andrew H.Meyers and sound by Aaron Quick worked great. The full orchestra(a highlight of Music Theater Works and their productions)is conducted, as always by Roger L. Binggaman. Hearing this score with songs like, "How to", "Been a LongDay", "I Believe in You", "Brotherhood of Man"  and many more favorites of mine ( one is "grand Old Ivy" since I did play Biggly many years ago).
As I always state, a musical only works if you have a strong ensemble, so let's give a mention to this one. They are Michael Swisher, Kirk Swenk,LizNorton (a solid Miss Jones), Peter Sagan, Anna Marie Abbate,Trenton Baker, Samantha Belen, John Carson's,Jamie Davidson, Billy Dawson,Leon Evans, Perry Georggopoulis, KentJospeh, Artemis Lazarev, Halliburton Morgan, Nicholas Roman, Laura Smalley, Allan Spear, Sarah VanBindsbergen and Rachel Whyte. great energy and solid abilities!
"How To "only runs for a two week stint, so if you want to escape from today's world and step back into a better place, you can only do so for the remaining performances:
Wednesday, June 12th 2 p.m.
Friday, June 14th  at8 pm
Saturday,June 15th at 8 p.m.
Sunday, June 16th ( Father's Day)at 2 p.m.
Tickets range from $34 and can be purchased at 847-920-5360 online at www.MusicTheaterWorks.com
the performance space is Cahn auditorium on the campus of Northwestern at 600 Emerson Street at Sheridan Road.