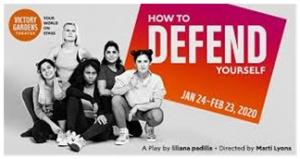 Padilla's play does come with a disclaimer from Victory Gardens, however. Due to the strong language, slight violence and explicit discussions of sex and sexual assault it is recommended for audiences who are 16 years of age or older. Thankfully, the very accomplished director Marti Lyons has sensitively and expertly guided these seven young actors who give boldly energetic and rivetingly brave performances.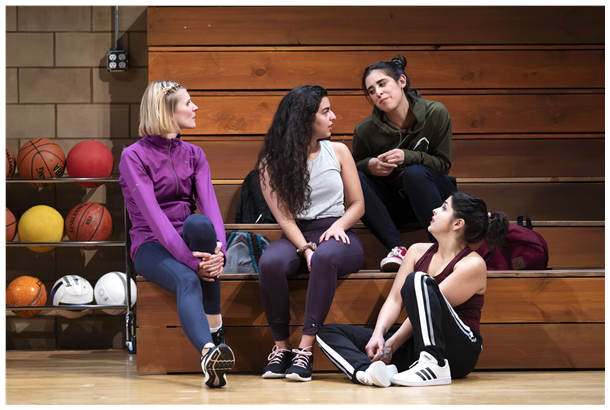 At an unspecified college campus, many students are reeling from the tragic news that a sorority sister has been the victim of date rape. To combat the threat of future crimes occurring and to empower themselves, several students have banded together to educate themselves about and learn the art of self-defense. Brandi (Anna Crivelli) is the instructor and is assisted by fellow sorority sister Kara (Netta Walker).
Initially, only three students show up: the tough and no-nonsense Diana (Isa Arciniegas), the more free-spirited Mojdeh (Ariana Mahallati) and the extremely timid and reserved Nikki (Andrea San Miguel). The interaction of these five women is as fascinating as it is funny. They all seem to bond rather quickly and are able to let their guards down as they build self-confidence as well as each other's trust in a neutral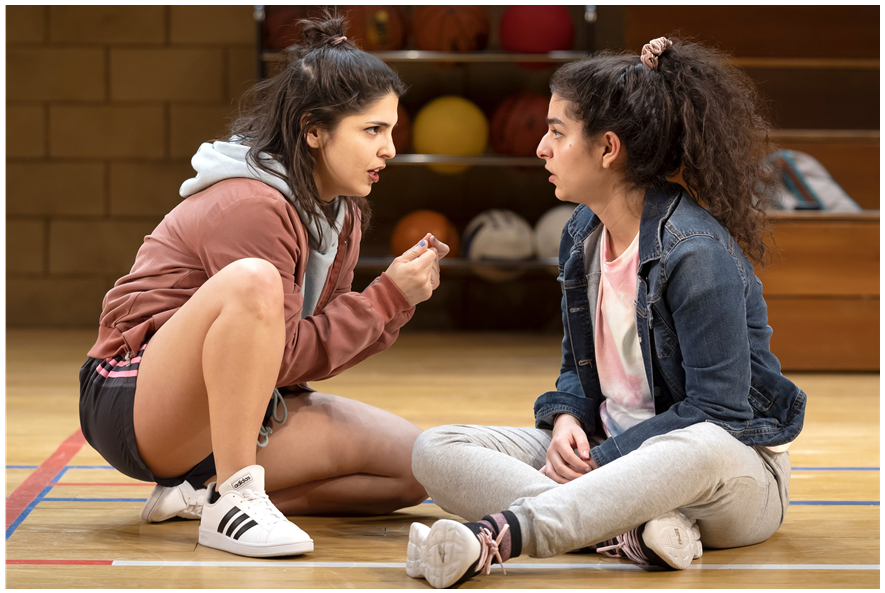 and safe environment. That all changes with the arrival of jock Andy (Ryan McBride) and the slightly quirky yet sincere DJ named Eggo (Jayson Lee). Not that the male members are a clear threat, per se, but the dynamic nonetheless has been compromised and topics of discussion and attitudes have been significantly shifted.
Padilla has a great deal to say about gender roles, racial and sexual identities and basic human allegiances. This is an important work and forces you to sit up and listen to what these young people have to say. Several lines and interactions caused an audible shock to ricochet throughout the house. The frank discussion of sexual activities and things to do or not to do to please your sexual partner only add to the play's authenticity. There are several invigorating and high-energy transitions between scenes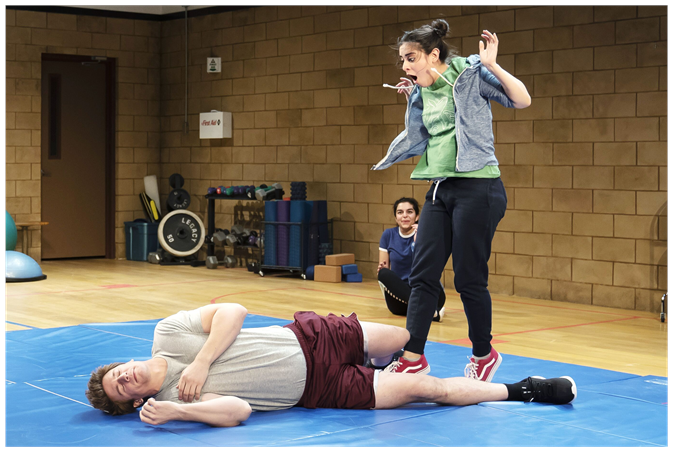 which are sometimes powerful and often hilarious.
Arciniegas is great as Diana, who is obsessed with guns and can't wait to learn how to handle and shoot firearms but who uses that steely resolve to hide a very personal part of herself. Mahallati is a conflicted Mojdeh, a woman who embellishes details about her first date with the white campus Adonis, and never really questions herself as to why she did that. Walker may come off as predominantly blasé early on as Kara but that facade crumbles quickly as she breaks down and takes a long and serious look at the darkness that it tried to contain. Lee as Eggo is just perfect and hones deepest to the truth while maintaining a sunny and bright disposition.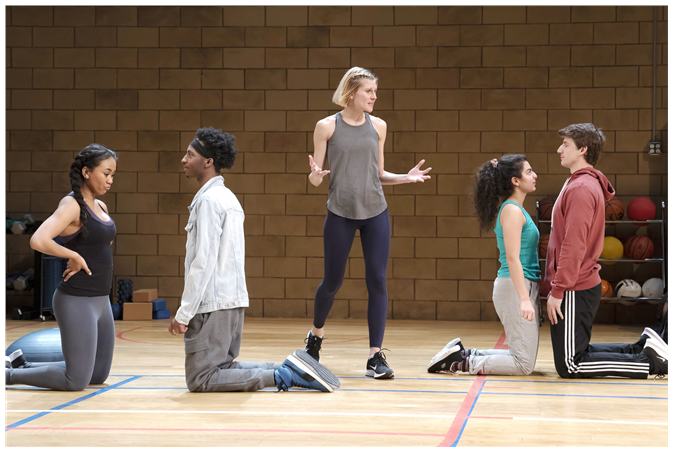 All of these characters' lives make for highly entertaining theatre for the first 85 minutes. Padilla doesn't seem to know exactly where to go with this brilliant set-up -- and that's probably the point. Of course, there is no easy solution to rape culture and finding an appropriate ending to this work is tricky. A random act committed against Nikki feels forced and slightly abrupt. The response and its repercussions are harrowing and the script actually devolves and retrogrades instead of drawing a completely satisfying conclusion. That is the only flaw that prevents this important work from being an even greater one.
______________________________________________________________
"How to Defend Yourself" continues to February 23, 2020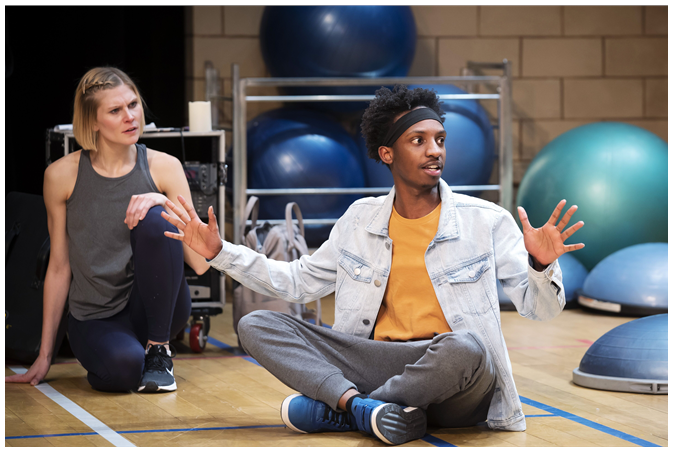 Performances are at Victory Gardens Theater, 2433 North Lincoln Avenue, in the heart of Chicago's Lincoln Park neighborhood. For tickets and information, call the Victory Gardens Box Office, 773-871-3000, email tickets@victorygardens.org or visit www.victorygardens.org. Ask the Box Office about discounts for students, seniors and those with access needs. Groups of 10 or more, call 773-634-9862 for discounted rates
Schedule:                           
Tuesdays to Fridays - 7:30 PM
Saturdays - 3:00 PM and 7:30 PM                                                                                     
Sundays - 3:00 PM
Tickets are $31 to $65
Running time is 100 minutes with no intermission.    
Valet parking is available.