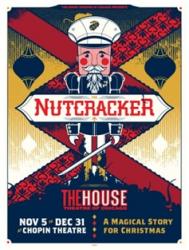 Based upon the story "The Nutcracker and the Mouse King" by E.T.A. Hoffmann (which was the inspiration for the 1892 two-act ballet), creators Tommy Rapley, Phillip Klapperich, Jake Minton and Kevin O'Donnell have remained faithful to the original characters but moderately altered and completely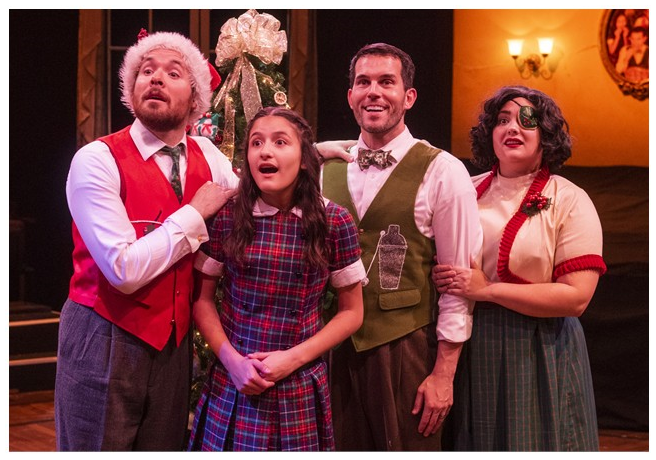 modernized the overall sensitivity of the narrative. Director Rapley, who also created the lively choreography, specifically wanted this season's production to reflect our ever-evolving modern definition of what constitutes a family by having the parents be a same-sex couple.
Marty (Benjamin Sprunger) and David (Nicholas Bailey) have two children: Clara (Amaris Sanchez), a young girl, who lives at home and their son Fritz (Dwayne Everett) who is currently serving in the military and unable to be home for the holidays. This family's traditional Christmas gathering includes a visit from Clara's aunt Drosselmeyer (Amanda De La Guardia), a wildly adventurous soul has traveled the world and believes in constantly expanding one's personal perspective. She has brought Clara a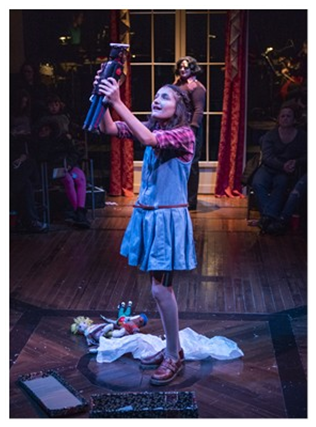 gift from her most recent trip, a wooden nutcracker statuette dressed as a soldier.
As the clock strikes midnight and the adults are asleep, Clara is stunned when the nutcracker miraculously comes to life as her brother Fritz and her toys become animated as well. Her doll Phoebe (Rachel Shapiro), puppet Hugo (Colin Morgan) and sock monkey Marcel (Johnny Arena) all must band together with Clara and Fritz to help them save Christmas for this family that is dealing with some steep challenges this yuletide.
The joyous activity and the fervent excitement of this family and their friends decorating the tree and preparing for the big holiday party at the very beginning of the show abruptly shifts into some dramatically dark territory. This show deals with grief, hope, love and loss but does so in a beautiful and extremely moving fashion, with most of the action underscored by composer O'Donnell's rapturous and enthralling musical compositions.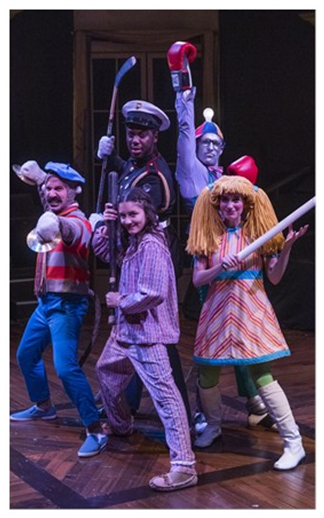 Both Morgan and Arena add great comic relief (they both have the majority of the funniest lines and some feel as fresh as if they are being ad-libbed) and Everett is stoically strong as the valiant Fritz. His Act Two song with Sanchez is both heart-breaking and soul-stirring. The evening's most exuberant musical number (the lyrics to all songs were written by Minton) is a whimsical romp in the kitchen while Clara and her assistants whip up a batch of the family's famous sugar plum cookies.
Scenic designer Collette Pollard has pared down the Chopin's main stage playing area and created what feels like a very cozy Victorian-era drawing room with five sets of French doors dividing the seating areas. This pentagon configuration generates an element of the actors nearly performing in the round which aids the intimacy and a sense of closeness. Debbie Baer's costumes are merry and bright for the holiday revelry and, based on Fritz's uniform, lends a nostalgic glow that would place the timeframe in the mid-1940s. Lee Keenan's lighting design is sensational and incorporates plenty of red and green (but not too much so that it borders on overkill) and the marvelous sound design is by Michael Griggs. Also featured in this production is the completely re-designed Rat King puppet created by Chicago Puppet Studio. Truly menacing and awe-inspiring simultaneously.
This production of "The Nutcracker" is geared toward the entire family. See it with your children, regardless of their age, and close friends that you hold dear. The heartwarming message of the entire show leads to a very compelling final image where a simple bit of theater magic can impressively illustrate the powerful force of nature as well as the constant, thriving human desire for -- and faith in -- life's regeneration.
________________________________________________________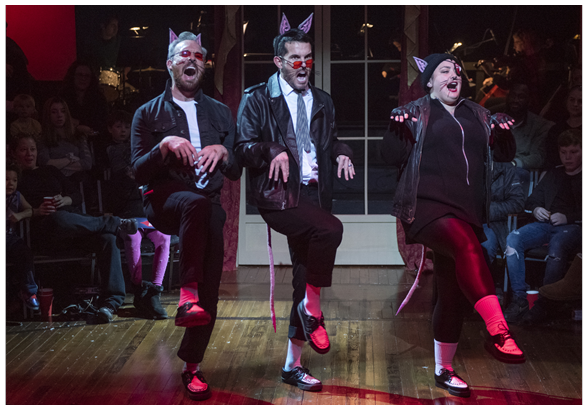 "The Nutcracker" continues through December 29, 2019
The Chopin Theatre, 1543 West Division, Chicago, IL
Curtain Times: Thursdays and Fridays at 7:30 PM, Saturdays at 3:00 and 7:30 PM, and Sundays at 3:00 PM with added performances Friday, Nov. 29 at 3:00 PM, Sundays, Dec. 8, 15, and 22 at 7:00 PM and Monday, Dec. 23 at 7:00 PM.
Accessible performance dates: Open Captioned on Sunday, Dec. 8 at 3:00 PM.
Touch Tour/Audio Described on Saturday, Dec. 14 at 3:00 PM and Relaxed/Sensory-Friendly on Saturdays, Nov. 30 and Dec. 7 at 3:00 PM.
Note: There is no performance Thursday, Nov. 28 (Thanksgiving Day).
Tickets are $30 to $50. Student and industry same-day discounted tickets are available at $20 for all dates, based on availability. Single tickets are now on sale and may be purchased by calling 773-769-3832 or by visiting www.thehousetheatre.com. Tickets for groups of 10 or more are on sale now.
Running time is 2 hours and 15 minutes with one intermission.