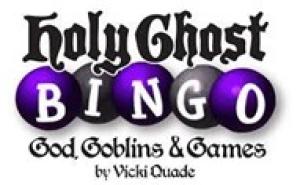 Get Your Tickets Now!
Nuns4Fun Entertainment is bringing back its Halloween comedy, Holy Ghost Bingo, starting October 6th to October 29th, at the Greenhouse Theater Center, 2257 N. Lincoln Ave., Chicago. 
Written by Vicki Quade, co-creator of the hit comedy, Late Nite Catechism, this comedy is perfect for the Halloween season. Learn about odd and unusual traditions, why we color eggs, and why we eat Peeps! And more.
Who is the patron saint of werewolves? Which saint died and went to hell, then came back to life? Which two saints practiced black magic before switching to Catholicism? You'll learn the answers to these and more in the hit comedy, Holy Ghost Bingo: God, Goblins, & Games, reopening October 6, just in time for the Halloween season.
The premise is that Mrs. Mary Margaret O'Brien, a former nun, is here tonight to raise money while playing bingo and talking about Halloween traditions, scary movies, condemned board games, haunted churches, the best candy, and the worst costumes. It's a crazy night of Halloween trivia, audience interaction, and the funniest costume contest you've ever seen.
"A hilarious Halloween interactive comedy by Vicki Quade. Highly recommend! You don't have to be Catholic to love Holy Ghost Bingo.  It was an afternoon of comedy, stories, and camaraderie, and an inspiring reminder of the fun to be had when you focus on life's treats." --Teme Ring, ChicagoNow
8 p.m. Fridays and Saturdays, 2 p.m. Sundays.
Late Nite Catechism remains on the schedule, 5 p.m. Saturdays.
https://www.greenhousetheater.org/
Call the box office at 773-404-7336. And laugh your sins off!