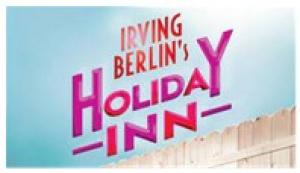 **** Highly Recommended **** You should make time in your holiday season to see Holiday Inn at the Drury Lane Theatre.  While the story is kind of sappy, he production is scrumptious.  Packed with spectacular tap dancing to Irving Berlin's wonderful melodies, Holiday Inn is an effervescent holiday treat.  The cast is marvelous, the choreography blew me away, and the costumes are drool-worthy.  Dee-lish!  4 BIG Spotlights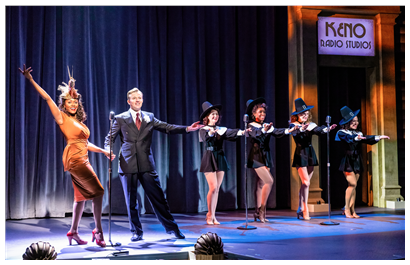 Irving Berlin had an idea for a film about an inn which was only open for holidays.  He wrote some of his best songs, including White Christmas, for the movie, Holiday Inn, starring Bing Crosby and Fred Astaire, which was released in 1942.  By the way, "White Christmas", which borrowed heavily from the plot of "Holiday Inn" wasn't released until 1954.  The stage version premiered on Broadway in 2016. 
Jim Hardy (Adrian Aguilar), Ted Hanover (Drew Humphrey) and Lila Dixon (Darilyn Burtley) played a lot of small clubs, dancing and singing the songs Jim wrote, but they just couldn't seem to hit the big time.  While Ted and Lila were dreaming about stardom, Jim had a different dream.  He was so in love with Lila, he made plans for their life together – but neglected to ask if her dreams matched his. 
After buying a farm in Connecticut, Jim asked Lila to marry him.  After she said yes, he told her about his plans for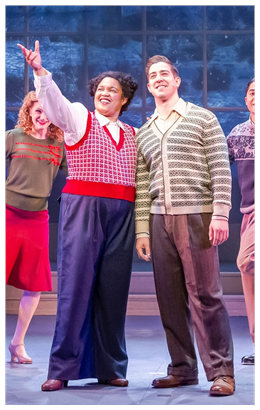 them to leave show business and move to his farm.  Oops, Jim learned that the best plans often go awry.  Their agent, Danni Reed (Honey West) got them a gig in Las Vegas and Lila, who wanted to be a star, left with Ted. 
Linda Mason (Erica Stephan), whose family had owned Mason Farm for generations, is picking up some family heirlooms she'd been unable to move before the bank foreclosed. 
Jim arrives in Connecticut where he discovers that the farm, which he bought out of foreclosure, is a teensy bit more run-down than he expected.  As he's moving in, handywoman, Louise (Danielle Davis) shows up, announcing that she can/will fix anything, and by the way, she goes with the house. 
Young Charlie Winslow (Lily Kocourek alternating with Nicole Scimeca)) unexpectedly showed up at the farm to deliver the bills for back taxes.  She shows up fairly regularly throughout the show, always delivering bad news – and totally stole the show!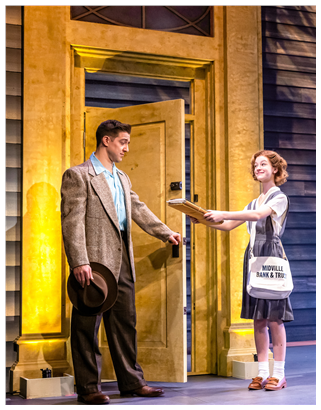 Jim and Louise struggle to keep the farm going, but the bank is threatening foreclosure.  One night, Jim played and sang his new song, White Christmas for Linda and she joined in. 
Just then, Jim's theater friends come for Thanksgiving.  When Jim explains about the bank, someone suggests turning the house into an inn and doing shows.  Since the gang is only available on holidays, they decide to call it Holiday Inn, opening for the first time on New Year's Eve.  
In addition to White Christmas, you'll hear Berlin favorites like Blue Skies, Heat Wave, Plenty to be Thankful For, Cheek to Cheek, Easter Parade, Song of Freedom and Let's Say It With Firecrackers. 
Kudos to the energetic ensemble – Jessica Blair, Joe Capstick, Leon Evans, Danielle Jackman, Mandy Modic, Ayana Strutz, Edward Tolve and Arik Vega – who shine in every holiday production number.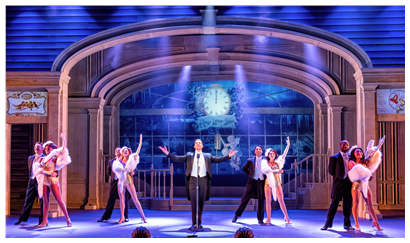 Note: Guests must show proof of vaccination before entering the theater.  Guests are required to wear masks while inside the building. 
"Holiday Inn" runs through January 9th at Drury Lane Theatre, 100 Drury Lane, Oakbrook Terrace.  Parking is free.  Running time is approximately 2 hours, 10 minutes, with an intermission.  Performances are Wednesdays at 1:30 pm; Thursdays at 1:30 & 8:00 pm; Fridays at 8:00 pm; Saturdays at 3:00 and 8:00 pm; Sundays at 2:00 & 6:00 pm.  Tickets range from $59-$74.  FYI (630) 530-0111 or www.drurylanetheatre.com.