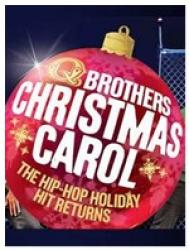 ***** Highly Recommended ***** The Yard at Chicago Shakespeare Theatre is rocking with the return of Q Brothers Christmas Carol.  The Q Brothers Collective (GQ, JQ, Jax and Pos) have yanked Ebenezer Scrooge and the gang into the 21st century!  I've seen this cheeky, snarky, funny and very, very original musical every year (and twice one year – but that's another story) since it premiered in 2013 as a developmental work-in-progress (that's 7 years, I think), and it still makes me laugh!  It's become my very own holiday tradition!  4 BIG Spotlights    
This "ad-rap-tation" of the Dickens classic features clever, rhyming lyrics, the most up-to-date slang and texting terminology, and a completely different take on the characters.  It's really amazing how well the story holds up when it gets attitude.  Wearing a really ugly grayish-white wig, GQ plays Scrooge.  Donning different hats, scarves, aprons and some incredibly ugly wigs, JQ, Jax (Jackson Doran) and Pos (Postell Pringle), play all of the other characters. 
Scrooge is deeply in love with his cleverly marked money bag.  When his long-suffering clerk, Bob Cratchit (Pos), tries to raise the thermostat, the miser stops him.  A visit from a pair of Jewish do-gooders, Eli and Rahm Emmanuel, (JQ and Jax) is a good reason for a rant.  A visit from his nephew, Fred (Jax), wearing a holiday-themed infinity scarf, bearing a gift and an invitation to dinner and #charadesallnight, is the last straw.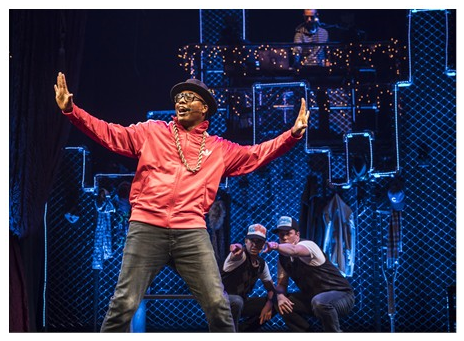 After dodging traffic on his way home, Scrooge is visited by the ghost of his long-dead partner, Jacob Marley (JQ).  Marley's hell includes a new look - really bad dreadlocks – and an eternity of reggae music provided by a pair of Rastafarians (Jax and Pos).  He warns Scrooge to expect some holiday visitors. 
Christmas Past (Pos), wearing an oh-so-80s red track jacket, takes Scrooge back to that very tacky decade and reacquaints him with a couple of hapless school friends (Jax & JQ).  They are just too hopelessly nerdy to even talk to a girl – without the help of Ebenezer, the girl magnet.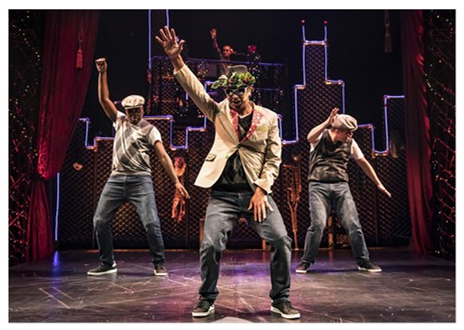 Scrooge's first job was Fezzy's Wigs.  While Dick Wilkins (Jax) and the Fezzys sing "Get Fiscal", Scrooge relives his first love – spread sheets – with Nell Fezzy (JQ)!  After Marley (JQ), who was obsessed with Jamaican hair, joined the company, Scrooge got more obsessed with money than he was with Nell.  Watch carefully as JQ rapidly switches between Nell's blond braids and Marley's Rastafarian dreads in this scene!    
Christmas Present (JQ), wearing a green jacket, sunglasses and a holly trimmed hat, takes Scrooge to see his nephew, Fred.  Fred and his partner Steve (Pos) love to play charades and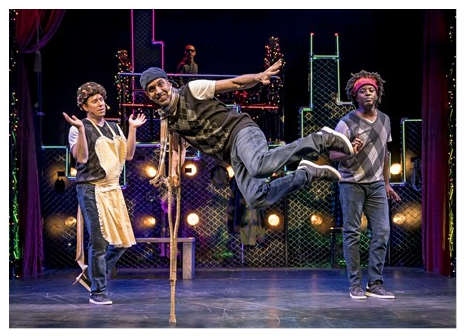 speak in hashtags. 
Meanwhile, at the Cratchit house, Mrs. C. (Jax), wearing an apron and with her hair in rollers covered with a hairnet, is fixing the Cratchit Christmas dinner, corn.  In this scene, Pos plays both Bob and Martha Cratchit.  As they sing about food, Lil' Tim (JQ) ends each chorus with yet another strange malady – rabies, scurvy, pre-existing conditions, gout, and so on.  By the way, other people got COVID-19, Lil' Tim got COVID-20!   Lil' Tim does some amazing dance moves with his crutch, too. 
Talented DJ Clayton Stamper, who entertains both before and after the performance, spins everything from reggae to rock ballads, along with hip-hop, throughout the performance.  By the way, you don't need to understand (or even like) hip-hop music to love "A Q Brothers Christmas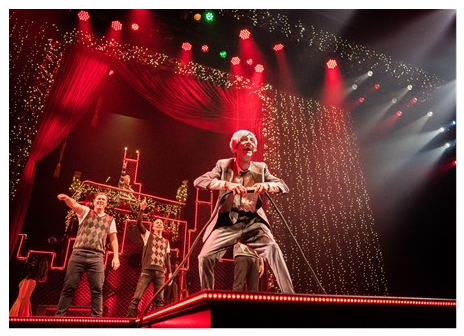 Carol". 
Note: Guests must show proof of vaccination with photo ID before entering the theater.  Guests are required to wear masks while inside the building.
"A Q Brothers Christmas Carol" runs through December 23rd in The Yard at Chicago Shakespeare Theatre on Navy Pier, Chicago.  Parking is available at a 40% discount in the Navy Pier Garages with validation from CST.   Running time is 80 minutes, no intermission.  Performances are Tuesday through Friday at 7:00 pm; Saturday at 4:00 and 8:00; Sundays at 3:00 and 6:00 pm; December 23rd only, 4:00 and 8:00 pm.  Tickets range from $38-$56.  FYI (312) 595-5600 or www.chicagoshakes.com/qchristmas.