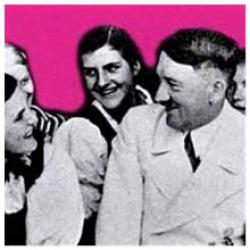 While we know that the time period that is being shown is the 1940's, Brooks has infused our modern world into the picture. They have cell phones, take selfies and talk about the "stuff" that typical teen-age girls might discuss. You know, boys, sex, and "stuff". Under the careful direction, in reality, almost choreographed movement by  Sarah Norris, we follow the day- to -day routine that these young ladies live. Since Hitler was a vegetarian ( or so we are led to believe), the meals served to them are pure vegetables.
The three young ladies we meet are  Hilda ( a powerful Marykathryn Kopp), whose father is evidently an important cog in the German wheel ( or so she believes), Liesel ( the adorable Hallie Griffin) and Anna ( deftly handled by Kaitlin Paige Longoria). The actions and interactions between these three young ladies is beautiful. Yes, they argue and have differences, but don't all teenagers? These could be our daughters and their friends having a sleep over, or just some girls letting off steam. But when the guards come with their meals, they become regimental in every way. Following a pattern that appears to be dictated and each move of the fork is precise as if being watched by a power much larger than any one being.
There are a great many scenes and between each, and as part of the next, they change costumes onstage. The costumes are by Ashleigh Poteat. The changes are choreographed by Ashlee Wasmund who also does some other moves as the girls dance to music ( like Madonna and others). Carsen Joenk
handles the sound, and the lighting by Christina Tang is fantastic.
I am not one to give away story line, but need to tell you that one of the girls does leave the dining area , never to come back and is replaced by Margot ( adorably played by Hannah Mae Sturges) and even later in the play, another leaves and is replaced by Helen Rose Miller's character ( we never do hear her name). Nuff Said on this topic. By the way, this is on the day that Hitler himself is said to be coming to visit these young ladies who have joined the forces of Germany to ensue that their leader is never poisoned.
As I previously stated, while we know that this was a long time ago and the times were difficult for many, we are bearing witness to what might have been the case and how these young ladies still had the same struggles with the same things 
that young teens live with today. Their desires are real, as are their fears. Putting them in today's world , if the situation were to be real, would it make sense? There are many statements that fit our political world. There is talk by the Germans about the fake news that America has created to bring down their leader. "Fake News" started back in the 1940's, and exists today ( so we are told). While we do not like the man they are working for, we feel for the girls and their lives and dreams.
"Hitler's Tasters" is an interesting concept and 90 minutes of enjoyment along with some thinking. There is a discussion after the performance where the young ladies will talk with the audience members about what they felt and what they got from the script. The show will remain here thru July 14th with performances as follows:
Fri, Jul 5:8:00pm
Sat, Jul 6:8:00pm
Sun, Jul 7:2:00pm
Tue, Jul 9:7:30pm
Wed, Jul 10:7:30pm
Thu, Jul 11:7:30pm
Fri, Jul 12:8:00pm
Sat, Jul 13:2:00pm & 8:00pm
Sun, Jul 14:2:00pm
Show Type: Dark Comedy
Box Office: 847-673-6300
www.northshorecenter.org/event/hitlers-tasters/
The theater is located at 9501 Skokie Blvd. in Skokie with loads of free parking and public transit can get you there.