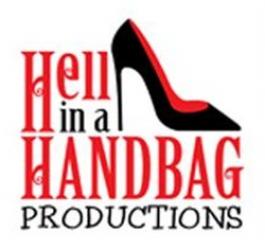 Hell in a Handbag Productions is pleased to continue its 20th anniversary season with the return of one of its most popular holiday musicals: Christmas Dearest, featuring book and lyrics by Artistic Director David Cerda*, music by Cerda and Scott Lamberty and direction by Derek Van Barham. Christmas Dearest plays November 27 – December 31, 2021 at Ebenezer Lutheran Church Auditorium, 1650 W. Foster Ave. in Chicago's Andersonville neighborhood. Tickets are currently available at christmasdearest.eventbrite.com. The press opening is Saturday, December 4 at 7:30 pm.
Please note: Handbag will require proof of full vaccination and masking at all performances. The entire cast and crew is fully vaccinated.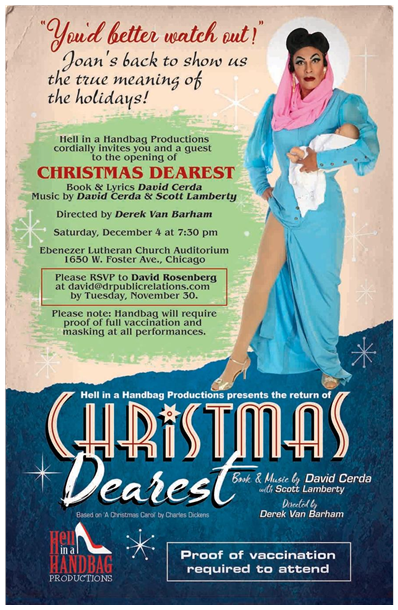 Joan Crawford (David Cerda*) returns in Handbag's very own version of A Christmas Carol. It's 1953 and Joan is desperate to reignite her career with the new film, Oh, Mary!, a big splashy musical adaption of the life of the Virgin Mary. Everything has to be perfect, but the stress of surviving in Hollywood has turned Joan into a tyrant! Even Carol Ann (Ed Jones*), Joan's faithful personal assistant is at her wits' end. What Joan needs is a miracle, and that's exactly what she gets when she's visited by three ghosts who try to show Joan the error of her ways and the true meaning of the holidays.
The cast also includes ensemble members Sydney Genco* (The Virgin Mary), Caitlin Jackson* (Bette Davis), Nicky Mendelsohn* (Teeny Teena), Tyler Anthony Smith* (Olive LaLake) and Danne W. Taylor* (LB Mayer) with Mark Barty (Christina), Spencer Douglas Clark (Bill), Lolly Extract (Puppets) Marc Prince (Henry), Coco Sho-Nell (Vernita), Maiko Terazawa (Child Joan) and Marissa Williams (20's Joan).
The production team includes Eric Luchen (scenic design), Liz Cooper (lighting design), DJ Douglass (sound design), Uriel Gomez (costume design), Pamela Parker* (props design), Sydney Genco* (make-up design), Jabberwocky Marionettes (puppetry), Abby Teel (production manager) and Drew Donnelly* (stage manager).
*Denotes Handbag Ensemble Member
PRODUCTION DETAILS:
Dates: Previews: Saturday, November 27 at 7:30 pm, Sunday, November 28 at 4 pm and Friday, December 3 at 7:30 pm
Opening/Press performance: Saturday, December 4 at 7:30 pm
Regular run: Sunday, December 5 – Friday, December 31, 2021
Curtain Times: Fridays & Saturdays at 7:30 pm; Sundays at 4 pm. Please note: the performance on Sunday, December 19 will begin at 7:30 pm; there will not be performances on Friday, December 24, Saturday, December 25 or Sunday, December 26.
Tickets: $32 advanced general admission, $35 at the door, $50 VIP/reserved seating with drink ticket and goodie bag. Group rates $25 for 10 or more. Tickets are currently available at christmasdearest.eventbrite.com.
About the Artists     
David Cerda (Book, Music, Lyrics) is a founding member and Artistic Director of Hell in a Handbag Productions, now celebrating its 20th year anniversary. As resident playwright he has written many Handbag productions as well as acted in them. As a Latinx queer individual, he is a proud inductee in the Chicago LGBT Hall of Fame and recipient of a Jeff Award for lifetime achievement for his 25 years (and counting) of work and service to the community. He lives in Chicago with his partner, Christopher.
Scott Lamberty (Music) is a composer, arranger, sound designer and audio engineer who has been bringing sound and music to the Chicago theater scene since the early 1990s. He has written and produced musical scores for more shows than he can count including The Bad Seed The Musical and The Passion Follies at Corn Productions; and Poseidon An Upside Down Musical, The Birds and Rudolph the Red Hosed Reindeer at Hell in a Handbag Productions. His work as an audio engineer has included the Chicago Symphony Orchestra, Lyric Opera, Chicago a capella, Music of the Baroque and the Elgin Symphony Orchestra. He is the recording engineer for the Ravinia Steans Music Institute.
Derek Van Barham (Director, he/him) is the Producing Artistic Director of Kokandy Productions in Chicago. His previous Handbag-ery includes directing Poseidon, Skooby Don't and Miracle! He directed the Chicago premieres of Head Over Heels (Kokandy), The View Upstairs (Circle Theatre); Priscilla, Queen of the Desert; Homos, or Everyone in America, Songs from an Unmade Bed, Perfect Arrangement and Angry Fags (Pride Films & Plays). Choreography credits include The Civility of Albert Cashier (Permoveo/PFP); Ghost Quartet, Evil Dead The Musical, Coraline the Musical, Goblin Market, Amour, Nevermore and Shockheaded Peter (Black Button Eyes). He has also choreographed for The Plagiarists, Inappropriate Theatre and Salonathon. He wrote, devised and choreographed BITE: A Pucking Queer Cabaret, Kill Your Boyfriends, A Touch Unnatural and A Touch of Madness. He was named one of Windy City Times 30 Under 30, recognizing individuals from Chicago's LGBTQ community. www.derekvanbarham.com
About Hell in a Handbag Productions
Hell in a Handbag is dedicated to the preservation, exploration, and celebration of works ingrained in the realm of popular culture via theatrical productions through parody, music and homage. Handbag is a 501(c)(3) Not for Profit. For additional information, visit handbagproductions.org