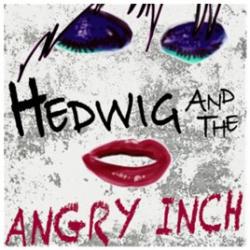 This is indeed a "hard-rocking" musical written by Steven  Trask ( music and lyrics) and John Cameron Mitchell ( book) and is the saga of one Hedwig Schmidt ( an absolutely amazing performance by Will Lidke, who has shown his remarkable diversity to Chicago area audiences in the past few seasons). Hedwig is a "genderqueer" rock n'roll goddess from East Germany who wants to escape his/her life and come to America. His sex change operation from male to female gets a little botched, leaving her/him with an inch of skin where the genitalia should have been ( thus the name of his/her/their band later in the story). 
"Hedwig and the Angry Inch" is one of the first "musicals" to explore the issues of gender identity and is performed as a rock concert, 95 minutes in length with no intermission. The music is very, very rock and while the songs are not ones you will hum on your way home, there are some wonderful lyrics that help in propelling the story forward. "Tear Me Down", the beautiful "The Origin of Love", the adorable "Sugar Daddy", "The Long Gift", "The Angry Inch" and "Wicked Little Town" are all powerful in conveying the story of this person who has made choices that will be lasting.
There are three other performers in this vibrant and highly energetic cast. The incredible Brittney Brown plays
Hedwig's "husband" Yitzhak to perfection. Jacob Gilchrist handles a multitude of roles that are in fact all of th eother characters except Hedwig's mother) and last but certainly not least, Adriana Tronco, another newcomer to the Theo Ubique "family" is the female back-up singer and "mom". These four actors are on stage pretty much all of the 95 minutes. In fact, the only time they are off is to change costumes and wigs. There are a ton of wigs used in this production keeping Keith Ryan very , very busy. The costumes (Robert S. Kuhn) are glitzy and glamour and while I know that Fred Anzevino does not have a budget even close to that of the Broadway tour, I think his people are far better qualified to "make it happen"!
The story is one of great feeling and spirit. Coming to America to start a ew life as a musician with songs that are sund by another. Lost love, Found love. Lost 
country. Found Country. This could be very confusing, and to be honest when I 
first saw "Hedwig", I think I may have been. This cast under this director make this two star play a 4 star production! Thank you Theo Ubique.
The set at T-U is very skimpy since we are very Cabaret, but Colt Frank has done an excellent job of creating the perfect atmosphere for the production we see. Robert Hornbostel makes sure the sound is heard everywhere ( and they do offer ear plugs to cut down the volume for those who have a problem with "LOUD". The lighting and projections ( James Kolditz) were wonderful and the props (Matthew Zalinski) and stage manager ( Hai Alvarez-Millard) complete a wonderful technical staff making this a theatrical experience to remember.
FYI_ Jane and I enjoyed the dinner option ( $25 per, not including beverages). A beet salad with mixed greens  orange and goat cheese. meatless meatballs ( impossible burger made of plant , in a white sauce with lemon and capers and some delicious potatoes. MISSING, bread to sop up the sauces with. and for dessert, chocolate pecan pie with vanilla bean whipped cream.  They are all connected to his life: Germany and Kansas.
The musicians in the band, who are onstage at all times are conducted by Jeremy Ramey ( at the piano). The others are: Perry Cowdery (guitar), Joseph Drzemiecki (bass), Carlos Mendoza (drums) and Jakob Smith ( other guitar)  they are terrific!
"Hedwig and the Angry Inch" will continue at Theo Ubique located in the Howard Street Theatre, 721 Howard Street in Evanston thru July 28th with performances as follows:
Thursdays  7:30 p.m.
Fridays  7:30 p.m.
Saturdays  7:30 p.m.
Sundays  7:00 p.m.
Tickets range from $39-$59 and can be purchased by calling 773-347-1109  or by visiting http://www.theo-u.com
Student discounts are available as are industry subject to availability ( 15 minutes before curtain) they are $20
Street parking is metered, so watch the time as both sides of the street are different ( Chicago vs Evanston) Valet parking is also available.