Haven is thrilled to start off 2023 programming with its annual Director's Haven, now in its sixth year. Featuring three emerging directors, Director's Haven 6 gives directors in the earliest stages of their professional careers a rare opportunity to take risks, hone their crafts and talents and share their vision through a fully staged production of a short play. Director's Haven 6 will play March 29 – April 12, 2023 at Haven's resident home, The Den Theatre (Theatre 2A), 1331 N. Milwaukee Ave. in Chicago's Wicker Park neighborhood. Tickets (pay-what-you-can) are on sale now at havenchi.org.
The directors announced for 2023 include: Arti Ishak directing Same Sects!, Megan Philippi directing Not Not Not Not Not Enough Oxygen and Joel Willison directing Laments of a Brown Bird Summer.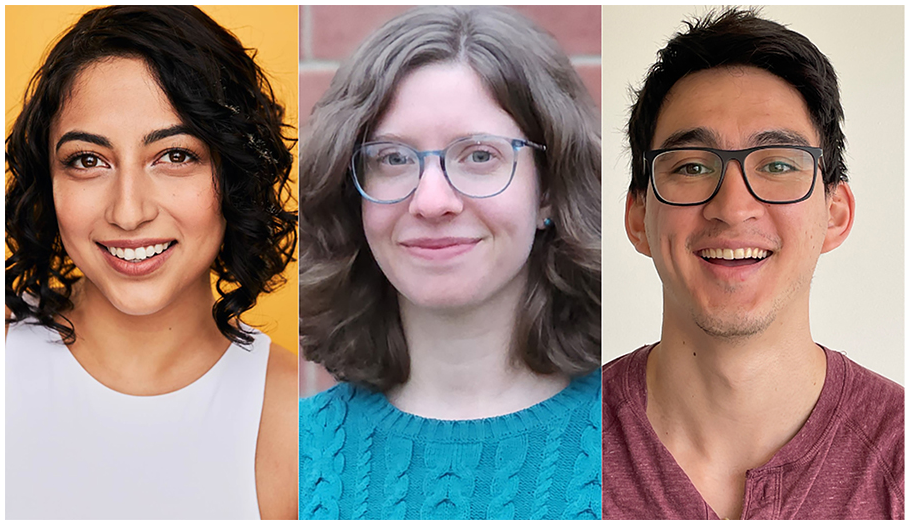 Haven's "Director's Haven 6" directors include (left to right) Arti Ishak, Megan Philippi and Joel Willison.
Same Sects!
By Paul Michael Thomson
Directed by Arti Ishak
Featuring Ian Maryfield and Jonathan Olivares
Hooking up is supposed to be fun, but in the months after Donald Trump's election to the U.S. presidency, even the extremely personal becomes overtly political. Same Sects! is a play about assumption, identity, intimacy and what happens when they share a bed.
Not Not Not Not Not Enough Oxygen
By Caryl Churchill
Directed by Megan Philippi
Featuring Zach Bloomfield, Lizzy Mosher and Crystal Park
Not Not Not Not Not Enough Oxygen tells the story of a young pop star's homecoming in an eco-dystopian near future – one where the air is too polluted to breathe and people shelter in claustrophobic tower blocks under strict reproductive regulations… unless they are rich enough to buy their way out. In a single half hour, the dreams, fears and values of a father, his partner and his child collide, exposing the unstable lines between hope and apathy, action and despair.
Laments of a Brown Bird Summer
By Cris Eli Blak
Directed by Joel Willison
Featuring Rashaad Bond, Gino Gonzales, Colin Jones and Jaeda Larkins
A family works through their shared grief and connecting relationships after the death of a loved one.
Artistic Director Ian Damont Martin comments, "We are so glad to return to our sixth annual Director's Haven, after a nearly three-year pandemic-necessitated hiatus. This program, which remains one of few programs explicitly geared towards emerging, early-career directors, is vital for both the Chicago and national theatre landscape. Having come to Haven Chicago through Director's Haven 3 myself, this effort is all the more meaningful. I am particularly excited by this year's cohort of directors, and the works they have respectively selected. Arti Ishak, Megan Phillippe and Joel Willison represent both the present and the future of our field. What will be the stories of tomorrow, as told by the emerging artists of today? I invite you to come by Director's Haven 6 to check out our latest submissions to a new cannon."
The creative team includes Megan Hoppe (Costume Designer), Vianey Salazar (Lighting Designer), Jake Sorgen (Sound Designer), Mariah Bennett (Props Designer), Anna Peterson (Scenic Artist), Victoria Nassif (Intimacy Coordinator, Same Sects!), Catherine Miller (Casting Director), Skylar Grieco (Associate Production Manager), Jayce Lewis (Stage Manager, Same Sects!), Mack Finklea (Stage Manager, Not Not Not Not Not Enough Oxygen), Taylor Stageberg (Stage Manager, Laments of a Brown Bird Summer), Ali-Reza Mirsajadi (Directing Mentor, Arti Ishak), Barbara Gaines (Directing Mentor, Megan Philippi) and Sophiyaa Nayar (Directing Mentor, Joel Willison), Ian Damont Martin (Artistic Director) Angela Salinas (Executive Director) and Julia Farrell Diefenbach (Director of Marketing and Social Media),
PRODUCTION DETAILS:
Title: Director's Haven 6
Location: The Den Theatre (Theatre 2A), 1331 N. Milwaukee Ave., Chicago
Dates: Previews: Monday, March 27 at 7:30 pm and Tuesday, March 28 at 7:30 pm
Opening: Wednesday, March 29 at 7 pm
Regular run: Sunday April 2 – Sunday, April 12, 2023
Curtain Times: Mondays, Tuesdays and Wednesdays at 7:30 pm; Sundays at 3 pm.
Tickets: Pay-what-you-can. Tickets are on sale now at havenchi.org.
About the Directors:
Arti Ishak (Same Sects!, they/them) is an interdisciplinary artist and community organizer based in Chicago. Directing credits include short films Shukran Bas (Means of Productions), ba la (HF Productions). Upcoming directing includes the midwest premiere of Hatefuck with First Floor Theatre in May 2023. Acting credits include The Best Decision You Ever Made (The Second City), KISS (Haven), Venus in Fur (Circle), Witch (Writers), Buried Child (Writers), Men on Boats (American Theater Company), Fantastic Super Great Nation Numero Uno (The Second City). TV: Southside (HBO), Dark Matter (Apple TV), Chicago Med (NBC). Arti is staff with The Chicago Inclusion Project, an instructor at Black Box Acting, and an organizer with SWANASA Central. They are represented by Paonessa Talent Agency. artiishak.com
Megan Philippi (Not Not Not Not Not Enough Oxygen, she/her) is a Chicago-based theater-maker and educator. She was a community engagement fellow at Arena Stage from 2019-2020, where she co-directed four youth ensembles in the Voices of Now program and contributed directing and dramaturgy to the devised film Inside Voices. Megan directed Drop at the Going Dutch Festival in Elgin and assistant directed The Adventures of Augie March at Court Theatre. She received her B.A. in Theater and Performance Studies from The University of Chicago, where she directed Eurydice, After the Revolution, and the devised work Nothing Gets Shared at Pool Parties among other productions and readings. Her monologue "Brachiosaurus" was featured in Statue Stories Chicago. She has interned at the Chicago Shakespeare Theater (directing), Court Theatre (dramaturgy), and Goodman Theatre (dramaturgy), and worked at Lookingglass Theatre's summer camp. Megan also enjoys working as an assistant 5th grade teacher.
Joel Willison (Laments of a Brown Bird Summer, he/him) was born in Evanston, Illinois but spent most of his childhood growing up in Kampala, Uganda. As the Artistic Director for Pocket Theatre VR, he focuses his work on collaboration with early career theatre artists and increasing accessibility using Virtual Reality. Joel has worked with Stage Left Theatre, Playground, Chicago Dramatists, EFCT, Ghostlight Theatre Ensemble, VTC, and now with Haven! Joel is always looking for more opportunities to support theatre in Chicago, keep up to date with his work at joelwillison.com
About Haven:
MISSION
We embolden visionary artists to practice and hone their craft by providing an equitable haven of opportunity for the creation of innovative performance, theatre and media arts.
VALUES
Centering our artists, audiences and the work, Haven Chicago commits to the following values:
People First –We honor people for their stories, talents, contributions and spirit of collaboration by creating a safe and equitable working environment. 
Inclusion – We aim to be accessible to all. As an anti-racist, multicultural institution, we value diversity, equity and inclusion.
Accountability – We cultivate trust and accountability to our community and mission through clear communication and intention.
Mentorship – We foster mentorship as a way of giving back to the community and carve pathways for the next generation of artists.