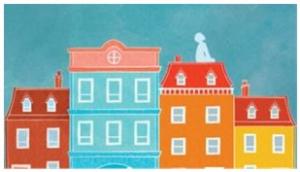 This is the musical version of the film that I saw those many years ago, with music and lyrics by Frank Loesser and a book by Timothy Allen McDonald who also supplied additional lyrics. Sharply directed by Rives Collins, who truly understands the story and its stories with choreography by Tucker Tab DeGregory, I found this production to be as solid as one might find in any of the regional theaters of Chicago. In fact, perhaps better than some of the "road shows" that we
have had put before us.
Today was a double header in family entertainment. We came to Evanston directly from Navy Pier and the Chicago Shakespeare Theater's production of  "The Wizard of Oz". My review is above this one! I also had  11- year -old Lili and her mom with me, so below you will find some of her notes on the show. note: she did not know Andersen before seeing the play, and found herself loving the words and stories he created.
Here is what Lili said:
I loved Hans Christian Anderson! I liked everything about it…the music, the acting…but mostly the play was new to me. I had never heard of Hans Christian Anderson before, although I had heard of the stories he wrote, like The Little Mermaid and the song Thumbelina. I just didn't know he wrote them until I saw the play. I especially loved that the actors snapped their fingers during the play and all the action stopped so they could share a real fact about the life of Hans Christian Anderson.  I could not believe that the actors are students at Northwestern…they were like Broadway stars!!
And the cast had the funniest way to tell you not to use your phones…they acted out a person using a phone and then put it in the blender, crushing it. It was super funny. I told my mom to put away her phone!
I was impressed by the cast of players assembled to bring this play to life. Jack Bistritz, Emma Ro, Elijah Warfield ( Hans Senior and others), Holly Hinchliffe ( Hans mother and other roles), Pablo Lauceric ( a marvelous Hans Christian Andersen), Delia Cunningham ( deftly handling the headmistress role among others), the adorable Natalie Welch ( as Princess Vilhelmina and others) and the smashing Jessy Yates ( as the beautiful Princess Caroline, the love of young Andersen's life). They are small in numbers, but huge n talent. Now I know why Chicago keeps finding new actors for their theaters. Nortwestern University attracts them and they stay!
One of the special features of this production is that the character of Princess Caroline is written to be played by a person with a disability. The director of this show has found sheer perfection with the casting of Yates, who uses a wheel chair and somehow it looks natural and no one ever notices that she is in the chair. Very impressive and perfect for today's world. We learn every day that a disability is not truly a disability, but a reason to grow stronger in anther area. This is obvious in her talent. We recently saw a Tony Award go to a lady in "Oklahoma" also in a wheel chair who brought a new look to Ado Annie! Our world is growing up!
This is a production that I think is perfect for families. Some of the songs may be familiar to you and for sure the stories will stir memories. "Anywhere you Wander", "Inchworm", "The King's New Clothes", "No Two People", "The Ugly Duckling" and "Hans Christian Andersen". There are more  , but some have been added from the film.
The production will continue until July 28th with shows as follows:
July 14th  2 p.m.
July 19th  7:30 p.m.
July 20th 2 p.m. and 7:30 p.m.
July 21st  2 p.m.
July 26th   7:30 p.m.
July 27th  2 p.m. and 7:30 p.m.
July 28th at 2 p.m.
Tickets are $20- Seniors $15
students and NU staff $15 and children under 12 $12.
 "Copenaghen, Denmark, 30th of April 2011: bronze statue of the famous writer Hans Christian Andersen, located in the city hall square of Copenaghen."
Call 847-491-7282 or visit http://www.WirtzNorthwestern.edu