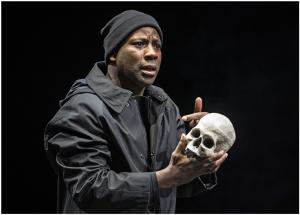 **** Recommended **** I always have high expectations when I go to Chicago Shakespeare Theatre, and they always meet or exceed them.  Their latest production, "Hamlet" is no exception.  I like my Shakespeare stripped down, so I can concentrate on the words, and Barbara Gaines has delivered exactly that.  This "Hamlet" has modern dress and minimal scenery, drawing attention directly to the characters.  Although I wish Hamlet had been a bit kinder to Ophelia, and that she'd had a little more backbone, they were real people dealing with real emotions – grief and anger and disbelief – and doing the best they could.  4 Spotlights
So Hamlet (Maurice Jones) has been away at another noble's castle, getting his training to be a knight/king – Shakespeare's version of a university education – when he learns that his father is dead.  He immediately packs up but it's a long way to travel, taking him two months to get home.  By the way, kudos to Maurice Jones for making Hamlet a regular guy dealing with a lot of stuff. 
When Hamlet does get home, he expects to find his mother, Gertrude (Karen Aldridge), in mourning for her husband, his father.  Instead, he finds her celebrating her marriage to his uncle, Claudius (Tim Decker).  Since Hamlet can't quite wrap his brain around the hasty marriage, his anger is understandable.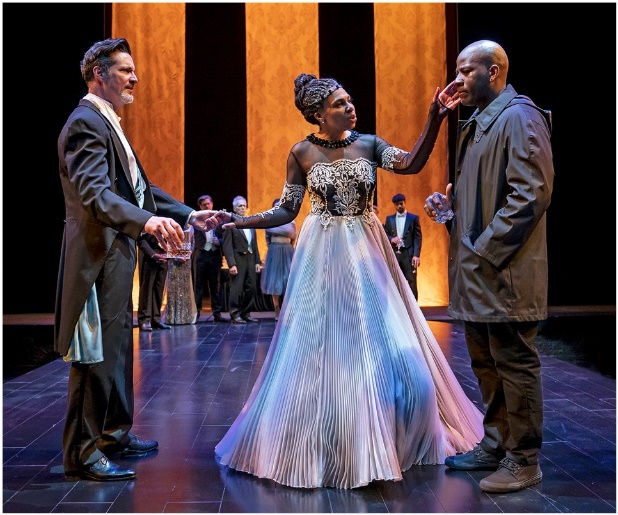 Then his dear friend Horatio (Sean Allan Krill) tells him about something – maybe an apparition – he thought he'd seen the night before while standing watch on the castle wall.  The apparition turned out to be the ghost of Hamlet's father, who (Derrick Lee Weeden) told him how Claudius, his own brother, had murdered him in his sleep, setting Hamlet on a path to revenge. 
Polonius (Larry Yando), who was a valued advisor to Hamlet's father, has made himself indispensable to the new king, finding a way to justify whatever Claudius wants to do.  Although the story hints at a betrothal between his daughter, Ophelia (Rachel Nicks) and Hamlet, apparently nothing was ever formalized.  She is an obedient girl but a lost soul, doing the bidding of her father and her brother, Laertes (Paul Deo, Jr.), who used to be Hamlet's friend.  
Hamlet invited a group of players into the castle but wrote a new play for them, a reenactment of his father's murder.  Enraged, Claudius sent Hamlet to England, instructing his friends, Rosencrantz (Alex Goodrich) and Guildenstern (Samuel Taylor), who think he's crazy, to 'take care of' him en route, but Hamlet escaped and returned home. 
A couple of highlights –
Mike Nussbaum at 90 something playing a gravedigger cackling over skulls.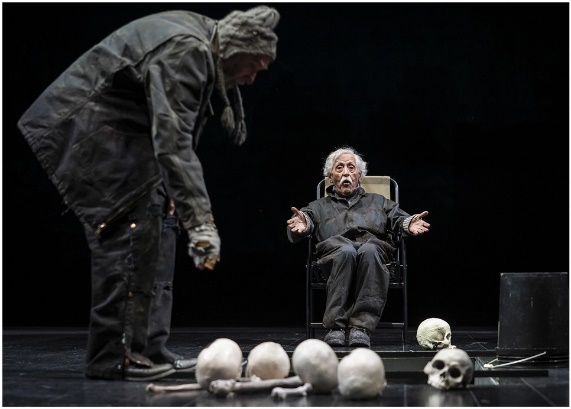 The swordfight between Hamlet and Laertes and all the poisonous skullduggery in that scene.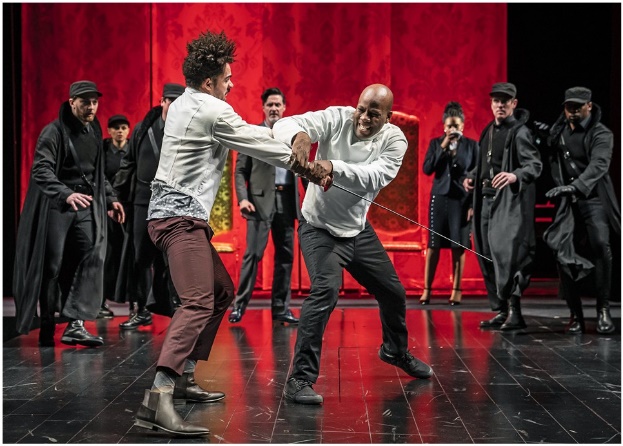 "Hamlet" runs through June 9th in the Courtyard Theater at Chicago Shakespeare Theater on Navy Pier.  Parking is available at a 40% discount in the Navy Pier Garages with validation from CST.   
Running time is 2 hours, 45 minutes, with an intermission. 
Performances are Tuesdays at 7:30 pm (except May 7th and June 4th);  Wednesdays at 1:00 and 7:30 pm; Thursdays at 7:30 pm (additional performance Thursday, June 6th at 1:00 pm); Fridays at 7:30 pm; Saturdays at 3:00 and 8:00 pm; and Sundays at 2:00 pm (with extra performances May 5th and June 7th at 6:30 pm).
 Accessible performances: Open-captioning – Thursday, June 6th at 1:00 & 7:30 pm; Audio-description – Sunday, May 19th at 2:00 pm, with optional touch tour at 12:00 pm; ASL Duo-interpretation – Friday, May 31st at 7:30 pm. 
Tickets range from $48-$88.  FYI (312) 595-5600 or www.chicagoshakes.com.