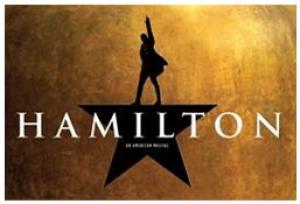 **** Highly Recommended   Would it be too corny of me to say that I was thrilled 'to be in the room where it happens'?  Oh well, it's true, so I'll say it.  I just saw Hamilton, and it is totally awesome – and I learned a lot about our history.  I know you've heard it before – but not from me - Hamilton is a masterpiece!  4 BIG Spotlights
I can't say enough about this show.  There's a reason it's been such a hit.  Everything on that stage – and there's a lot going on all the time – is carefully choreographed, even when it's not dancing.  Every individual moves with precisely the same knee lift or kick or leap elbow at exactly the same time.  In other words, the ensemble is constantly on the move and the choreography is incredible!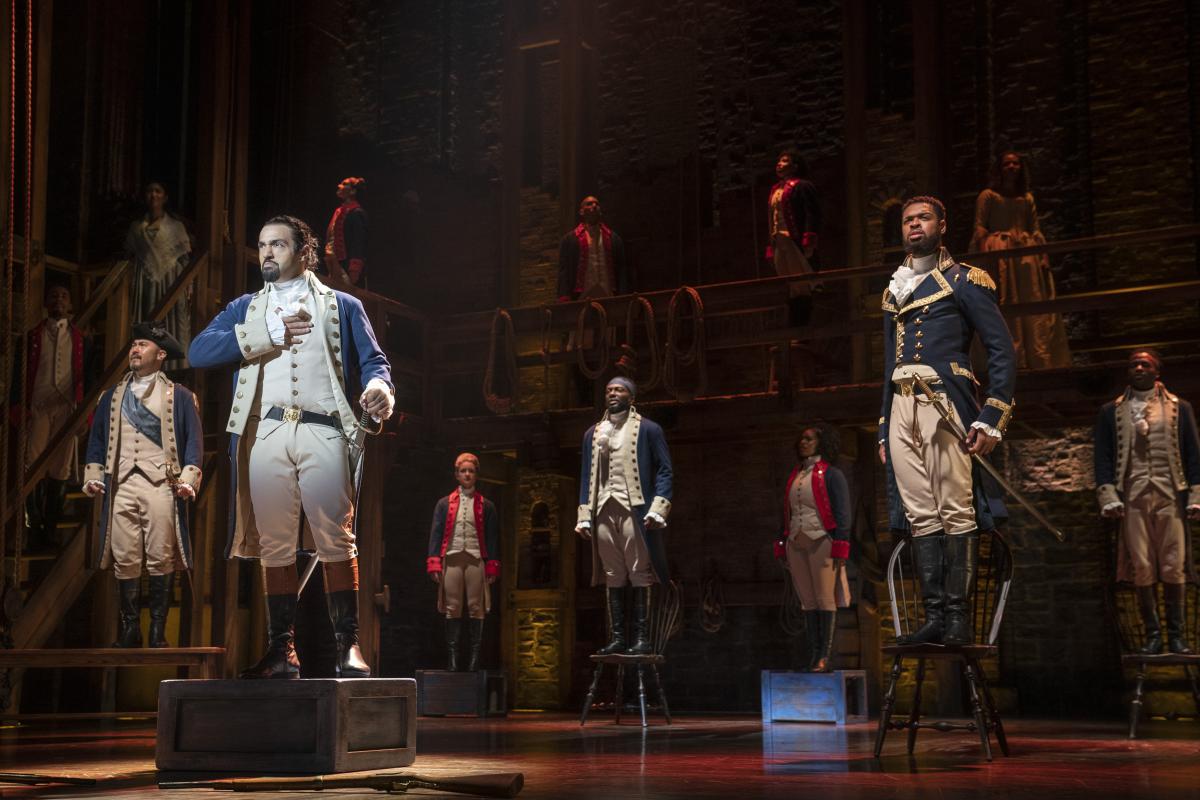 There are a lot of people, too, and sometimes they play more than one character, so it can be hard to keep track.  The first person on stage is Aaron Burr (Deon'te Goodman), which figures, since he had a love/hate thing with Alexander Hamilton (Pierre Jean Gonzalez), what we'd call frenemies today.  One by one, the rest of the cast follows Burr on stage singing Alexander Hamilton, a catchy tune. 
When Hamilton was a law student, he met Aaron Burr, the Marquis de Lafayette (Jared Howelton), John Laurens (Tyler Fauntleroy) and Hercules Mulligan (Eddie Ortega).  He was so flustered he couldn't stop talking as he asked Burr's advice in another catchy tune, Aaron Burr, Sir.  When revolution was looming, Hamilton and his buds agitated for war while Burr hung back.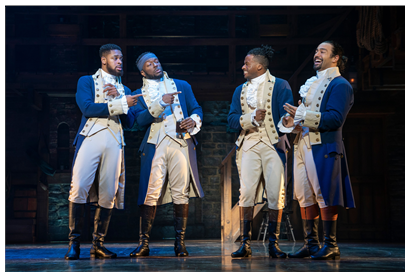 The Schuyler sisters, Eliza (Nikisha Williams), Angelica (Lencia Kebede) and Peggy (Jen Sese), who dance through the first number, are the daughters of one of the wealthiest, most influential Dutch landowners in upstate New York.  When Hamilton met Eliza at a ball, he was Gobsmacked!  He married her soon after.  By the way, marrying her raised his status in New York society considerably.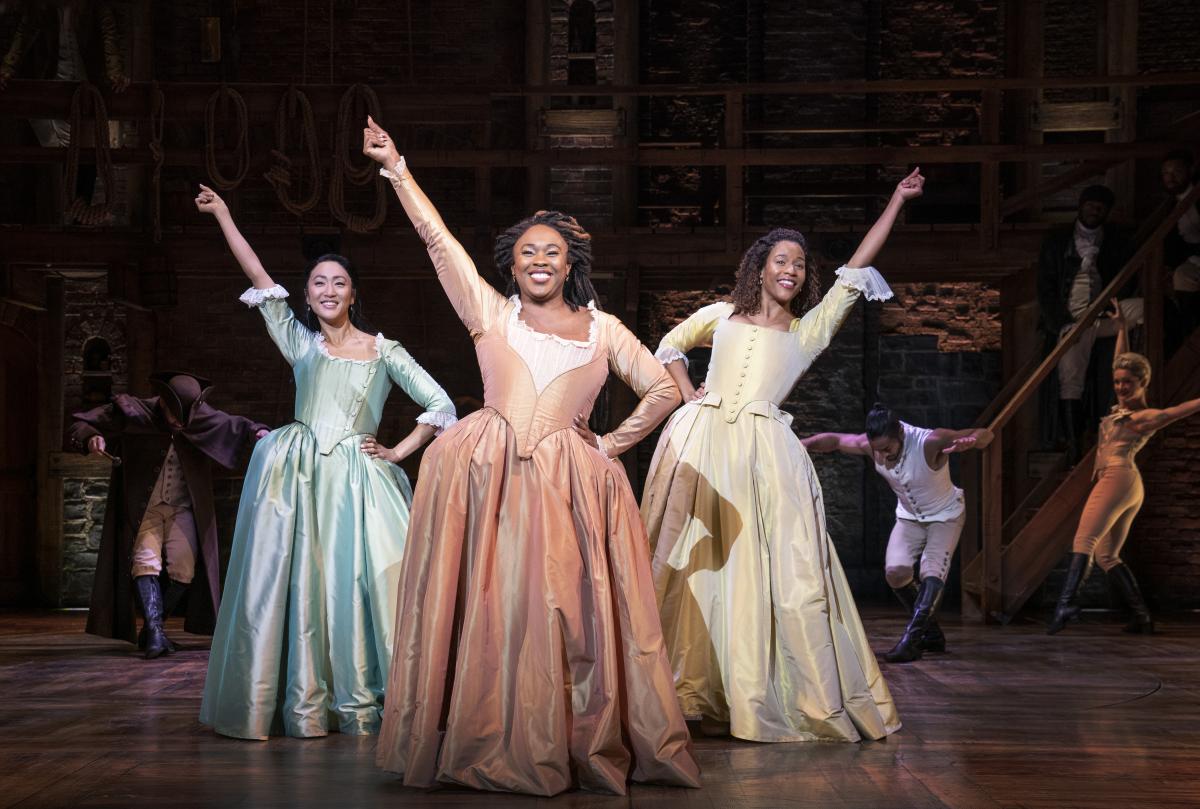 When the revolution began, Hamilton volunteered to fight but George Washington (Marcus Choi) insisted he needed him on his staff – at least until Washington send him home after he was a second in a duel.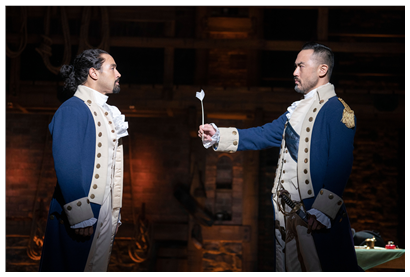 Back in England, King George (Neil Haskell) was sure that the pesky colonists would come crawling back to him when they met his crack troops.  The King wore a big sparkly crown, a cape covered in ermine over a red suit and carried a gold staff.  His song, You'll Be Back, is hilarious.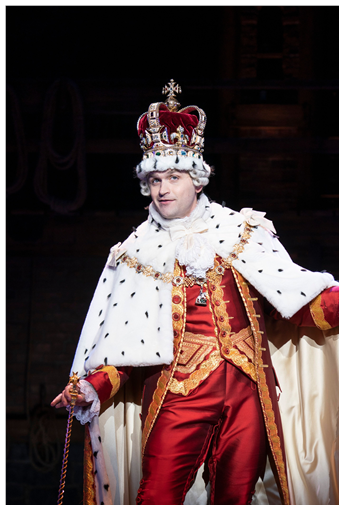 After Hamilton wrote most of the essays in the Federalist Papers, newly elected President Washington makes him Secretary of the Treasury.
The entire second act is about forming a government.   Thomas Jefferson (Jared Howelton), back from France and James Madison (Eddie Ortega) campaign against Hamilton's financial plans but in negotiations give in when they get to have the new capital in the south.  Meanwhile, Aaron Burr's dislike turns to hatred, leading to tragedy.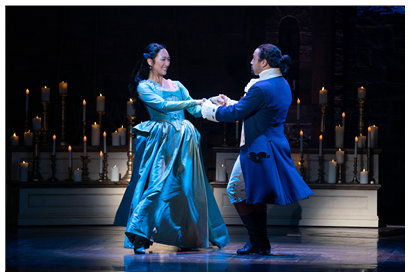 Some of the members of the Hamilton Ensemble also play smaller parts.  They are: Samuel Seabury (Stephen Carrasco), Philip Schuyler/James Reynolds/Doctor (Nick Sanchez), Charles Lee (Tristan Hill) and George Eacker (Dharon Jones). 
The Ensemble: Nicole deRoux, Malachai Durant, Victoria Fiore, Cyndal Gilmore, Vanessa Magula, Josh Marin, Taeko McCarroll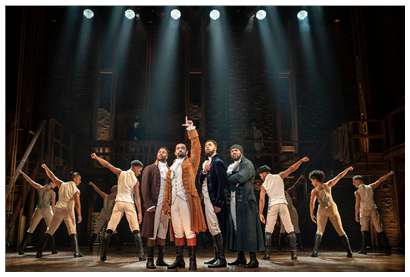 The Hamilton Orchestra: Emmanuel Schvartzman (Conductor/Keyboard 1), James Davis Jr. (Associate Music Director/Keyboard 2), Quinton "Q" Robinson (Drums), Katie Steinhauer (Percussion), Chirs Thigpen (Bass), Chuck Bontrager (Concertmaster/Violin 1), Gelton Offard (Guitar), Roberta Freier (Guitar 2), Jessica Wiersma (Violin/Viola), and Tahirah Whittington (Cello).
Not too long after Hamilton opened on Broadway, I watched an interview with Lin-Manuel Miranda, who wrote the book, music and lyrics.  He'd written one successful musical, In the Heights, and was looking for an idea when he happened to pick up Ron Chernow's biography, Alexander Hamilton.  He was hooked.  He said he went on to read some of the things Hamilton wrote, and decided to use some of his own words in the musical.  He added that Hamilton is about 'America then, told by America now.'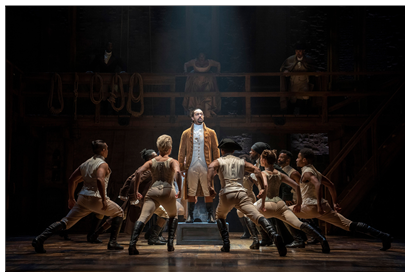 Hamilton opened on Off-Broadway in 2015 to rave reviews and after several months, moved to Broadway.  It was nominated for 16 Tony Awards, winning 11, including Best Musical.  It won the Pulitzer Prize for Drama in 2016.  The production was directed by Thomas Kail with choreography by Andy Blankenbuehler, and musical supervision and orchestrations by Alex Lacamoire. 
Hamilton ran in Chicago from 2016 through 2020.  I didn't get to see that Chicago production, I had to wait until 2018 and fly to Portland, Oregon, where I saw the production at Keller Auditorium (the second stop of the 'Philip' tour) with my son, Doug.  By the way, since I kept my program from Portland, I discovered that Marcus Choi is still playing George Washington, and Jen Sese, Peggy Schuyler/Maria Reynolds in this production, was in the ensemble then.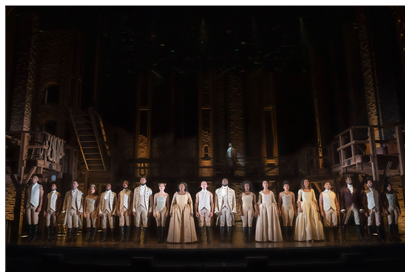 Hamilton runs through December 30th at the James M. Nederlander Theatre, 24 W. Randolph, Chicago.  Running time is 2 hours, 20 minutes, with an intermission.  Performances are Tuesdays at 7:30 pm, Wednesdays at 2:00 & 7:30 pm, Thursdays & Fridays at 7:30 pm, Saturdays at 2:00 & 8:00 pm and Sundays at 2:00 & 7:30 pm.  Tickets range from $42.50 - $152.50.  FYI www.BroadwayInChicago.com.