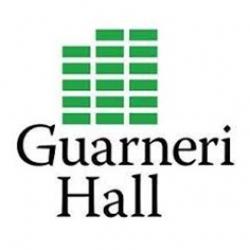 Classical chamber music incubator and presenter Guarneri Hall NFP is announcing a new season of live events.
The organization suspended live performances in March 2020 due to the Covid-19 pandemic, pivoting to make its recording and video production facilities and capabilities available to a wide range of ensembles over the past year, including NEXUS Chamber Music, Dempster St. Pro Musica, Third Coast Baroque, the Grant Park Festival, Music of the Baroque, the Spektral Quartet, the Grossman Ensemble, Frankly Music, and the LYNX Project.
Guarneri Hall NFP Artistic Director Stefan Hersh said, "The past 14 months have been incredibly challenging for musicians and we've been busy helping artists and ensembles keep making music in the best way we could. We were fortunate to already have the ideal facility for virtual concerts, but nothing compares to hearing music in person in Guarneri Hall. We are all eager and excited to experience the thrill of live music again."
Live Performances Resume in September 2021
Live performances in Guarneri Hall will officially resume on September 17th at 6:30 PM, when Guarneri Hall's resident chamber ensemble, NEXUS Chamber Music Chicago, will present a concert entitled From Isolation. The concert, the second and closing concert of NEXUS' Chamber Music Festival Season 4, will feature Ballade by Egène Ysaÿe, Jessie Montgomery's Duo for Violin and Cello (2015), A Sanguine Clockwork for String Trio by Paul Wiancko and Shostakovich's String Quartet No. 8 in C minor, Op. 110. NEXUS Co-artistic Directors, violinist Brian Hong and cellist Alexander Hersh, will be joined by violinist Tai Murray and violist Ayane Kozasa.
The NEXUS Season 4 Festival will also offer the public a rare opportunity to observe the ensemble's rehearsals for their opening concert at Ravinia, Upon Wings of Words, and for the From Isolation concert. NEXUS open rehearsal dates are September 7, 8, 15, and 16, with a limited number of tickets for each date available. Rehearsal tickets are free but RSVP is required.
More 2021-22 Season Highlights:
November 19, 2021: Rising star violinist Geneva Lewis will join pianist Adam Neiman and cellist Alexander Hersh for Debussy and Ravel, a program featuring three pieces by Claude Debussy—the Violin Sonata, Images Book 2, and L'isle joyeuse—along with Maurice Ravel's Piano Trio.
December 14, 2021: Celebrated New York-based pianist William Wolfram returns to Guarneri Hall for an evening entitled Metamorphosis of Romanticism, with violinist Stefan Hersh (Guarneri Hall Artistic Director) and cellist Alexander Hersh. The program will offer insight into the evolution of romantic music in Leoš Janáček's Pohadka for cello and piano, Arnold Schoenberg's Fantasy for violin and piano, Franz Liszt's Chasse Niege and his Liebestraum, and Antonín Dvořák's Piano Trio in F Minor, Op. 65.
March 14, 2022: Oboist Michael Henoch's ensemble, Dempster St. Pro Musica, will present a program entitled Winter Winds, featuring Henoch along with Chicago Symphony Orchestra colleagues Jennifer Gunn, flute; John Bruce Yeh, clarinet; William Buchman, bassoon; and Oto Carillo, horn. The program includes music by Debussy, Ravel, and Chicago composers Sowerby, Elliot, and Muczynski.
April 5, 2022: The New York Times described the Fry Street Quartet as "a triumph of ensemble playing" and The Strad Magazine noted their "blend of technical precision and spontaneity." In their first appearance in Guarneri Hall, the quartet will perform a new work they have commissioned by Chicago pianist and singer Clarice Assad, as well as music by Benjamin Britten.
April 12 and 13, 2022: Innovative cellist Oliver Herbert is quickly cementing a reputation as an important, fresh voice in a generation of truly excellent young string players. Herbert will be joined by Naumberg-award-winning pianist Xiaohui Yang in performances of the Complete Beethoven Cello Sonatas over two evenings.
May 16, 2022: Dempster St. Pro Musica returns with Spring Strings: music by Mozart, Stravinsky, and Beethoven played by the Lincoln Quartet, composed of Chicago Symphony members—violinists Qing Hou and Lei Hou, violist Lawrence Neuman, and cellist Kenneth Olsen.
Tickets for September 17th, NEXUS Chamber Chicago Music Festival, From Isolation, are available now. Tickets for the remaining events will go on sale on the Guarneri Hall events pages on July 1, 2021. For those who cannot attend in person, live streams of most concerts are available free of charge at guarnerihall.org.
The Guarneri Hall season will also include additional concerts to be announced in the weeks ahead, as well as masterclasses and workshops to be announced in September 2021.