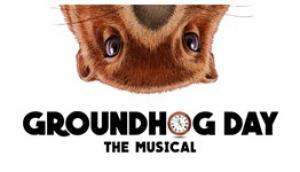 **** Highly Recommended **** Paramount Theatre's production of Groundhog Day was a hoot!  It made me laugh, and maybe more challenging, it made my friend Crista laugh.   Having seen the 1993 movie starring Bill Murray multiple times, I couldn't imagine how it could be adapted for the stage, but I guess that's why I'm a reviewer, not a playwright!  Paramount's Groundhog Day is a funny, sentimental yet cynical tribute to a unique and completely over-the-top annual celebration.  The cast, the set, the costumes, the music, the orchestra, everything was just right.  I loved Groundhog Day, and I think you will too!  4 BIG Spotlights
I'm sure you know the story – right after Pittsburgh TV weatherman Phil Collins (Alex Syiek) predicts that a snowstorm will miss western Pennsylvania, he and his cameraman Larry (Ron King) are sent to Punxsutawney to cover Groundhog Day.  Phil doesn't want to go there again, he doesn't want ride in the van, and when he got there, he sneered at the 'hicks' and their stupid rodent! 
Before his broadcast, he managed to insult everyone he encountered.  As he was setting up for the broadcast, a young woman introduced herself as his producer – well assistant producer – Rita Hanson (Phoebe González).  On a walk after the broadcast, Phil blew off an annoying guy named Ned Ryerson ((Kyle Adams) who claimed they went to high school together.  At the diner, he was rude to Rita and ignored Larry, at least until the police announced that all the roads are closed because of the blizzard, which means they'd have to stay another night.  When the alarm went off in the morning, however, it was Groundhog Day all over again – and again, and again, and again.      
Since Groundhog Day is such a unique event, it required a unique set, and Scenic Designer Courtney O'Neill was definitely up to the task.  The set resembles the inside of a geodesic dome until the angles disappear under scenic projections which transform the stage.  The dome is also functional, as odd shaped rolling pieces turn out to be Phil's bedroom, the dining room at the B & B, the diner, and other important locales in town.  Part of the floor raises to become a platform for the Groundhog Day committee and Buster (Vasily Deris), the Mayor/Groundhog wrangler. 
Time after time, as the Marching Chucks played, everyone gathered in the town square for the annual ritual.  Would the Punxsutawney Phil see his shadow or not?  When the prediction was six more weeks of snow, everyone groaned, then cheered and besieged Phil for autographs and pictures.  As Groundhog Day repeated itself, Phil's broadcasts deteriorated from half-hearted to snarky to downright awful. 
There were a lot of things Phil did while living in repeat.  The one I thought would be most difficult was the car crash, but Paramount found an easy solution.  Phil joins Gus (Aaron Conklin) and Ralph (Michael E. Martin) in a bar.  They're already drunk, so when he starts talking about today being yesterday and tomorrow actually being today.  They understand what he's saying and add their own take.  As they share a few shots, they are completely in synch as they bang their shot glasses on the bar and drink.  When Gus starts looking for his keys, Phil volunteers to drive.  Suddenly, the lighting changed, the bar sprouted headlights and a windshield, blue and red lights started flashing and the chase was on, leading to the inevitable fatal crash. 
I thought Alex Syiek was a good fit for Phil.  He doesn't have that sad clown face, but he does have a terrific voice and good comedic timing.  Phoebe González is perfect for the part of Rita.  She has good stage presence, a powerful voice – and she knew how to slap Phil's face when he got pushy!  The ensemble cast is terrific whatever they're doing.  Almost everyone has a speaking part – and everyone joins the crowd milling around and cheering at every repeat. 
If I've not mentioned them elsewhere, the members of the ensemble are: Adia Bell, Matthew Bettencourt, Christian Denzel Bufford, Lydia Burke, Max J. Cervantes, Andres J. DeLeon, Nick Druzbanski, Veronica Garza, Carisa Gonzalez, Sophie Grimm, Karl Hamilton, Ciara Hickey, Michael Kingston, Teressa Rose LaGamba, Andrew MacNaughton, Jake Morrissy, Emily Rohm and Haley Jane Schafer.
By the way, Vasily Deris who plays Buster, the Mayor & Groundhog wrangler,  is a northwest Indiana native.  His family is known for their restaurants - Theo's in Highland, Avgo in St. John and Prime Steakhouse and Umi Sushi & Lounge in Crown Point.  This is the first play in which both Vasily and his wife Sophie Grimm are cast together.  
Note: Guests must show proof of vaccination before entering the theater.  Guests are required to wear masks while inside the building. 
Groundhog Day runs through March 13th at the Paramount Theatre, 23 East Galena Blvd, Aurora.  Valet parking is available, plenty of street parking too.  Running time is 2 hours, 30 minutes, with an intermission.  Performances are Wednesdays at 1:30 and 7:00 p.m.; Thursdays at 7:00 p.m.; Fridays at 8:00 p.m.; Saturdays at 3:00 and 8:00 p.m.; Sundays at 1:00 and 5:30 p.m. 
Tickets range from $36-$79.  Groundhog Day is suggested for ages 14 and up due to adult language, sexual content and depiction of suicide.  FYI (630) 896-6666 or www.paramountaurora.com.