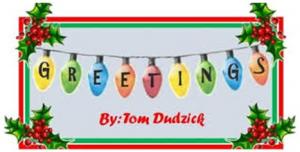 The Hammond Community Theatre production opens as Emily Gorski (Bonnie Johnson) is busily preparing for her son's visit – with girlfriend – for Christmas.  She wants everything to go well, so she's yelling at her husband, Phil (Rip Johnson), to stop drinking in the basement   As she bustles around, son Mickey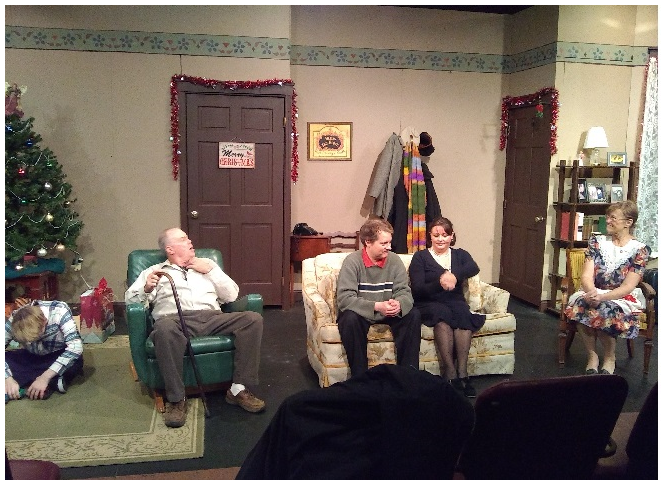 (Jack Braxton), who is special, is playing with the statues from a manger set.
While Mickey seems to understand what he's told, his entire vocabulary consists of "oh boy" and "wow", but Emily keeps trying to teach him to say "Greetings".  She insists he said "Greetings" a couple of days ago, but Phil doesn't believe it.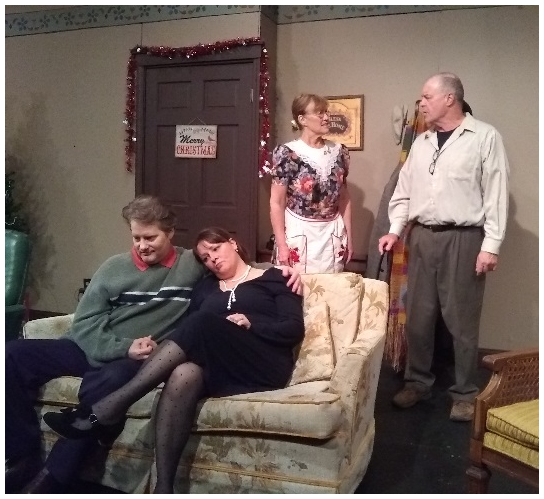 Phil is bitter, angry and confrontational.  He's chronically angry at the electrician for not fixing the wiring and at the plumber for not fixing a leaky faucet.  Today, he's angry that only four houses on the block are decorated for Christmas, angry enough to open the door and yell at all of them. 
When Andy (Mark Aken) and his girlfriend, Randi (Cathy Braxton), arrive, they've barely taken off their coats when Phil starts grilling them.  When Randi tells them her last name is Stein, and that she's Jewish, Phil is relatively calm.  When she says that she's an atheist, he overreacts.  Although Randi has good reasons for her beliefs, that's not enough for Phil.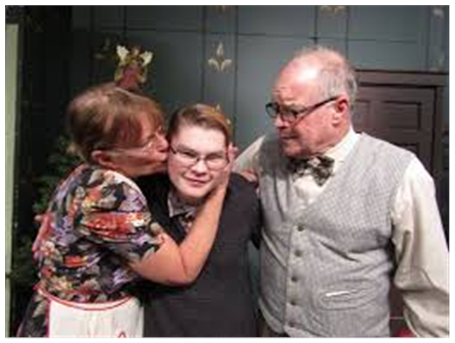 When Emily announces that dinner is ready, they gather around the table.  Although Emily tries to keep the peace, Phil blows up again.  Mickey brings an unpleasant argument to a complete stop when he suddenly says "Greetings!"  Phil and Emily are overjoyed with Mickey's breakthrough.  
All too soon, however, Phil restarts the argument and tempers flared.  When Mickey began speaking again, it was clear to everyone that Mickey wasn't home.  The news that an ancient being has borrowed Mickey's body sets Phil into a tailspin. While he's attempting to find a priest (on Christmas Eve) to do an exorcism, the rest of the family is learning a little more about the spirit of Christmas.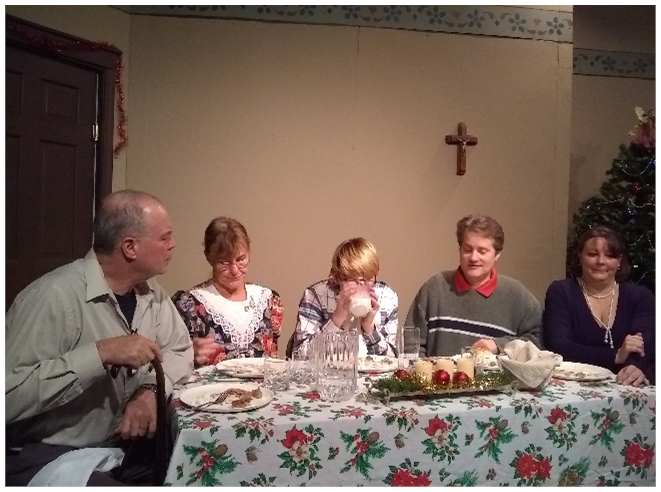 Hammond Community Theatre's production of "Greetings" runs through December 15th at Beatniks on Conkey, 418 Conkey Street, Hammond.  Parking is free.  Running time is about one hour, 30 minutes, including an intermission.  Performances are Fridays and Saturdays at 8:00 pm. Sundays at 2:00 pm.  Tickets are $15.  FYI (219) 852-0848 or http://www.brownpapertickets.com/event/4426109. 
Next up for HCT: "Chapter Two" February 7th through 15th.