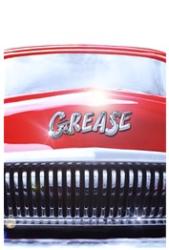 *** Recommended *** "Grease is the word…" at least through June 4th in Oakbrook Terrace.  The kids at Rydell High are back in a colorful, exuberant and energetic production complete with plenty of teen angst and rock and roll!  Overall, I liked the show but – and this is a big but – they never actually did the Hand Jive!  They danced all over the stage, but those hand motions were only in evidence for about 10 beats.  What's that about?  If you're going to include the song, you'd better do the dance!  I guess that makes me a Grease purist (lol).  3 Spotlights
Grease, written by Jim Jacobs and Warren Casey, premiered at Chicago's Kingston Mines in 1971.  Rydell High School (named after teen idol, Bobby Rydell) was based on Taft High School in Chicago (Jacobs' alma mater).  After some revisions, it opened off-Broadway in early 1972, moving to a Broadway theater later that year.  Grease, the movie, starring John Travolta and Olivia Newton-John came out in 1978.  Characters names were changed, Chicago references deleted and new songs were added.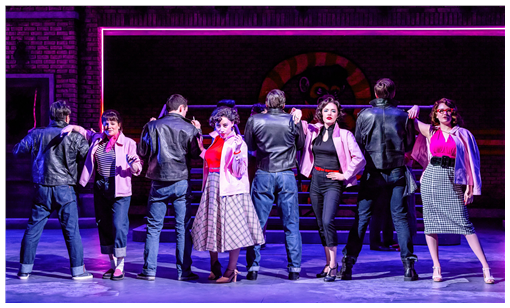 Over the years, Grease has been revised several times.  The Drury Lane production is closer to the 2007 revival than to the original.  New songs include Grease, written by Barry Gibb, Hopelessly Devoted to You and You're the One that I Want, by John Farrar, and Sandy by Louis St. Louis and Scott Simon. 
Students returning to Rydell High after summer vacation, are welcomed back by Miss Lynch (Kyra Leigh), nobody's favorite teacher!  Peppy head cheerleader Patty Simcox (Olivia Belfie) has her sights set on Danny Zuko.  Nerdy little Eugene Florczyk (August Forman), just wants a girlfriend.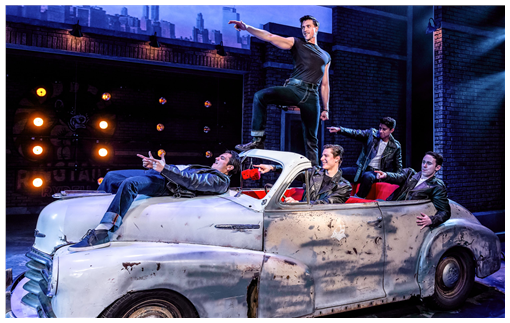 Just a note – in the '50s and '60s, fairly or unfairly, most high schools (mine for sure) had certain groups – athletes/cheerleaders, nice kids (by far the largest group), nerds and greasers/fast girls (greasers because of the 'grease' in their hair).  The Burger Palace Boys are definitely greasers; the Pink Ladies are fast girls. 
When Danny Zuko (Jake DiMaggio Lopez) met up with his best buds, Kenickie (Billy Rude), Sonny (Jordan Arredondo), Roger (Nik Kmiecik), Doody (Ben Dow) – The Burger Palace Boys – on the bleachers, he told them about his Summer Nights.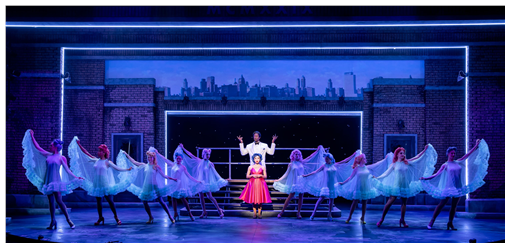 Meanwhile, Frenchy (Ciarra Stroud) introduces her new neighbor, Sandy Dombrowski (Emily Schultheis) to Betty Rizzo (Alina Taber), Marty (Anna Louise Bramlett) and Jan (Elizabeth Stenholt) – the Pink Ladies.  Sandy shares her version of Summer Nights, which turns out to be very different from Danny's – since he's cool and she's a good girl. 
Laughing, the guys show up at Burger Palace with a set of four hubcaps they stole off an old car.  Just then, Kenickie drives up in a beat up old car missing four hubcaps.  Demanding that they put the hubcaps back, he sings one of my favorite songs from the show, Greased Lightnin'. 
At a sleepover, the Pink Ladies smoke cigarettes and drank some cheap wine while sharing secrets.  Marty has a boyfriend, a Marine, who's been sending her fabulous presents.  Sandy tried everything but got sick when Frenchie tried to pierce her ears.  Frenchie announced that she's dropping out of school to go to beauty school.  Rizzo confided that she's late.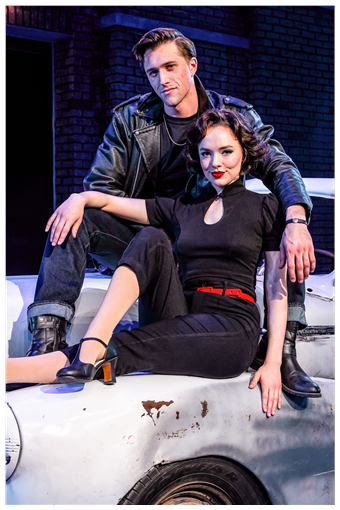 DJ Vince Fontaine (Victor Wallace) made a special appearance at the Rydell High dance.  As Johnny Casino and the band played, couples danced to the Hand Jive.  Danny and a girl named Cha-Cha Digregorio (Emily Scinto) ended up winning the contest. 
After a hair-coloring failure, Frenchie prayed for help.  Teen Angel (Evan Tyrone Martin) appeared with his back-up singing angels and sang Beauty School Dropout to her.  Had to love the angels – their wigs matched their high heels. 
The Grease ensemble includes Brandon Acosta, Leah Casey, Clayton Cross, Daniela Johns, Conor Jordan, Abby Rose Merrill, Kerri Rose, Maxel Mcloud Schingen, Brian Selcik, Angela Syrett, Amanda Walker and Anakin Jace White.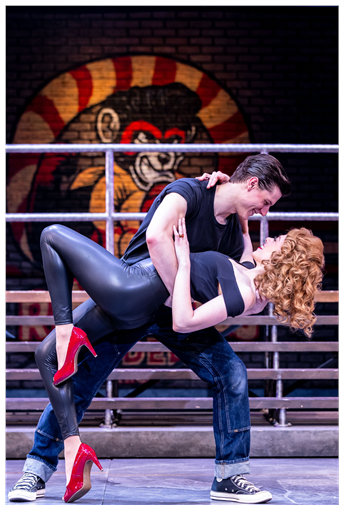 The Drury Lane Orchestra includes Christopher Sargent (Conductor/Keyboard), Karl Montzka (Associate Conductor), Rafe Bradford (Electric Bass), Vane Okraszewski (Drums & Percussion), Tom Logan (Guitar), Buddy Fambro (Guitar), and Jim Gailloreto (Tenor Sax/Flute). 
Note: Guests are encouraged but not required to wear masks while inside the building. 
Grease runs through June 4th at Drury Lane Theatre, 100 Drury Lane, Oakbrook Terrace.  Parking is free.  Running time is approximately 2 hours, 30 minutes, with an intermission.  Performances are Wednesdays at 1:30 pm; Thursdays at 1:30 & 8:00 pm; Fridays at 8:00 pm; Saturdays at 3:00 and 8:00 pm; Sundays at 2:00 & 6:00 pm.  Tickets range from $85-$95.  FYI (630) 530-0111 or www.drurylanetheatre.com.