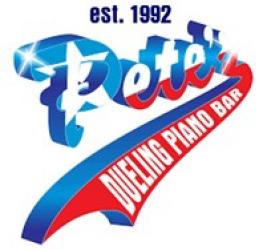 Pete's Dueling Piano Bar, the Texas-based experts in live music and sing-along fun, will officially cut the ribbon on its new Chicago-area location on Thursday, June 23 at 6 p.m., welcoming nightlife-lovers to its new, expanded space on Parkway Bank Park in Rosemont.   
Pete's Rosemont, the company's first location outside its home state, originally opened in November 2019 to packed houses and raucous nights, bringing a new level of fun to the Chicago suburbs. As the world began to shut down in 2020, longtime Chicago bar owner and restauranteur Kevin Killerman and his business partners Corey Urbach and Greg Sacony, used the downtime to move the popular hot-spot into a portion of the former Hofbräuhaus building in Rosemont's popular nightlife and entertainment district.  
"Immediately after opening, we knew we'd need a bigger home," said Killerman. "We've invested more than $200,000 upgrading our sound and lighting, expanding our footprint and bringing more of that Pete's Dueling Piano Bar flair and hospitality that made us such a hit two years ago. The new space is fantastic, and now it's time to get this party started…again!" 
Pete's is well known for its famous selection of signature cocktails including 52-ounce schooners that serve up to five people. The signature "Lucky Duck" schooner is a favorite, made with Pinnacle Tropical Punch, Blue Curacao, muddled lemon and lemonade. Other signature drinks include the Bangarang and the Singapore Sling, plus decorative shots that can only be found at Pete's, including the "Mexican Candy" and "Cinnamon Toast Crunch."  
A full drink menu is available at www.petesduelingpianobar.com/drink-menu/. 
Pete's will soon also unveil its latest concept, Pete's Tiki Tiki, a Polynesian-themed club that promises to take guests all the way to the south seas while sipping unique, tropical cocktails. Guests to Pete's Dueling Piano Bar Rosemont can get  a sneak peek at the new venture, now open with a limited menu.  
Pete's Dueling Piano Bar Rosemont also offers a variety of event packages, including 'Bachelorette's Final Blowout' for bachelorette parties, 'Pete's Ultimate Party Package' for groups of 20 or more, corporate events and 'Pete's 2 Go' for off-site private events  
Pete's is open Wednesdays through Saturdays from 7 p.m. – 2 a.m. with shows starting at 8 p.m (Sunday – Tuesday the venue is open for private events). Visitors must be 21+ to enter. Walk-ins are always welcome, but reservations are recommended, and nightly table reservations for parties less than 20 people can be booked online. 
For more information, please visit www.petesduelingpianobar.com, call 847.728.7383 or follow along on social media at @petesrosemont. 
ABOUT PETE'S DUELING PIANO BAR 
Pete's Dueling Piano Bar is a one-of-a-kind beat bumpin', feet tappin', mic droppin' live entertainment experience where everyone is a part of the show. Every night, Pete's explodes in a boisterous, raucous music-driven party driven by high-energy dueling piano excitement. A-list pianists take the stage to perform hits from every era on two baby grand pianos with high spirts and unparalleled showmanship. Table reservations, ideal for bachelorette parties, birthdays, graduation parties, or simply a night out, are available. For more information and reservations, please visit petesduelingpianobar.com or follow along on social media at @petesrosemont.