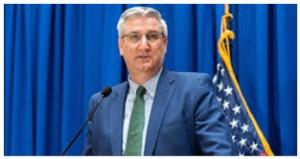 Governor Eric J. Holcomb announced the approval of more than $29.8 in matching state grants, marking the fifth straight year of record-breaking investments in the safety of Indiana schools.
Earlier this year, the Indiana General Assembly approved Gov. Holcomb's 2023 Next Level Agenda budget proposal to increase the Secured School Safety Grant (SSSG) by $25M each year. Due to additional funding from the Indiana Department of Homeland Security (IDHS) budget, the Board voted to approve all application requests, totaling 605 projects for 474 schools.
"These school safety grants represent another example of historic investments in public safety," Gov. Holcomb said. "I am pleased we are able to financially support every school that identified safety as a top priority."
Since 2013, Indiana has invested in school safety, when the SSSG program was initiated.
For this fiscal year, the board approved $29,824,803.67 in school safety funding. The performance period for the grants begins September 1. Gov. Holcomb's 2023 agenda also included significant modernizing reforms to the SSSG through House Enrolled Act 1492, including broader access, greater flexibility and new uses.
Category  ||  Number of applicants  ||  Dollars allocated
SRO/LEO  ||  302  ||  $19,425,611.83
Equipment/Tech/Hardware  ||  218  ||  $8,325,667.02
Student/Parent Support Services  ||  31  ||  $1,150,253.41
Training  ||  21  ||  $160,820.29
Firearms Training for Staff  ||  7  ||  $101,979
AEWS (no match)  ||  6  ||  $100,737,50
Site Vulnerability Assessment  ||  7  ||  $20,962.82
Bullying Prevention  ||  2  ||  $17,000
Design and Construction  ||  11  ||  $521,771.80
Post-incident Counseling Services  ||  0  ||  $0
Total  ||  605  ||  $29,824,803.67
SRO/LEO   ||  302  ||  $19,425,611.83
"Since the inception of the Secured Schools Safety Grant program, we have listened to schools across the state about what they see as their greatest needs in the way of safety," said IDHS Executive Director Joel Thacker. "As a result, this year we can offer more eligible funding categories than ever before, leading to safer schools and an overall better learning environment. "
A complete breakdown of recipient schools and the total amount of their awards can be found here.  
The Indiana School Safety Hub also provides schools with a wealth of resources, training opportunities and other information designed to give schools the tools they need to keep students and staff safe.