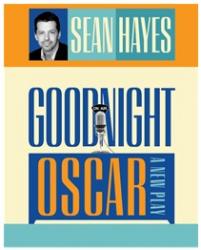 **** Highly Recommended **** Let me see, what can I say about the Goodman Theatre's new production, Good Night, Oscar, that someone else hasn't already said.  Hmm, I'll say it anyway.  Good Night, Oscar is ready for Broadway!  No kidding!  This was one of the most interested, most engrossing, most entertaining plays I've seen in a very long time.  In my opinion, Sean Hayes just boosted his acting creds from TV star to mega-star!  You can't miss with this one!  4 BIG Spotlights
Oscar, of course, is Oscar Levant (Sean Hayes), concert pianist, composer, conductor, actor, radio show host and game show panelist.  He was a popular guest on variety shows as well as sit-coms because of his piano skills but also because of his quick, often bitingly sarcastic one-liners.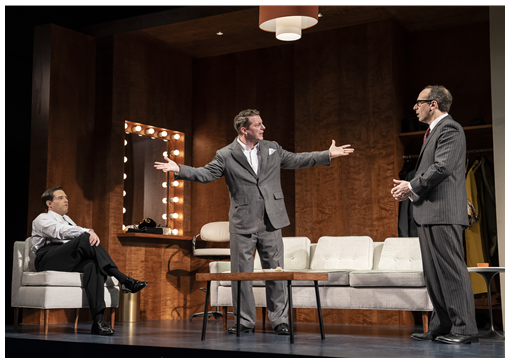 As a young man, he met and became friends with George Gershwin, and made the definitive recordings of George Gershwin's music.  He wrote the scores for more than 20 movies, the music for Broadway shows.  He wrote his own concertos and as well as popular music.  In the 1940s, he was the highest-paid concert pianist in the country.  He often appeared as a featured actor in movies; playing a piano player in hit films like The Barkleys on Broadway with Fred Astaire and Ginger Rogers and An American in Paris with Gene Kelly. 
As I've been researching Oscar Levant, I've watched several YouTube videos of his concerts and appearances on television shows like The Jack Benny Show, What's My Line, and The Tonight Show with Jack Paar.  He was always rumpled, always chain-smoking, always intense, and always ready to say things no one else would say, like "There is a fine line between genius and insanity, I have erased that line."  He's a fascinating person to study.  Now I can see why Doug Wright would want to write a play about him and why Sean Hayes would want to play him.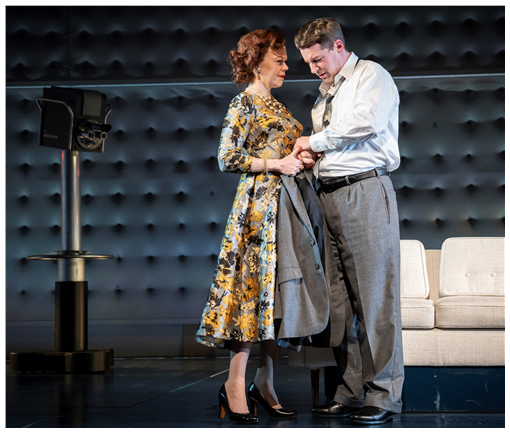 NBC Network boss Bob Sarnoff (Peter Grosz) has persuaded Jack Paar (Ban Rappaport) to bring his show to Hollywood for a week.  Paar, who always looked for compelling/controversial conversation, booked Oscar Levant to appear on the show over Sarnoff's objections. 
It's just a few hours until air and Levant has yet to appear.  In fact, no one has been able to reach him despite multiple calls.  Sarnoff, nervously pacing and berating Paar, wants to call Xavier Cugat – who is available.  Paar, who thought Cugat was boring, refused.  Max Weinbaum (Ethan Slater), Sarnoff's nephew and studio gofer, continued making phone calls.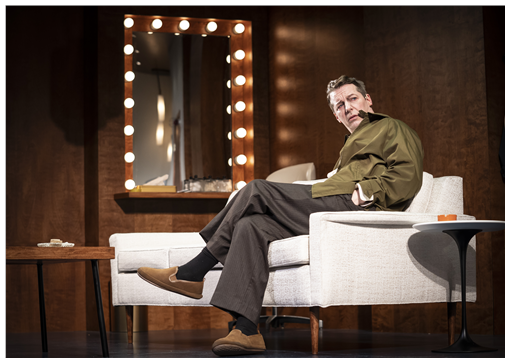 Just then, June Levant (Emily Bergl), strolled in with a garment bag.  When she said Oscar would be there soon, Sarnoff left Paar's office.  When Paar demanded the real story, June explained that she'd had Oscar committed over a month ago.  She knew about this booking, knew it meant a lot to him, so she'd made arrangements.  Just about then, Oscar (Sean Hayes) and an orderly, Alvin Finney (Tramell Tillman) walked into the studio.  Finney was upset about the deception and ready to take the patient back to the hospital.  June insisted she'd made arrangements with the doctor, so Finney went off to call him while she got Oscar ready to go on. 
After Sarnoff ran through the network's forbidden topics with Paar, Levant declared that he'd do an interview but he wouldn't play the piano.  Meanwhile he conned Max into opening Finney's case full of 'just in case' meds, since he was clearly having a crisis.  On the air, however, he was brilliant as he responded with one-line zingers to Paar's leading questions.  While Paar and Sarnoff were going at it during the commercial break, Oscar had his own conversation – with George Gershwin (John Zdrojeski). 
Note: Guests must show proof of vaccination with photo ID before entering the theater.  Guests are required to wear masks while inside the building.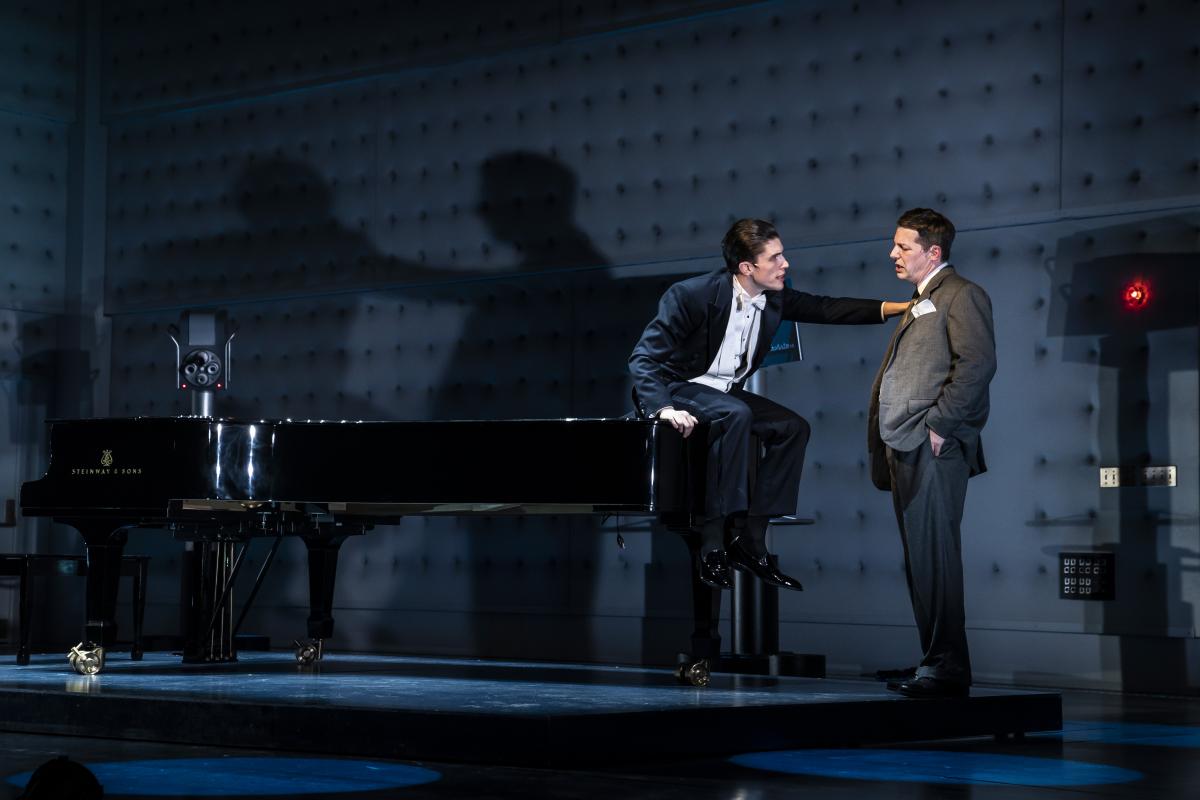 Good Night, Oscar runs through April 24th at the Goodman Theatre,170 N. Dearborn, Chicago.  Most reasonable parking option for the Goodman is the Government Center garage on Lake between LaSalle and Dearborn, online advance payment at www.interparkonline.com/goodmantheatre.  Running time is one hour, 40 minutes, no intermission. 
Performances are Wednesdays at 7:30 pm, Thursdays at 2: & 7:30 pm; Fridays at 8:00 pm; Saturdays at 2:00 and 8:00 pm; Sundays at 2:00 pm.  There is an additional performance on Tuesday, April 5th at 7:30 pm. 
Accessible & Special Performances:
Touch Tour & Audio Described, April 9th at 12:30 pm; The action/text is audibly enhanced for patrons via headset.  
ASL Interpreted Performance, April 15th at 8:00 pm.
Open Captioned Performance, April 16th at 2:00 pm. 
Spanish Subtitles: April 16th at 8:00 pm.
Tickets range from $25-$110.  FYI (312) 443-3800 or www.goodmantheatre.org/Gem.