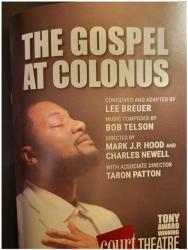 **** Highly Recommended **** Most Greek tragedies were written in the 5th Century BC, so too often people think they have no relevance today, so they frequently skip excellent stage productions.  The Gospel at Colonus has a different approach – re-telling Sophocles' tragedy, Oedipus at Colonus, in gospel form.  Court Theatre was filled with glorious gospel music.  In fact, instead of a Greek chorus, we got a joyful gospel choir, and it was awesome!  4 BIG Spotlights
The Gospel at Colonus was conceived and adapted by Lee Breuer.  The music was composed by Bob Telson, with original lyrics by Lee Breuer and adapted lyrics by Lee Breuer and Bob Telson.  It premiered at the Brooklyn Academy of Music's Next Wave Festival in late 1983.  The Gospel at Colonus won the 1984 Obie Award as Best Musical and was a finalist for the 1985 Pulitzer Prize for Drama.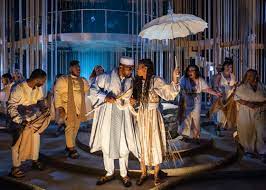 Court Theatre's production is directed by Mark J. P. Hood and Charles Newel with music direction by Mark J.P. Hood. 
The multi-level set, designed by John Culbert, featured several gently curving curtain-like structures made of gold strips at the rear of the stage, interspersed with ramps and stairways to the upper level and the musicians. 
Kudos to Costume Designer Raquel Adorno who dressed the entire cast in shades from whitest white to creamy beige, each costume unique, but all vaguely Grecian.  They were gorgeous! 
Led by his daughter, Antigone (Aeriel Williams), Oedipus (Kelvin Roston, Jr.), who is blind, arrives in Colonus, a town/sacred site outside Athens.  After a joyful reunion with another daughter, Ismene (Ariana Burks), Oedipus is confronted by Theseus (Mark Spates Smith), preacher/king of Athens, who delivers a devastating sermon about the sins of Oedipus. 
Admitting that his daughters are also his sisters, and acknowledging his other sins, Oedipus asks for eternal rest in this sacred spot, promising to protect the city after his death.  Theseus agrees to allow him to stay. 
After kidnapping both daughters, King Creon (Timothy Edward Kane) orders Oedipus to come home to Thebes.  His own son, Polyneices (Kai A. Ealy), betrays him, but Oedipus outsmarts them, getting his daughters back while staying safe in Colonus.   

In Greek tragedies, Choragos were wealthy individuals who paid the costs of theatrical productions at festivals.  In modern terms, producers.  The two Choragos were played by Shari Addison (also a soloist) and Eric A. Lewis.  The Friend (Juwon Tyrel Perry) and the Evangelist (Jessica Brooke Seals) were also part of the chorus, which also included Jerica Exum, Shantina Lynet, Isaac Ray, Eva Ruwé and Cherise Thomas. 
Musicians: Mahmoud Khan (Associate Music Director / Conductor / Keyboard / Organist); Joshua Griffin (Bass Guitar / Music Programmer / Playback Engineer); Amr Fahmy (Keyboard); Oscar Brown, Jr. (Lead Guitar); Leonard Maddox Jr. (Drums). 
Note: Masks are encouraged but not required at this performance. 
The Gospel at Colonus has been extended to June 14th at The Court Theatre, 5535 S. Ellis Avenue. Chicago.  Parking is free in the adjacent garage, exit gate will open ½ hour after curtain.  Running time is 85 minutes, no intermission. 
Performances are Wednesdays through Fridays at 7:30 pm; Saturdays and Sundays at 2:00 and 7:30 pm.  Tickets range from $40.50-$82.  FYI (773) 753-4472 or www.courttheatre.org.