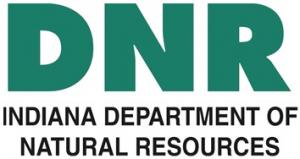 Renew your hunting and fishing license
Your 2020-21 annual hunting and fishing licenses expired on March 31. If you haven't done so already, it's time to renew. Purchase your license online, at a local retailer, or through the DNR Customer Service Center.
Now is a great time to get outside and enjoy the fresh air. Outdoor activities can improve mental health and well-being. Treat yourself to a moment of peace or reconnect with family and friends out on the water.
Sign-in process change at Fish & Wildlife Areas
Visitors to our Fish & Wildlife Areas (FWAs) will notice some changes this spring and summer. We are always looking for ways to create safe and enjoyable experiences at Indiana's FWAs, and these changes will help us do that.
Later this summer, a new property rule will go into effect that requires all visitors to sign in and get a one-day permit card before going out on the property, regardless of activity. To prepare for this new rule, we have been asking that visitors sign in and take a permit since April 1. The one-day access permit must be kept with you while visiting and must be completed and returned to a kiosk, drop box, or the office before leaving. The information you provide helps us identify ways to improve Indiana's FWAs for all users, and your feedback and comments are valuable to us. We appreciate your patience in taking the extra time to fill out the permit as we explore options to allow visitors to sign in and out via their mobile device.
All FWAs listed on our website follow this process, except Wilbur Wright FWA.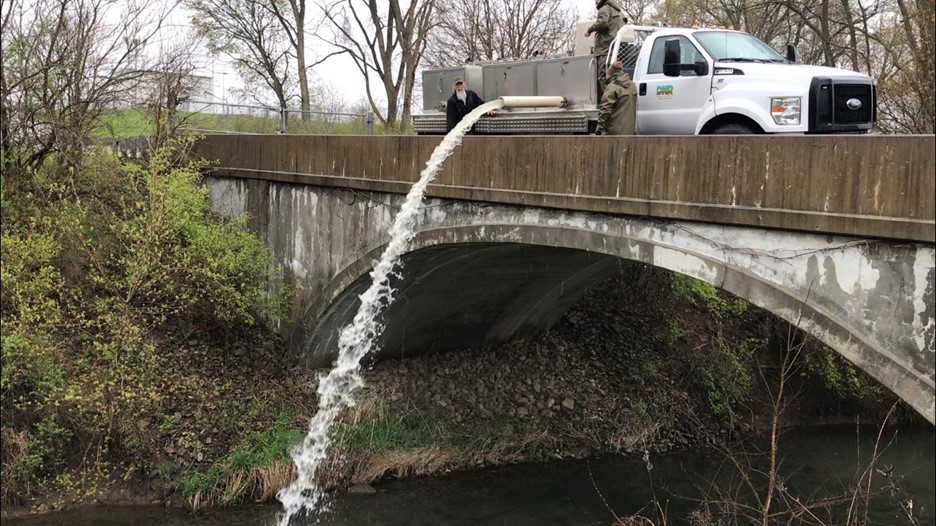 Trout season for inland streams begins April 24
The opening day of trout season for inland streams is April 24 at 6 a.m. local time. DNR's biologists are currently stocking rainbow trout across the state. To find locations near you that are receiving trout, check out the 2021 trout stocking plan. You will need a valid fishing license and trout/salmon stamp to fish for trout.
First Free Fishing Day, May 2
Indiana's first Free Fishing Day of the year is May 2. Indiana residents do not need a fishing license to cast a line and get out on the water on these special days. Free fishing days are a great opportunity to disconnect from the worries of everyday life and reconnect with family and friends. May 2 is also Visit Indiana Day, which Indiana State Parks is celebrating by offering free admission. Celebrate both days by packing your poles and visiting a state lake or state park pond. We hope to see you out on the water!
Bigger fish make for better fishing
Fawn River State Fish Hatchery in Orland will soon become Indiana's primary producer of larger, older walleye fingerlings for the state's hatchery system. The change in production will meet anglers' growing need for better walleye fishing in northern Indiana. The hatchery will increase its walleye production from 120,000 2-inch fish to approximately 30,000 6-inch fish starting in 2021. The 120,000 smaller walleye previously produced will be transferred to Driftwood State Fish Hatchery in Vallonia. The larger fish, although fewer in number, are expected to have much better survival rates once stocked into northern Indiana lakes and rivers.
Indiana's state fish hatcheries will continue to evolve and adapt to meet the needs of Hoosier anglers.
Photo courtesy of the National Park Service.
Spring turkey season begins in late April
Are you excited to harvest a gobbler? Youth season for spring wild turkey hunting is April 17-18. Adult hunters can take to the fields beginning April 21 through May 9. Hunters will need a valid turkey hunting license and gamebird habitat stamp to participate.
Find resources including our Where to Hunt Map, regulations, spring harvest data, processing videos, and more on our website.
Stand-by draws for wild turkey hunts at FWAs
In 2020, Fish & Wildlife Areas (FWAs) suspended stand-by draws for wild turkey hunts due to COVID-19 restrictions. This year, turkey stand-by draws will resume to fill all hunting opportunities. Hunters must wear a mask and practice social distancing at each property office.
Wild turkey hunts on many FWAs are initially allocated by a reserved hunt draw. Reserved turkey hunters must claim their spot by a specific time each morning or that hunting opportunity will be included in the stand-by draw. Hunters who are not reserved and hold a valid turkey hunting license and gamebird stamp may sign up for the draw each morning for a chance at one of the unclaimed spots. Hunters interested in participating in turkey hunt stand-by draws should contact the property they wish to hunt for more information regarding draw times and procedures.
Hunting seasons beginning and ending in April
April 17 & 18 – youth wild turkey
April 21 – spring wild turkey
Green frog and bullfrog season ends April 30.
View hunting seasons for the rest of 2021 and into 2022 here.
Open access for spring turkey hunters
Hunters looking to chase gobblers on public land this spring can find plenty of opportunity in Indiana's forests. All 15 state forest properties and 204,000-acre Hoosier National Forest are open for walk-in hunting. It's important to remember that these forests are managed for multiple types of recreation, which means you may encounter more people than just other turkey hunters. Hikers, foragers, horseback riders, campers, and many others enjoy these spaces, too. This openness also allows you to do more than just turkey hunt, so it's a great excuse to bring the family along.
Hoosier National Forest, Deam Wilderness, and the surrounding area is popular for camping and hunting. Remember, there is no parking along Tower Ridge Road except at the designated spots. When hunting any public land, remember that property lines are not always clearly marked. Carrying a map that shows property boundaries is important to avoid straying onto private land nearby. You can find these maps at state and federal forest offices and online.
Indiana's state forests and Hoosier National Forest are public lands for your use. If you've never experienced what these easy-to-access properties offer, turkey season is a great time to start.
Photo courtesy of Bobbi Beckham Holloway.
Young wildlife – what to do and how to help
New arrivals are making an appearance all over the state and are likely to show up soon in your backyards. During April, young wildlife ranging from raccoons and rabbits to squirrels and goslings will be present in local parks, forests, and even your garden. If you stumble upon a young wild animal left alone, don't panic. Adult wild animals rarely abandon their young. Young are often left unattended while adults are away gathering food. Do not hover to see if the parent comes back and only check back periodically. If the animal you find is in a nest, you can place straw or grass over it and check back later to see if it's been disturbed.
If you find an injured animal showing clear signs of distress (weakness, bleeding, covered in flies, or with broken bones), do not attempt to care for it yourself. Wild animals have different care requirements than many of our domesticated pets and, as a result, they need the attention of a licensed wildlife rehabilitator. Wildlife rehabilitators are trained to care for many wild species. They will know how to care for the animal and keep it from losing its natural fear of humans so it can return to and survive in the wild.
Bats are awake and on the move
Hoosiers may soon notice furry flying mammals roosting in their eaves and circling neighborhood lampposts. Some species of bats are waking up after six months of hibernation, and other species are traveling hundreds of miles for their seasonal migration. It's normal to find bats hanging close to homes when they have trouble finding natural roosts. For the next six months, bats can be seen hunting insects attracted to lights from houses and streetlamps. You can learn more about Indiana's bats on our website.
If you find an injured bat, contact a permitted wildlife rehabilitator for help. If you need help excluding bats from your attic, a wildlife control operator can help. Sick or dead bats can be reported to our biologists online.
Out with the old and in with the new
Fish & Wildlife Areas use prescribed fire to maintain and manage wildlife habitat. Both plant and animal communities benefit from these burns. Prescribed fire is controlled by wildlife professionals and, for safety, is done only under specific weather conditions. There are many benefits to using fire as a management tool. By burning away dense plant material, fire controls aggressive trees and shrubs, increases plant diversity, reduces the spread of plant diseases, and releases nutrients back into the soil.
Recent news releases
Whitefish state record broken again
Turkey hunting equipment rule changes approved for spring season
Fish & Wildlife's top performers get awards
How to prevent or reduce Canada goose conflicts
Aquarium owners: Check moss balls for zebra mussels
Upcoming events
More
The Indiana Natural Resources Foundation celebrates and preserves Indiana's natural legacy by raising funds to support the Indiana Department of Natural Resources (DNR) and its programs. Together, we have helped expand public lands, restore wildlife habitat, and create outdoor educational and recreational opportunities for Hoosiers.