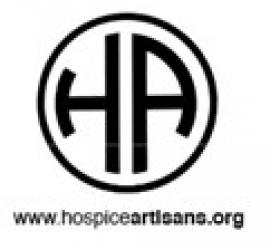 Thank you for being a Hospice Artisans customer and giving the gift that gives twice!
All proceeds benefit Hospice of the Calumet Area!  
Shop our holiday section today.
Perfect items whether you're entertaining this season or having a cozy night at home.
The perfect size for those perfectly beautiful hands! This adorable set of two heart-shaped mitts will protect from those hot everyday dishes that come and go in the microwave, regular, or toaster oven. Puts the fun in functional and brightens your kitchen decor as well.
Looking for something fun and festive that will brighten up your home? Shop our holiday decor and be inspired by the love and care our Artisans put into each unique piece.
From our vintage music logs to our felt Christmas trees, all our holiday decor will remind customers to Cherish Life this holiday season.
Trim the tree with our gorgeous handcrafted ornaments!
Enticing and vibrant globes in a variety of colors, playful and adorable wooden ornaments, precious tiny sweaters - cover your tree with the goods from the Hospice Artisans and support individuals and families facing life-limiting illness.
Rock around the Christmas Tree!
Hospice Artisans