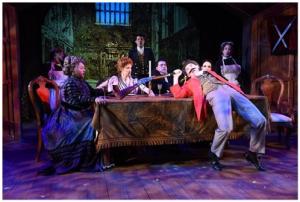 How can you not cherish a musical comedy that opens with the number "A Warning to the Audience" in which the ensemble advises that if murder and mayhem are not quite your cup of tea, perhaps you should just leave right now? Thankfully, no one in the packed house on opening night did.
The hilarious yet cheeky plot (book and lyrics by Robert L. Freedman) and punchy score (music and lyrics by Steven Lutvak) is really quite simple. Monty Navarro (the suave and amiable Andres Enriquez), while mourning the recent death of his beloved mother, is visited by a mysterious woman, who he discovers may possibly be mentally unbalanced. Upon the discovery of some of his late mother's letters, Monty realizes that he is in line to inherit the distinguished D'Ysquith fortune.
Only problem -- there are eight other heirs standing in his way to attaining that big payday. All eight of those members of the D'Ysquith dynasty are played by the supremely talented Matt Crowle. Eliminating each one becomes more inventive under the creative direction of Stephen Schellhardt (who also is responsible for the choreography). So that pretty much covers the murderous aspect of the title. As for love, Monty has a mistress named Sibella Hallward (the beguiling Emily Goldberg) as well as his fiancee Phoebe (the prim and proper Ann Delaney), who also just happens to be his cousin (!). This trio performs the spectacular "I've Decided to Marry You" in Act Two which joins the comforts of the parlor with the pleasures of the bedroom as the action takes place simultaneously between both worlds. Schellhardt's direction gets a bit erratic in the second half and much of the antics in "Looking Down the Barrel of a Gun" border on exaggeration, but the audience howled their approval nonetheless.
The real unsung (and unseen) heroes of this production are Samantha Treible and Casey Wood, the backstage dressers who are assisting Crowle in all of those split-second costume changes from one D'Ysquith ninny to another. And speaking of those costumes -- Jeff Hendry has outdone himself. Each of the D'Ysquith family members has a unique look to them, from head to toe. These costumes have to be constructed in such a way that they can be put on and taken off in the blink of an eye yet look complete and whole upon the frame of Crowle's body once he is in character on stage. They are amazing, as are the abundant frilly dresses, military boots, woolen tweeds and especially the finely-detailed and heavily-ornamented hats. Finally, complementing the entire ensemble are the wigs designed by Kevin Barthel, which includes numerous variations of facial hair, whether it be mutton chops beards or handlebar mustaches.
---------------------------------------------------------------------------------
"A Gentleman's Guide to Love and Murder" has been extended through March 16, 2019
The Ruth Page Center for the Arts, 1016 North Dearborn Street, Chicago
The regular run performance schedule is:
Thursdays at 7:30 PM*
Fridays at 8:00 PM
Saturdays at 4:00 and 8:00 PM
Sunday at 2:00 PM on March 3 and March 10
Sunday at 6:00 PM on Feb. 10, Feb. 17, Feb. 24 and March 10
The final week of performances are Tuesday, March 12, Wednesday, March 13 and Thursday, March 14 at 7:30 PM, Friday, March 15 at 8:00 PM and Saturday, March 16 at 2:00 PM
*There are added matinee performances Thursday, Feb. 21 and 28 at 1:30 PM and no performances Thursday, Feb. 28 and March 7 at 7:30 PM
Ticket Prices: $39 to $66
Website: PorchlightMusicTheatre.org
Running time is approximately 2 hours and 30 minutes with one fifteen-minute intermission.