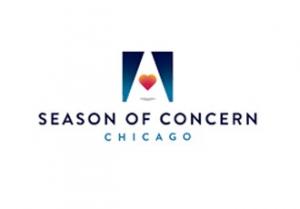 In life, Malcolm Ewen, the long-time production stage manager at Steppenwolf Theatre Company and a decades-long member of the board of Season of Concern, was a tireless advocate for Chicago's theater community. In addition to his distinguished career at Steppenwolf his leadership presence was felt from The Goodman Theatre in Chicago to Weston Playhouse in Vermont. 
On June 4, in honor of what would have been Ewen's 67th birthday, Season of Concern is proud to announce the establishment of The Malcolm Ewen Fund, a new source of emergency financial support for Chicago theater makers in need.
Although Ewen's premature death in 2019 robbed the community of one of its most effective leaders, his generous spirit will live on in The Malcolm Ewen Fund at Season of Concern, the short-term emergency fund for Chicago theater artists.
Established through his generous bequest to Season of Concern, The Malcolm Ewen Fund will provide short-term assistance for theater employees facing non-health related financial issues.
Much like its namesake, who devoted himself to developing resources that ensured the health and well-being of all theater artists, The Malcolm Ewen Fund will be open to all Chicago theater artists, union and non-union theater workers alike, whether they work on stage or behind-the-scenes.
Just as fitting, Tony award-winning actor, Rondi Reed, Ewen's fellow Steppenwolf ensemble member and Season of Concern board member, will serve as the Chairperson of The Malcolm Ewen Fund.
Said Reed, "Malcolm was a driving force within the Chicago theater community and a tireless advocate for its members," said Reed. "As a longtime friend and colleague, it is a great honor for me to serve as chair of this new initiative, which stands as a living memorial to his years of passionate support for Season of Concern and its mission."
Luther Goins, Board President, Season of Concern, added "I had the great fortune, while working as an Actors' Equity Business Rep, to witness Malcolm's support and his personal acts of kindness to dozens of actors, directors, designers, and theater technicians. Therefore, not only is the Malcolm Ewen Fund appropriate, but it is also a loving tribute to a dear and caring man who spent his life making the world a better place."
Ewen's family confirmed, "As a family, we are truly honored that Malcolm will be recognized for his efforts to help others in the theater community. He touched so many lives by his time, energy and caring. We hope his legacy of leadership and generosity inspires others for many years to come."
Applications will for assistance from The Malcolm Ewen Fund will be accepted starting July 1, 2021. Applicants must be active members of the Chicagoland theater community, union or non-union, having worked with or without salary since September 1, 2019. More information regarding guidelines, eligibility and the application process will be announced shortly.
For more information about The Malcolm Ewen Fund, contact Richard Turner, Season of Concern board member, at (773) 404-2994. 
For more information about all Season of Concern's work, contact Michael Ryczek, Managing Director at michael@seasonofconcern.org or visit seasonofconcern.org, or follow the organization on Facebook, Twitter or Instagram, all @seasonofconcern.
About Season of Concern Chicago: The short-term emergency fund for Chicago's theater community
Season of Concern is the short-term emergency fund for Chicago's theater community. For more than 30 years, it has provided direct, short-term emergency financial assistance to Chicago-area actors, directors, designers, technicians, playwrights—anyone working in the theater.
Through its own Biscotto-Miller Fund and its contributions to the Actors Fund of Chicago, Season of Concern assists Chicago and Midwest theater workers who suddenly find themselves dealing with incapacitating health issues, including illness, accidental injury, and mental health.
Season of Concern was founded in 1988 as the Chicago theater community's response to the advent of the AIDS crisis. Since then, it has collected over $3 million through donations from Chicagoland theater artists, staff and board members, audiences and other friends of the theater community. It is perhaps best known for its holiday season fundraising campaign in which Chicago theater artists at participating theaters volunteer to make an appeal and pass a donation bucket through the audience after each show. Season of Concern also provides annual grants to organizations in the Chicago metro area that give direct care and other services to people living with HIV/AIDS.
Season of Concern Chicago, a 501(c)(3) charitable organization, is led by managing director Michael Ryczek, board president Luther Goins, and a dedicated board of directors: Melissa Carsten, Mike Checuga, Sandra Delgado, Martin (Marty) Grochala, Charls Sedgwick Hall, Mark David Kaplan, Doug MacKechnie, Ken-Matt Martin, Billy Mayer, Bridget McDonough, Marcelle McVay, Donica Lynn, Rondi Reed, Jane Nicholl Sahlins, Steve Scott, Leslie Shook and Richard Turner.