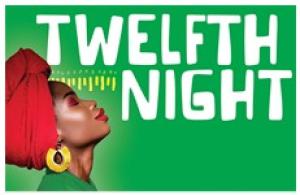 *** RECOMMENDED   If the recent snowfall on Halloween caught you unprepared for the impending chilly season that lies ahead and has you dreaming of escaping to warmer climes, then Chicago Shakespeare Theater's "Twelfth Night" is just the ticket that you need to solve your winter woes and warm your heart at the same time. Director Tyrone Phillips, a self-proclaimed "born-and-raised Chicagoan" and a first-generation Jamaican American, has chosen to move the play's setting, Illyria, more than 5,000 miles west from the Adriatic Sea to a location in the Caribbean. The resulting comedy -- while pared down and slightly abridged -- is funny, sunny, breezy and luxuriant. 3 SPOTLIGHTS
It's not often that you will hear reggae music featured in a Shakespearean play. That's merely one of the many unexpected joys that you will experience in Phillips' production. Bob Marley, Jackie Wilson and even Sting (among many other disparate recording artists) have their musical compositions represented, nearly all of them performed by the character of Feste (Israel Erron Ford), the jester to Countess Olivia, perfectly played by Christiana Clark.
Of course, "Twelfth Night" is famous for being one of Shakespeare's comedies that addresses the role of gender. Viola (the charming Jaeda LaVonne), who is shipwrecked and ultimately finds herself ashore in Illyria, quickly disguises herself as a male, now named Cesario, in order to gain access to the household of Duke Orsino (Yao Dogbe) to help him, as his male page, woo Countess Olivia. Of course, this being Shakespeare, there are many subplots involving mistaken identities, a love triangle, and even Viola's twin brother Sebastian (Justen Ross) who is assumed drowned when their ship sank off the coast.
Danielle Davis brings wonderful comedic timing to the role of Maria, Olivia's waiting gentlewoman. Olivia's uncle, Sir Toby Belch (Ronald L. Conner) and his drinking companion Sir Andrew Aguecheek (the always reliable Alex Goodrich) bring much farcical merriment to the proceedings. While both Conner and Goodrich initially play their roles a bit too broadly in the earlier scenes, by the end of the first half they have thankfully toned things down a bit.
The real stand-out here is Paul Oakley Stovall as the very regimented and up-tight Malvolio, steward to Countess Olivia. Stovall's glorious baritone and imposing stature are perfect for the role, plus his diction and no-nonsense demeanor are priceless. He can read all of the other characters around him with his biting quips and exaggerated eye-rolls. It's as if Stovall is channeling the late Andre Leon Talley, former editor-at-large of Vogue magazine. He brings an amazing energy to every scene that he is in, even when Malvolio is forced to be cured of his "madness" while being imprisoned.
Christine Pascual's costumes are lovely, especially those designed for Countess Olivia. When we first meet Olivia, who has declared seven years of mourning for her dead brother, she is clad completely in a long but billowing black dress and black veil. Eventually she appears in much bolder colored full-length gowns in shades of fuchsia, violet and seafoam green, appropriately. Also, her designs for Sir Toby and Sir Andrew during their bout of alcoholic revelry include vibrant feathered headdresses and even gold lame hot pants and sneakers, which create a carnival sensibility.
Likewise, the lighting design of Xavier Pierce evokes tones of warm oranges and yellows, as if you are basking under a tropical sun, but also includes a hushed twilight and the menacing rain and lightning that occur during the storm at sea which takes place at the top of the show.
The whole Caribe vibe extends beyond the stage of the Courtyard Theater. You will hear calypso music piped into the restrooms as well as two specialty cocktails available at the bar. One, named The Shipwreck (dark rum, ginger beer and lime juice) was quite popular.
A very nice added touch.
_____________________________________________________
"Twelfth Night" continues through November 26, 2023
Chicago Shakespeare Theater on Navy Pier is located at 800 East Grand Avenue, Chicago, IL 60611
Tickets: Please visit www.ChicagoShakes.com or call 312-595-5600
Run time is approximately 2 hours with one intermission