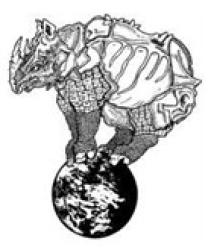 Curious Theatre Branch is proud to announce the full lineup of the 34th annual Rhinoceros Theater Festival, taking place June 2 - July 1, 2023 at four venues across Chicago. This year's festival marks a return to the full-scale Rhino following a pause in 2021 and a pared-down "Hint of Rhino" in 2022. More than 30 artists will produce work in this year's Rhino, encompassing music and variety, comedy, monologue and spoken word, as well as traditional plays.
This year's venues include: Facility Theatre (1138 N. California Ave.) in Humboldt Park, Chicago Dramatists (1105 W. Chicago Ave.) in River West and Labyrinth Arts (4477A N. Elston Ave.) and Color Club (4146 N. Elston Ave.), both in the Irving Park neighborhood.
As always, Rhino Fest endeavors to invite in as many participants as possible, both as artists and as audience members. To that end, artists pay no fee to apply or to produce their works, and all tickets are offered at pay-what-you-can pricing, with a $20 suggested price. Tickets for all performanes are now on sale at rhinofest.com.

The full Rhino Fest 2023 line-up:
The Crooked Mouth Rhinofest Kick-Off
Wednesday, May 31 at 8:30 pm
Constellation Chicago (3111 N. Western Ave.)
Stampede! Curious kicks off this Rhino season at Constellation with a pared-down version of the traditional Full Moon Vaudeville. Your favorite fringe theater cabaret band The Crooked Mouth (80% Curious, 20% Neo-Futurist) will play two sets, and special guests Izzy Yellen, Chris Bower and Kristin Garrison will do special things. We'll chat about Rhino shows! We'll sing songs! We'll see you there. It's a Wednesday.
Fridays, June 2, 9, 16 and 23 at 7 pm
Chicago Dramatists
Monster girl was afraid of everything. Until she learned to make friends with the demons that possess us all! Written by Dan Taube. Directed by Taylor Pasche. Stage managed by Megs Flannery. Performed by Haylee Pasche, Dani Pike, Elyssa Treviño and Asa Wallace.
Fridays, June 2, 9, 16, 23 and 30 at 7 pm 
Facility Theatre
School's out for summer. School's out forever. School's been blown to pieces, but in a single classroom that remains, Teacher and her students attempt to sustain a strange and fragile "New Normal" of Teacher's own invention. Written by Allison Gruber.
Fridays, June 2, 9, 16, 23 at 8 pm  
Labyrinth Arts
It's as if it knows how insidious it is. The way it lolls like a broken neck with two bulbous eyes that stare at you upside down. The everlastingness of its gaze is impossible to bear. Up and down. Sideways it crawls. Those absurd, unblinking eyes are everywhere. Written and directed by Ramona Rotten. Produced by Ramona Rotten and Grant Carroll. Stage Management by Denver Hoffman. Performed by Tori DeLaney.
Fridays, June 2, 9, 16, 23 and 30 at 9 pm  
Facility Theatre
A ship made of eyes, a sea with a lousy case of ennui, and two captains who wish they were one. A king has built the greatest, most terrifying, and most beautiful ship in the world, but can it even stay afloat? No. It can't. Written and directed by Chris Bower. Performed by Kristy Lockhart, Andrew Schoen, Vicki Walden and Penny Lou Zimmerman. Stage Manager: Marz Allswede.
Fridays, June 2, 9, 16, 23 at 9 pm  
Chicago Dramatists
Welcome to DreamFactory LLC! Our workers are busy dreaming up other lives for themselves as they pass time in the break room. Each scene is a snippet of an imagined life and alternate persona for our four dream-workers, a kaleidoscope of possible identities. You might laugh. You will cry. And just wait'll we get our Hanes on you! Directed by Kevin Sparrow. Performed and devised by Kelsey Chigas, Morgan-Eliza Cooper, Howard Friedman, Wanda Jin and David Nesbitt Taylor. Props by JI Yang. Brought to you by the Museum of Unnatural Chicago History (MUnCH).
Saturdays, June 3, 10, 17, 24 at 1 pm  
Color Club
Calvin Renner is THE SURVIVALIST, a "survival engineer," a doomsday prophet/profiteer with a very special pitch for surviving the coming crisis. Don't be the last on your block. Script by Robert Schenkkan. Produced and performed by Dakota Pariset.
The Monologue Play and An Interview
Saturdays 6/3 and 6/17 at 3 pm
Color Club
A double bill! "The Monologue Play" is an ongoing series of pieces that use found language and creative non-fiction to create short monologues examining issues of race, religion, sex, identity, politics… and the American Myth. Produced by Timothy David Rey. Directed by J'Sun Howard. Performed by Joy Young, Catrina Evans and Keely Smith.
"An Interview" is an ongoing, interlocking series of unique encounters across a table between rotating pairs of participants – one returning from the previous segment to be interviewed, the other newly arriving to ask the questions before the tables are turned on them. Each segment revisits the transcript of the prior encounter as prelude to a new exchange, which will then be revisited in the following segment, and so on... Initiated by Ira S. Murfin in 2016, dozens of people have now participated in "An Interview" in theaters, galleries, classrooms, living rooms and other places where two people can meet and talk. Created by: Ira S. Murfin. Participants: Noah Ginex, Timothy Rey + one more TBA. Contact Ira S. Murfin at whatisart@gmail.com if you are interested in hosting or participating in a future segment of "An Interview."
Saturday, June 3 at 7 pm
Facility Theatre
One night only! Wallace Shawn's 1990 monologue, performed by David Shapiro. A traveler in a poverty-stricken, war-torn country comes down with an illness.
"As the author of 'The Fever,' and as a performer of it, I want to say that I found David Shapiro's rendition of my piece truly amazing and wonderful. In fact, I have to admit that I would have loved to do it the way he did it when I performed it but I wasn't able to. I really hope that a lot of people get the opportunity to see it."  —Wallace Shawn 
"You will react in one of two ways to Shawn's play — you can get angry, or you can reevaluate your life."  —American Theatre Magazine
David Shapiro has acted and directed in Chicago, New York, Tampa and Winnipeg. He appeared in the North American premiere of Wallace Shawn's "The Designated Mourner" at Steppenwolf Theatre. David is a hospice nurse.
LegLand: An Absurd "Staged" "Reading"
Saturday, June 3 at 7 pm and Sunday, June 4 at 5 pm
Chicago Dramatists
We thought we had already found all of the great lost works of the past. We thought wrong. LegLand is proud to present an absurd "staged" "reading" of all the newly discovered texts from their private archives, including some of the only great, classical texts to be set in a major American city. Discover what the great babies of time and space have been up to since they burped our milkiest of ways into existence. LegLand creates absurdist, bouffon-inspired devised theatre pieces that parody everything from Greek drama to reality TV, to consumer culture and their signature style melds drag, larger-than-life costumes, audience participation, burlesque and various multimedia elements. 18+ recommended. Created and performed by LegLand (Connor Konz, Danny Gadaj and Mo Less). "Stage Manager": Aida Delaz
Saturdays 6/3, 6/17, 6/24 at 7 pm
Color Club
"A Neighborhood of Starrs" celebrates the work of poet and writer John Starrs with brand new neighborhood stories by Starrs himself, KellyAnn Corcoran, Jennifer Moniz and Kathy Cunningham. The evening is framed with Starrs's "Suburban Poems," set to music by KellyAnn's folk band, Salt Creek School Board. Come sing along! Directed and produced by KellyAnn Corcoran. Performed by KellyAnn Corcoran, Jennifer Moniz, Cathy Cunningham and John Starrs. Musicians: Ian Covington O'Kelley, KellyAnn Corcoran, Matthias Leisen, Pat Pouska, Penelope Leisen and Stephen Covington-O'Kelly.
Saturday, June 3 at 8 pm and Sunday, June 4 at 4 pm
Labyrinth Arts
Loosely inspired by the works of Samuel Beckett, "Last Day" is a satirical take on climate nihilism. Consumerism and late stage capitalism have led the earth into landfill dystopia that is no longer inhabitable. The play focuses on Barbie and Richie, who are trying their best to make their last day a happy one. Technology, shopping and visits from the delivery boy can only do so much to distract from the grim reality that today is the last one. Written and directed by Genevieve Swanson. Performed by Athena Nickole, Lifan Deng and Jordan Hayes. Stage Manager: Jordan Large. Lighting Design: Joseph Nelson. Sound Design: Genevieve Swanson.
Bussy Talks: A Gender Performance
Saturday, June 3 at 9 pm and Sunday, June 4 at 7 pm
Chicago Dramatists
From the ashes of "The Vagina Monologues" rises the gender-non-conforming Bussy Talks. God bless our second wave feminist fore-mothers, but that look is busted, honey! All tea, no shade. This variety show event celebrates the dodges, ducks, dips and dives of gender norms. Performers use song, dance and direct address to tell personal stories about how they subvert the system and have a little fun along the way. They are not precious about it; they grab life by the bussy. Bussy Talks is a funny, honest and irreverent celebration of gender fuckery. Directors: Hannah Blau, Naomi Flores and Davon Suttles.
John and Paul: Newer than Ever
Saturdays, June 3, 10, 17, 24 and July 1 at 9 pm
Facility Theatre
For the third time in history, John and Paul showcase their trademark mix of sophistry and slapstick in "Newer Than Ever," their mostly-new comedy show. This time, the hapless duo catapult themselves into the age of market optimization and demographic trendiness under the guiding hand of their mysterious new benefactor, teenage wunderkind Jannik Torvald. John and Paul aren't returning by popular demand; they're just adhering to it.
Saturday, June 3 at 9:30 pm
Color Club
The Push Push plays an hourlong set from their new album, "From the Jaws of Defeat."
Saturdays, June 3, 10, 17, 24 and July 1 at 10:30 pm
Facility Theatre
For as long as this planet has been flat, humans with verve have been milling and seething amongst us. But what even is verve? Well, verve is verve. Those with verve are typically magnetizing, which unearths a whole new question: How does a person possess so much vigor and spirit that it becomes intoxicating, rendering the everyday plebeian totally susceptible to Human-With-Verve's charms? Tyler Anthony Smith's "I KNOW YOU NEED MY VERVE" is a raw, focused, challenging, questionable, bold, fresh, dated, futile, dazzling, timely, grim, obscure, pretentious, snappy, wicked, tremendous, fishy, exhausting and exciting piece of theatre. Smith says, "I'm honored to be back at Rhino Fest, premiering my new show that talks about things like warmth, coldness and how all homosexuals engage in tax evasion. See back page for details." Written and performed by Tyler Anthony Smith. Directed by Stephanie Shaw. Stage-Managed by Jenna Raithel.
Sunday, June 4 at 2 pm
Facility Theatre
Inspired by Chicago theater alums, Prop Thtr's "Writers Aloud" is an ongoing monthly program of live readings. We invite all those who may or may not think of themselves as writers to come give their work a first read. We welcome fiction, memoirs, monologues, poetry or song. Contact Karen.O.Fort@gmail.com, or CordisHeard@gmail.com to participate. Take it out of the drawer and let's hear it!
Sundays, June 4, 11, 18, 25 at 3 pm
Chicago Dramatists
This is about how problems sometimes work out themselves and how people overdo themselves when trying to impress. Synopsis. Mrs. Pringle is preparing to host a dinner party to introduce her daughter, Elaine, to the city's most eligible bachelor, Oliver Farnsworth. Illness and a blizzard force some guests to cancel and the three characters are compelled to try to salvage the evening and the dinner-table layout. Directed by Alka Sharma. Performed by Jiya Pandey, Ayesha Alang and Shravani Khakkar.
Sunday, June 4 at 5 pm
Facility Theatre
Chicago poet John Starrs, who has the delightful distinction of being the only human to appear in every Rhinoceros Theater Festival, shares more of his work, solo!
HATE/LAB Presents: 12 Angry Men
Sundays, June 4, 11, 17, 25 at 7 pm
Facility Theatre
HATE/LAB returns to Rhinofest with a modernized and schizophrenic take on Reginald Rose's famous 12-person legal drama, performed by four people and devised by the ensemble. Featuring Paul Brennan, Jake Flum, Danny Turek, Hannah Tymosko and Steak Richardson.
The 84th Annual Willoughby Telethon: A Pro-Union Story in a Time of Corporate Despair
Mondays, June 5, 12, 19 at 7 pm
Labyrinth Arts
In a world stuck in a pre-post-post-pre-pandemic state running on smiles and denial, three coworkers (Krys, Carlos and Clark) ruminate on what this experience has been like for the not entirely average Euphrates Corporation Team Member. Tasked with hosting the company's seemingly useless fundraiser, the trio take this as an opportunity to bring their message of hope during this time of corporate despair, a Union! This Labor-comedy is from the mind of Rauly Luna and brought to you by the good folks at El Bear! Written and directed by Rauly Luna. Performed by Bailey Neill, Cavair Robinson, Shaun Rosten, Nathan Bell, Sandy Bykowski and Lisa Leszczewicz. Stage Manager: Nathaniel Humphrey. Sound by John Fisher.
Monday, June 5 at 8 pm
Facility Theatre
HATE/LAB's test kitchen for new experimental theaterworks and loud noises returns to Rhinofest. Featuring original work from the company, as well as selected performances from all around Rhinofest 2023.
Wednesdays, June 7, 14, 21 at 7 pm; Saturday, June 10 at 7 pm; and Thursday, June 15 at 9 pm
Chicago Dramatists
A gay soldier falls in love on the battlefield and everyone believes he has PTSD. Written and directed by Carey Friedman. Stage and costume design by Jason Greenberg. Performed by Affan Khan, Patrick O'Keefe, Max Reise and Vicki Walden. VR Consultant: Lance Baker.
Thursdays, June 8, 15, 22 at 7 pm
Labyrinth Arts
Sarah is fired up to play in a social soccer league after sixteen years away from the game – if only she could move past her memories of high school soccer and kick the ball. Written and performed by Sarah Bowden. Directed by David Fink.
Thursdays June 8, 15, 22 at 7 pm and Sunday, June 11 at 5 pm
Chicago Dramatists
A series of stories and hypothesis and enticements, all about being human in a body. It'll be strange, also rapturous and definitely a little scary. Bring your own body into this one and we'll be an organism together. And don't worry: there's candy. Written and performed by Jenn Biddle. Directed with Stefan Brün assisted by Kristen and Scott Vehill.
The Almost Emperor of the Unofficial Deestrick of Lake Michigan
Thursdays, June 8 and 22 at 9 pm
Chicago Dramatists
It is the 1920s in Chicago, and The District of Lake Michigan is thriving. Led by Cap and Ma Streeter, the lakefront plot of land that houses The District is occupied by a ragtag group of Chicagoans living outside the law. They have been allowed to live there, pretty much undisturbed, for decades, but now they are in the way of millionaire Potter Palmer's master plan to expand his holdings onto Lake Shore Drive. Not one to do his own dirty work, Palmer sends his puppets (The Judge, Sargeant O'Malley and N.A. Warpbank) to remove Streeter and his followers from the land once and for all in this DaDa adaptation of a Chicago legend.
"Streeterville won't never have a chamber of commerce until it has a cabaret. This is a frontier town and it's got to go through its red-blooded youth. A church and a WCTU branch never growed a town yet. Yuh gotta start with entertainment." —Captain George Wellington Streeter
Written by Leah Roth Barsanti. Directed by Kristin L. Schoenback. Design by Rachael Nuckles. Performed by Kylie Anderson, Kelsey Busboom, Vivian Delgadillo, Keenan Odenkirk and Ryan Tang.
Church of the New Play: Bryn Magnus
Saturday, June 10 at 3 pm
Color Club
A reading of a new play by Curious Theatre Branch alumnus Bryn Magnus. Performed by Guy Massey and Curious co-founder Jenny Magnus.
Saturday, June 10 at 7 pm
Facility Theatre
Dan Nelson and Michele Walker are a married couple who buy properties and rehab them, all over Chicago and Evanston. "My Wife Steals Cats" is the true story told by Dan Nelson about what that was like during the pandemic, and how they came out the other end.
Saturday, June 10 at 7 and Sunday, June 11 at 4 pm
Labyrinth Arts
Bold, brash and bitchy, the only fool Roberto suffers these days are themselves from the singular they to the plural he: become a fly on the wall or a scrunchie on the bedpost and be witness to the emotional highs and lows that happen after he's left. Written and performed by Roberto Del Rio.
Beast Women Performance Variety Revue
Saturday, June 10 at 9 pm
Chicago Dramatists
Beast Women is an All-Female Performance Variety Revue, serving as a platform to showcase the best female talent in Chicago. We are musicians, poets, dancers, performance artists, aerialist and so much more. Our shows are not your typical shows. What we put on stage for you is our passion, strength, freedom, sensuality and reveal the very things that make us who we are and who all women are. Produced, directed and emceed by Jill Erickson. Technical direction by Riley Lamarre. Performances by Mahira (belly dance), Spitfire (acroartist), Diva LaVida (burlesque), Roberta Miles (monologue), Amanda Saucedo (modern flamenco), The McCrystalizor (hoop artist), Holliwood Monroe (song), AlleyCat (flow artist), Bobby Crowley (spoken word) and more!
Jump the Dragon: Martial Arts and Living in a Female Body
Saturday, June 17 and Sunday, June 18 at 5 pm
Facility Theatre
Written and performed by Willa Marie O'Donnell, this piece was created as part of a Senior Project for the Chicago Waldorf School. It is the representation of a female martial artist's experience, told through movement and language. The stories shared in the piece were collected during interviews conducted with three trusted mentors at Thousand Waves Martial Arts and Self-Defense Center, as well as the writer's personal stories. Willa also draws from folklore depicting women martial artists from the past, in order to give the sense that our stories are part of a long and always evolving experience. This project encompasses a young artist's passion for both martial arts and theater arts.
Saturday, June 17 at 7 pm at Facility Theatre
Saturday, June 24 at 7 pm and Sunday, June 25 at 5 pm at Chicago Dramatists
Her family isolates together during the pandemic. She often thinks, "Didn't I already serve this sentence when they were babies?" Wait. Did she manifest a global health crisis to keep them from leaving? We enter the bunker to find that things have gotten out of hand. Escape is going to take choreographed distance and closeness, the fanciest of footwork and words felt but not understood. How did they survive? Through K-Pop? Surely, not. And yet. This is not a show about motherhood, or the pandemic, or isolation, or letting go, or finding a common language in pop culture… it's the opposite of all of that. Written by Kristin Garrison. Directed by Jayita Bhattacharya. Performed by Kristin Garrison, Lola Zimmerman and Penny Lou Zimmerman.
Note: This show performs one date (6/17) at Facility Theatre, and two dates (6/24-25) at Chicago Dramatists.
I am dreaming I / Once fell asleep with a ghost / Accidentally
Saturday, June 17 at 7 pm and Sunday, June 18 at 5 pm
Chicago Dramatists
A one-act chamber play for 5 interchangeable characters, with dialogue spoken entirely in haiku (or haiku-ish). The conversation meanders into dreams, dining, melodrama, ghosts, religion, movies, etiquette, among other divigations. PLUS: A sock puppet show. Written and composed by Robert Metrick. Directed by Heather Lindahl. Directorial Assistant: Amanda Loch. Featuring Karyn Ashby, Travis Hale, Katharine Jordan, Pamela Strateman and Terry Sofianos Wohlgenant.
Saturdays June 17 and 24, Sundays June 18 and 25 at 7 pm
Labyrinth Arts
"Stardog" is a new play that utilizes immersive storytelling in hopes of answering the question "how do we use storytelling/narrative/myth to process pain?" Divorcees Nick and Vivian, and their adult child Maxy, each host a get together with friends in their own homes, represented by separate corners of a shared theatrical space. The audience is separated into three groups, each group acting as dinner guests visiting briefly with one member of this disjointed family unit, before moving on to the next. Each audience group gains a unique perspective on a traumatic event shared by this broken family, and the ways each character is processing their own experience. In moments of heightened storytelling, the disparate family members interact with one another across the stage, bending time and space to briefly become scene partners before resolving into their own living rooms once again. Written by Jessica Wright Buha. Story by Jessica Wright Buha and Amanda de la Guardia.
Strangulation Day: A Livestream Theatre Production of "Rope"
Saturday, June 17 at 9 pm and Sunday, June 18 at 7 pm
Chicago Dramatists
The 1948 screenplay for "Rope," written by Hume Cronyn and Arthur Laurents, and directed by Alfred Hitchcock, was intended to be filmed in one long take. Strangulation Day: A Livestream Theatre Production will fulfill that vision live on Zoom. Combining the language of video with the immediacy and intimacy of Chicago theatre, viewers will be able to log in from home or join us in person at the Chicago Dramatists. Produced by Keith Gatchel. Directed by Rory Jobst. Performed by David von Ehrlicher, Derek Preston Ray, Harold Jaffe, Tammy White, Dakota Pariset, Haley Bolithon, Nick Leininger, Carol Ludwick and Cary Shoda.
Note: Both performances of "Strangulation Day" can be attended in-person at Chicago Dramatists or viewed as a livestream via Zoom. See rhinofest.com for tickets to both formats.
Saturdays, June 17 and 24 at 9:30 pm
Color Club
Labyrinth Hour Cabaret, through its many incarnations, has been a Rhino staple for many years. Two nights of variety performance in this year's festival will feature a diverse slew of spectacular Chicago talent. The first Labyrinth Hour, on June 17, is titled "Queens Rule." The June 24 performance, "Speakeasy Fashion Show," brings an extravaganza of music, fashion and performance from a bygone era.
Dennis J. Leise Presents: Lost or Forgotten Bluesmen, Vol. 1
Saturday, June 24 at 3 pm at Color Club
Sunday June 25 at 5 pm at Facility Theatre
"Lost or Forgotten Bluesmen, Vol. 1" includes the origin/backstory of a Fictional Bluesman, performance of one of his songs by Dennis J. Leise and an explanation of how he died – or, his last known whereabouts. Details range from the sublime to the ridiculous.
Note: The Saturday performance of this work takes place at Color Club, and the Sunday performance takes place at Facility Theatre.
Standards with Whistling J Walter and Jenny Magnus
Saturday, June 24 at 7 pm
Facility Theatre
Whistling J Walter and Jenny Magnus, longtime colleagues but never collaborators, join forces for the first time to sing standards, both from the American Songbook and farther afield. Whistling J Walter, raconteur and musician, sings with uncommon delicacy and can swing like a motherfucker. Jenny Magnus has not sung this kind of music for 25 years, and will sway, if not swing. If you like cabaret acts with a little soul and a little wit and a lot of years on them, you will love this performance.
Saturday, June 24 at 9 pm and Sunday, June 25 at 7 pm
Chicago Dramatists
A woman searching for her missing twin brother is haunted by their history of conflict. Starring Lisa Stran as Hannah and Jeff Broitman as Adam. Written by Amy Crider and directed by Amber Mandley.
The Gift of Prophecy (staged reading)
Sunday, June 25 at 4 pm
Labyrinth Arts
When a disgraced journalist is assigned to write the weekly horoscope column for the Pennysaver, he does research by seeing an astrologer, and finds himself cursed with "the gift of prophecy." A comedy about the temptation of power. Written and directed by Amy Crider. Produced by BEKA. Performed by Pete Blatchford and BEKA.
Songs of Bob Dylan, After His Birthday
Saturday, July 1 at 7 pm
Facility Theatre
A BeauTown Cabaret event curated by Curious co-founder Beau O'Reilly. Victor Sanders and Rae Novich, T-Roy Martin, Dennis J. Leise, Lena Brün, Phil O'Reilly, Heather Riordan and Beau O'Reilly will perform songs and readings by Bob Dylan, in celebration of the songwriter's 82nd birthday.
About Rhino Fest
The event that became the Rhinoceros Theater Festival began in 1988 as an offshoot of the Bucktown Arts Fest, and in its first year featured just two days of performances, including work by Curious Theatre Branch cofounders Jenny Magnus and Beau O'Reilly. Curious went on to produce the Rhino across many neighborhoods and venues over the years, with events variously taking place in Wicker Park/Bucktown, Rogers Park, Andersonville and Avondale; at spaces including the Lunar Cabaret and Full Moon Café, the Neo-Futurarium, the Society for New Things, The Garage, The Firehouse, Remains Theatre and Prop Thtr. In the mid-2000s, Rhino Fest settled at Prop Thtr in Avondale as its long-term base, and Prop and Curious co-produced the festival among a shifting group of curators for many years. Following the closure of Prop's Elston Ave. space in 2020 and a year off during the height of the pandemic, Rhino Fest now returns to its expanded form, producing shows by more than 30 artists at multiple venues.