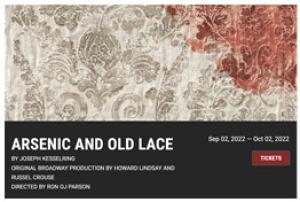 **** Recommended **** Kudos to Ron OJ Parson and the Court Theatre for their fresh, funny, totally charming production of Arsenic and Old Lace.  In a way, Arsenic and Old Lace is a contradiction.  It bounces between comedic farce and scary horror.  As a viewer, you might find yourself laughing, then gasping, then laughing again.  It's Teddy running up the stairs yelling "Charge!" but it's also Mortimer finding a body or Jonathan terrorizing his aunts.  In the end, it's so much fun!  I loved this production and I know you will too.  4 BIG Spotlights
Of all the productions of Arsenic and Old Lace I've seen, I think this might be the first that actually made the Brewster sisters the center of the show – which is where they should be.  In my opinion, Abby and Martha, batty as they may be, have held the family together.  All too often, the conflict between Jonathan and Mortimer is front and center, putting the aunts in the periphery. 
Kudos to Scenic Designer Joh Culbert for the beautiful Brewster home, complete with a real staircase.  From the portrait gallery in the stairwell to the window seat to the faux stained glass, the room is gorgeous – and don't get me started on the furniture! 
Arsenic and Old Lace was written by Joseph Kesselring.  It opened on Broadway on January 20, 1941, eventually playing 1,444 performances!  Among the play's stars was Boris Karloff, playing the homicidal maniac, Jonathan.  Karloff not only gave Kesselring permission to use his name, he also became a major investor in the play. 
The movie version of Arsenic and Old Lace, directed by Frank Capra, opened in 1944.  It starred Cary Grant as Mortimer Brewster.  Although Boris Karloff gave permission to use his name in the film, he wasn't available because he was still starring on Broadway. 
The Brewster family has lived in the family home in Brooklyn for generations.  Now   sisters, Abby (TayLar) and Martha (Celeste Williams), and their nephew Teddy (Allen D. Edge) – who thinks he's Theodore Roosevelt – are the last of the line.  The ditzy ladies are favorites in the neighborhood, although Teddy's bugle is a bit of a problem.
Abby and Martha have a sideline, however.  They welcome gentlemen who are alone in the world into their home, and offer them a glass of home-made elderberry wine – laced with poison.  Then they dress in mourning, hold a suitable service.  Teddy, believing he is digging the Panama Canal, buries the 'yellow fever' victims.  
While Martha was out one morning, Abby welcomed a gentleman, Mr. H., with a glass of wine, but ended up putting him in the window seat when Rev. Harper (Thomas J. Cox) called to talk to the sisters about his daughter Elaine (Emma Jo Boyden), who is going out with another Brewster nephew, Mortimer (Eric Gerard).  The Reverend is concerned because of Mortimer's connection to the theater. 
Meanwhile, Mortimer, who is – temporarily and reluctantly – working as a drama critic for a New York newspaper, just got engaged to Elaine, and his aunts are thrilled.  Tired of dealing with neighbors' complaints about Teddy's trumpet, Mortimer has arranged a place for him at Sunnyvale.  Just when he thinks everything is arranged, he finds Mr. H. in the window box – and learns about the aunts' little hobby. 
Getting a little hysterical, Mortimer sends Elaine home, and goes off to review a play.  Meanwhile, a sinister looking man – who looks a lot like Boris Karloff – and his drunken sidekick, sneak in the door.  When confronted by the aunts, he announces that he's their long-lost third nephew, Jonathan (A.C. Smith).  Jonathan, who blames Dr. Einstein (Guy Van Swearingen) for botching the plastic surgery on his face, goes totally postal whenever his resemblance to Boris Karloff is mentioned.  Although reluctant, the aunts agree to let them spend the night. 
Meanwhile, Teddy moves Mr. H. to the cellar; Jonathan and Mr. Einstein smuggle Mr. S. (another body) into the house; Elaine interrupts; Mr. S. ends up in the window box; Mortimer returns and finds Mr. S.; and the plot thickens.  One of my favorite scenes – Dr. Einstein finds 12 graves in the cellar.  When he learns the aunts were responsible, he taunts Jonathan with their success – they have 12, he has 12. 
The local police, Officer Klein (Norm Boucher) and Officer Brophy (Matthew Lunt) are in and out of the house frequently, mostly answering complaints about Teddy blowing the trumpet at all hours of the night.  When Officer O'Hara (Thomas J. Cox) arrives to pick up some toys for a toy drive, he doesn't even notice that Jonathan has tied Mortimer to a chair.  Instead he seizes the opportunity to read his entire play, which evens puts Jonathan to sleep.  When Lt. Rooney (Allen Gilmore) checks on his officers, he spots = and arrests Jonathan. 
Note: Masks are encouraged but not required at this performance. 
Arsenic and Old Lace runs through October 2nd at The Court Theatre, 5535 S. Ellis Avenue. Chicago.  Parking is free in the adjacent garage, exit gate will open ½ hour after curtain.  Running time is 2 hours, 20 minutes, with an intermission. 
Performances are Wednesdays through Fridays at 7:30 pm; Saturdays and Sundays at 2:00 and 7:30 pm.  Tickets range from $40.50-$82.  FYI (773) 753-4472 or www.courttheatre.org.