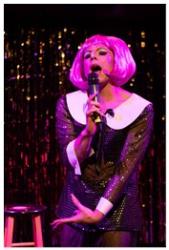 ** Somewhat recommended **  The premise of Frankenstreisand was intriguing – Barbra Streisand as a mad scientist determined to clone her dog – but the execution just didn't measure up.  In his post-opening speech, Hell in a Handbag Artistic Director David Cerda called it a fever-dream of a play.  Some people loved the show, laughing at everything.  I thought it was more like a bad acid trip.  2 Spotlights 
Tyler Anthony Smith. who wrote Frankenstreisand also starred as the diva turned mad scientist, Dr. Barbra Frankenstreisand.  For her first appearance, she wore a sparkly black peek-a-boo jumpsuit with a white Peter Pan collar (I remember seeing Streisand wear a similar outfit sometime in the 60s), a pink wig teased and styled into an iconic Dutch-boy bob and perfectly long nails.  
Frankenstreisand hasn't sung on a stage in 27 years because she's too much of a perfectionist, so she's kind of verklempt tonight.  Perched on a stool, she began her performance with several signature songs with clever new lyrics.  She had the mannerisms – the hair pats, facial expressions and vocal inflections down pat.  In between songs, she shared stories about her home, her underground shopping mall, her sadness at the death of her dog and the brand new lab next to the mall. 
Mention of the lab led to an announcement - she was now Dr. Frankenstreisand and she was a scientist – and after a lot of research and experiments, she was ready to clone her dog.  By the way, whenever the word clone was used there were flashing lights, an ominous ta-dum, and strangely reactive claw hands from her loyal assistant, Frau (Brian Shaw).  Her excitable Hunchback (Dakota Hughes) was ready to help with the cloning. 
In my opinion, the show fell apart when Judy Garland (Elizabeth Lesinski), singing about the rainbow, walked onstage, only to be thrown out by Dr. Frankenstreisand.  She set Frau up to sing a song, then left the stage, only to reappear wearing a mesh top and shorts with an ugly permed wig (not one of Streisand's best looks). 
Soon, the story was hijacked by celebrities like Celine Dion (Lesinski), Barry Gibb (Nicky Mendelsohn), her hubby, James Brolin (Lesinski).  Then there was a strange little delivery guy – Walker/Chuck/Stefan (Ryan Oates).  O (Robert Williams) just wanted an interview. 
After Hunchback zapped the dead dog, Dr. Frankenstreisand added her own touch, and the dog (a darling little pup with scarily glowing green eyes by Jabberwocky Marionettes and manipulated beautifully by Hughes) came to life. 
Red Line VR – the name is self-explanatory - is a bar across from the Red Line, with multiple virtual reality booths.  The Raven Room is a separate room behind the bar, but with just a curtain in the doorway, sometimes bar noise can drown out the show.  It's a nice little venue otherwise.
Hell in a Handbag's production of Frankenstreisand runs through October 31st in the Raven Room at Red Line VR, 4702 N. Ravenswood Avenue, Chicago.  Limited street parking is available in this neighborhood. 
Running time is 85 minutes, no intermission.  Performances are Thursdays at 7:30 pm, Fridays and Saturdays at 9:15 pm.  Note: no performances on Saturday, October 8th.  There will be an additional performance on Halloween, Monday, October 31st at 7:30 pm.  Tickets are $25 in advance, $30 at the door; $40 VIP/reserved seating with a drink ticket.  FYI www.handbagproductions.org or www.buytickets.at/hellinahandbagproductions/749389