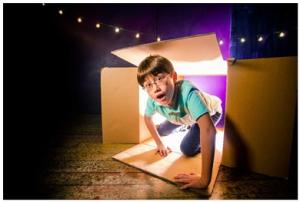 My husband and I took our sons, Ryan, 2, and Mike, 4 years-old, to Filament Theatre's, "Forts! Build Your Own Adventure," on Saturday, November 19, 2022 at 3:00 pm.  Filament Theatre is located at 4041 N. Milwaukee Ave. Chicago, IL 60641.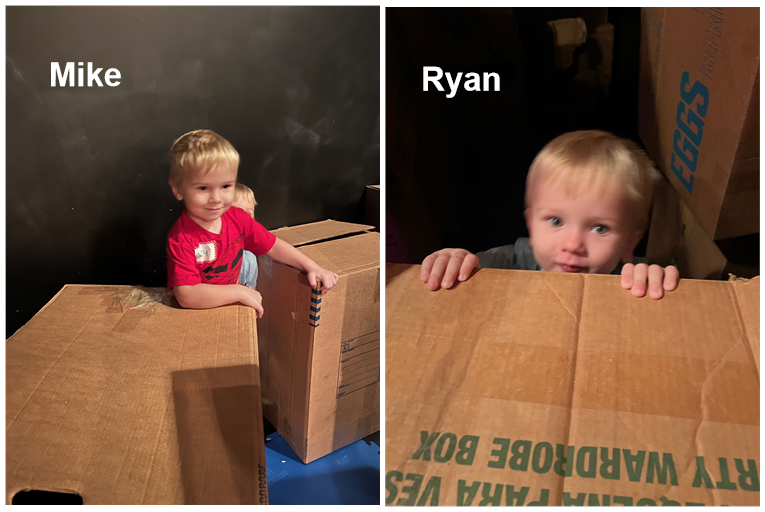 When we arrived, we were asked to take off our shoes and color in the lobby as other guests arrived.  The theatre staff said the two rules for the Forts experience were to be safe and to be kind.  This encouraged sharing and thoughtful, creative play for everyone.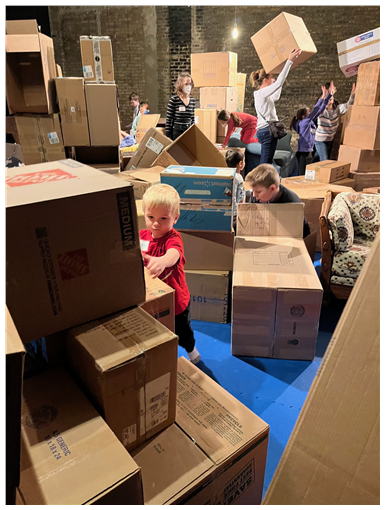 We then all went into the next room and there were so many boxes of various sizes. Everyone spread out and began working on their creations with their friends or family they came with that day.  Our boys were the perfect ages for this.  They loved working with life sized building blocks and this is exactly what this was.  Our son said he wanted to build a house and I overheard a boy about 12 years old say he was going to build a city with tall buildings.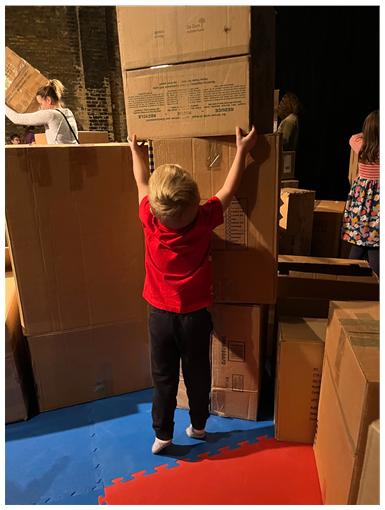 The room quickly transformed into some of the coolest shapes and "places."  The experience lasted about 50 minutes.  As the groups were playing with the boxes, theatre staff passed out sheets, clothes pins, and small flashlights to add to the adventure.  Often these items were lowered from the ceiling, which our kids thought was really cool.  The lights were a bit dimmed during the experience which added to the excitement.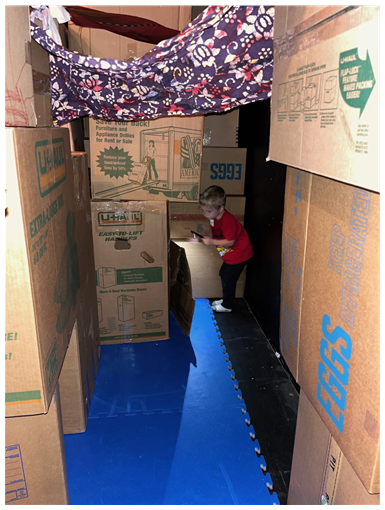 As families and friends completed their own projects, we all walked around to play with what others built.  Theatre staff interacted with you, if you engaged them, but they allowed you room to enjoy and play on your own.  There were several couches in the room and some of those cushions were used for fort building, but several were used if anyone needed to take a quick break and sit down.  The lobby also remained open if someone needed a break.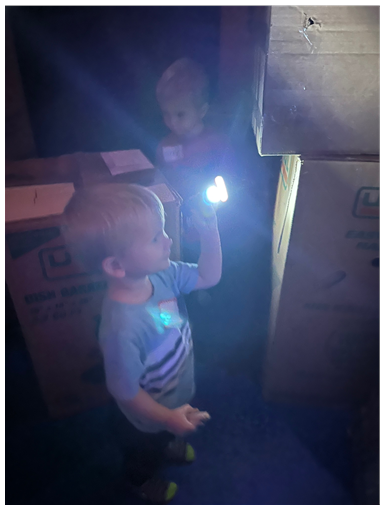 I would say I enjoyed this experience because our sons loved it.  I do not think I would have enjoyed it nearly as much if I went with just adults.  Watching the creative minds of young kids as they play with boxes and build houses, forts, and cities was really enjoyable.  I would give this experience 4 out of 5 stars.
Forts! Build Your Own Adventure runs through January 22nd at Filament Theatre, 4041 N. MIlwaukee, Chicago.  Running time is 60 minutes.  Performances are Saturdays at 1:00 pm & 3:00 pm, Sundays at 11:00 am & 1:00 pm.  Recommended ages, 2-102 (all ages always welcome at Filament).  Tickets are $10-$15.  FYI https://filamenttheatre.org/forts/