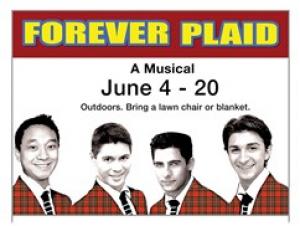 Summer's here, so it must be time for Dunes Summer Theatre – and it's outdoors!  Bring your blanket or lawn chairs and enjoy the bucolic setting, as well as the quirky quartet known as the Plaids.  "Forever Plaid" is a must-see for the summer!
DST visitors might have gone into the screened-in porch/bar for a drink – or onto the patio to enjoy that drink.  Just beyond, there's a shady green lawn surrounded by a ring of tiny cabins.  If you wander in that direction, you'll find a deck which has been transformed into a stage for the Plaids.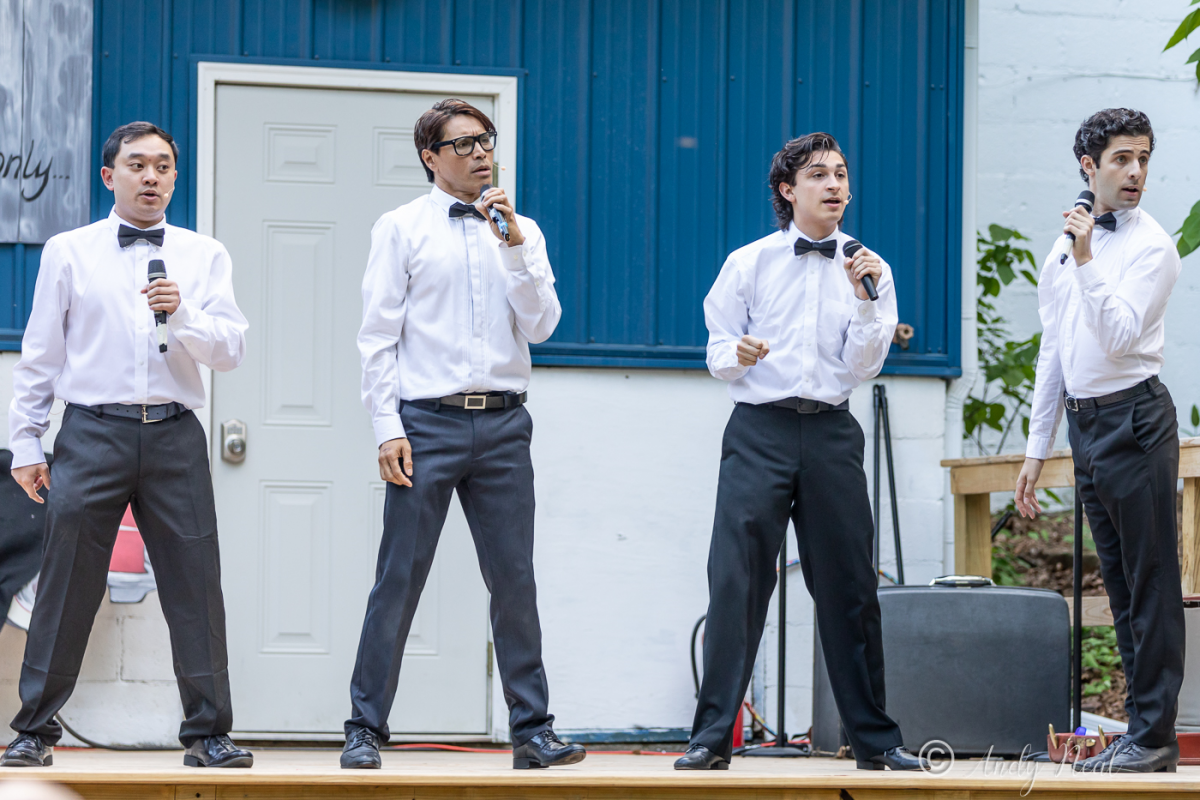 "Forever Plaid" is a sweet, funny, feel-good treat for the whole family, a musical revue about four good-looking guys who happen to be dead, singing a slew of golden oldies straight out of the '50s. 
The Plaids were rehearsing their final number as they drove to their very first paying gig when their car was broadsided by a bus.  To add insult to injury, the bus was full of Catholic schoolgirls on their way to see the Beatles on the Ed Sullivan Show.  The girls were all OK, the Plaids were not.  
A long, long time later, the Plaids, holding candles and chanting as they walk, end up on a stage, but they don't know why they're there, because, of course, they're dead.  As they explore the stage, they find four microphones covered with plaid cloths and a case with all their old props.  Eventually they figure it out – they're back to sing their concert!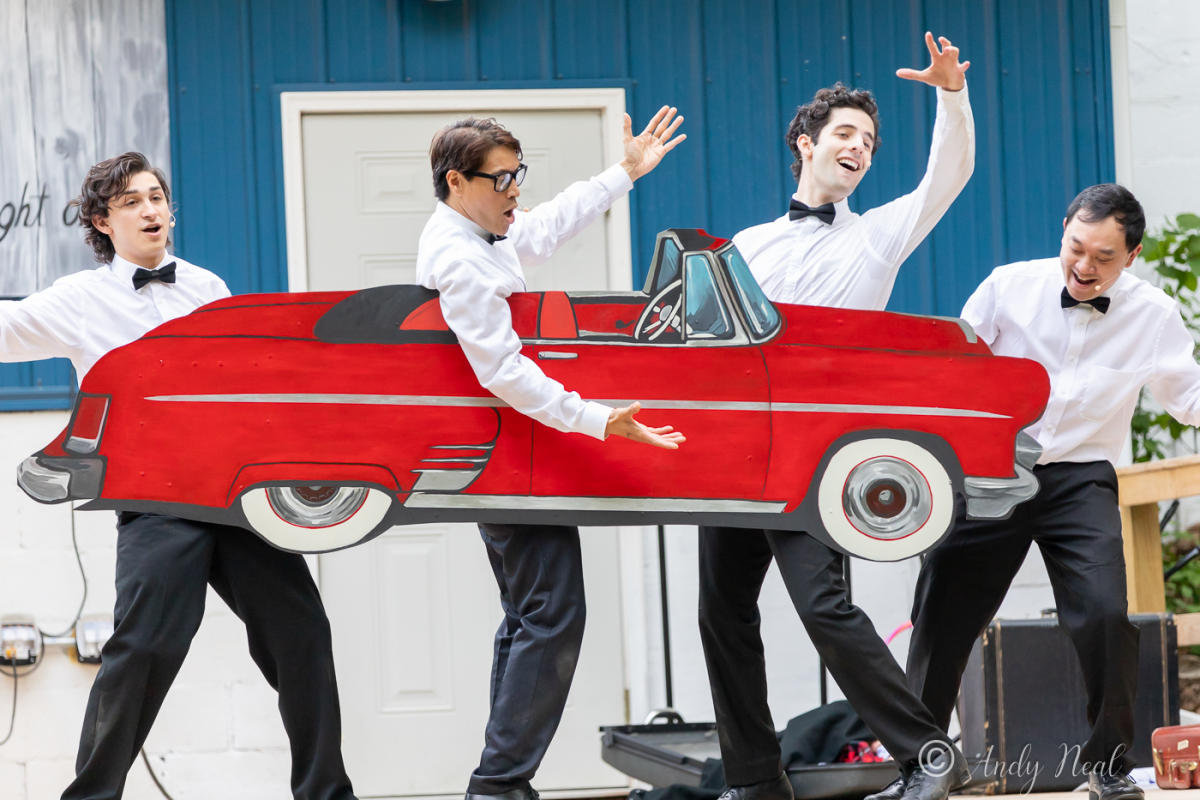 By the way, when they were rehearsing (before they died), the Plaids) imitated famous 'guy' groups of the '50s like the Four Aces, the Four Lads, the Four Freshmen, the Crew Cuts and more.
After trying a few chords, they introduced themselves – Sparky (Joshua Torres), Francis (Jacob Simon), Smudge (Jay Espanõ) and Jinx (Thomas Tong).  Their first song, "Three Coins in the Fountain" was sung by Frank Sinatra in the film of the same name, then recorded by the Four Aces.  
When the Plaids noticed they had real live musicians, they told the audience that Jake Tillmann is their cousin.  They don't actually know the guy on the keyboard, Andrew Flasch, they think he came with the venue.  Playing Bass, Emily Pyke.    
"Forever Plaid" includes '50s hits like "Moments to Remember", "No Not Much", "Perfidia", "Catch a Falling Star", "Lady of Spain" and Plaid finale, "Love is a Many Splendored Thing".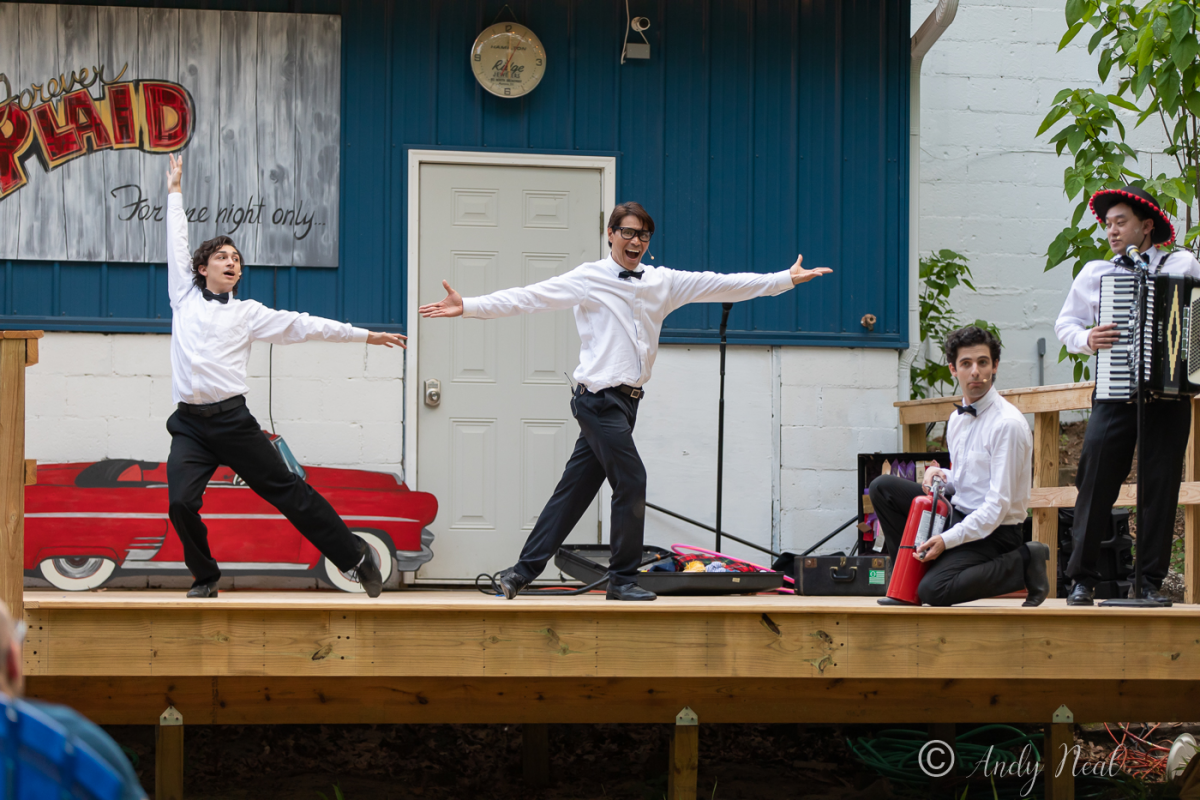 Novelty numbers:
A mash-up of "Sixteen Tons"/"Chain Gang"
"Caribbean Plaid", a medley including "Day-O", "Kingston Market", Jamaica Farewell" and "Matilda Matilda" complete with straw hats, maracas and audience participation
An audience volunteer gets to play "Heart and Soul" on the piano for a sing-along
A Plaid sampler for private functions included "The Bride Cuts the Cake', "Italian Wedding", "Anniversary Waltz", "Hava Nagila" and more
A tribute to Perry Como's cardigan, and "Catch A Falling Star" which they actually sang for Perry Como during a snowstorm
A Plaid recreation of the entire Ed Sullivan show – including the Rockettes, performing seals, Senõr Wences, The Vienna Boys Choir, the Chipmunks and the fat lady singing. 
"Forever Plaid" runs through June 20th at Dunes Summer Theatre (Outdoors), 299 Shady Oaks Drive, Michigan City.  Parking is free.  Bring your lawn chair or blanket.  Running time is about 70 minutes.  Performances are Friday through Sunday at 6:00 pm.  Reservations required.  Suggested donation $25.   FYI www.dunesarts.org/ticket.  
.