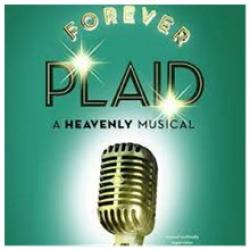 **** Recommended **** Drury Lane Theatre is back after 370-some days!  Starting out small and musical seems to be a theme this fall in suburbia; Drury Lane's season opener, a slightly shortened, one-act version of Forever Plaid fits right in.  Forever Plaid is a musical revue about a quirky quartet of good-looking guys who sing a slew of golden oldies in harmonies straight out of the '50s.  It's a sweet, funny, feel-good treat for everyone in the family.  Get your tickets today!  4 Spotlights
The Plaids were rehearsing their final number as they drove to their very first paying gig when their car was broadsided by a bus.  To add insult to injury, the bus was full of Catholic schoolgirls on their way to see the Beatles on the Ed Sullivan Show.  The girls were all OK, the Plaids were not. 
57 years later, the Plaids, Sparky (Bryan Eng). Francis (Michael Ferraro), Jinx (Yando Lopez) and Smudge (A.D. Weaver) are bewildered to find themselves on a stage, a stage with microphones and an audience, but they don't know why they're there, because, of course, they're dead. 
By the way, when the Plaids sang, they imitated famous 'guy' groups of the '50s like the Four Aces, the Four Lads, the Four Freshmen, the Crew Cuts and more. Their first song, Three Coins in the Fountain was sung by Frank Sinatra in the film of the same name, then recorded by the Four Aces.    
So, they don't know why they're on this stage, they're very nervous and they're arguing – staying vs going back to wherever they were, when a couple of helpful thunder claps encourage them to sing their concert.  Noticing they have musicians, they introduce Chuck Webb (Drums) and Jim Widlowski (Bass) as cousins.  They think Valerie Maze, the person on the Keyboard might have come with the venue. 
Forever Plaid includes '50s hits like Moments to Remember, No Not Much, Perfidia, Catch a Falling Star and Lady of Spain.  Donning plaid sashes, they even pay tribute to Scotland with Scotland the Brave.  They end on a triumphant note with their formerly ill-fated finale, Love is a Many Splendored Thing.  
Novelty numbers:
A.D. Weaver's mash-up of Sixteen Tons/Chain Gang
Caribbean Plaid, a medley including Day-O, Kingston Market, Jamaica Farewell and audience participation favorite, Matilda Matilda   
Asking for a volunteer from the audience brings down a lightning bolt, so they point to a specific seat, ask that individual's name and pretend he/she is joining Francis at the piano to play Heart and Soul while the Plaids sing
The Plaid sampler for private functions included The Bride Cuts the Cake, Italian Wedding, Anniversary Waltz, Hava Nagila and more
The Plaids share an anecdote about singing Catch A Falling Star for Perry Como during a snowstorm
The Plaids recreate the entire Ed Sullivan show – with acts as diverse as the Rockettes, performing seals, The Vienna Boys Choir, the Chipmunks and the fat lady singing. 
Kudos to Director Choreographer Paul Stancato for finding a way to make Forever Plaid seem fresh and new.  I thought Kristen Martino's set, which included just enough plaid and neon. fit the 50s vibe perfectly.  The lighting, designed by Leo Fiskness, changed slightly with every song.  Using the strobe lights with an accompanying thunder clap was a cool way to indicate a higher power as did the theatrical smoke and yellowish lighting at the rear of the stage 'delivering' stuff. 
Note: Guests must show proof of vaccination before entering the theater.  Guests are required to wear masks while inside the building. 
"Forever Plaid" runs through November 7th at Drury Lane Theatre, 100 Drury Lane, Oakbrook Terrace.  Parking is free.  Running time is approximately 85 minutes, no intermission.  Performances are Wednesdays at 1:30 pm; Thursdays at 1:30 & 8:00 pm; Fridays at 8:00 pm; Saturdays at 3:00 and 8:00 pm; Sundays at 2:00 & 6:00 pm.  Tickets range from $59-$72.  FYI (630) 530-0111 or www.drurylanetheatre.com.